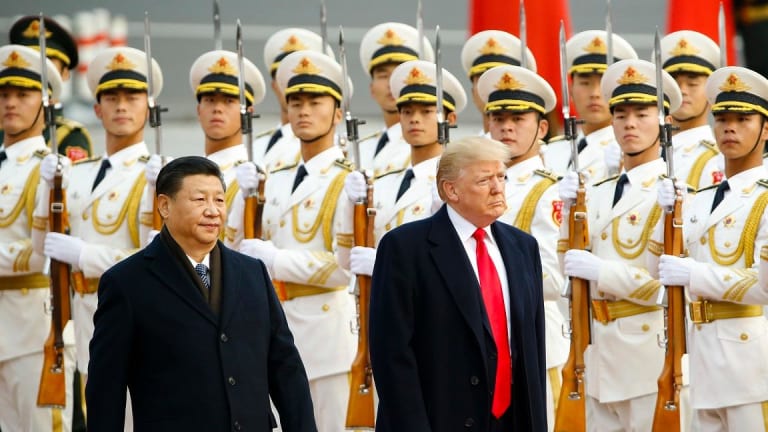 China's Tech Giants Rise Despite World's Worst Online Oppression
Investors must consider the power that rests behind China's BATS, the mainland's most-influential companies. While they are private, there is state power behind their tech empires that should not be ignored.
The supercharged growth of China's Internet darlings has propelled Alibaba (BABA) - Get Alibaba Group Holding Limited American Depositary Shares each representing eight Report , Tencent (TCEHY) and China Mobile (CHL) - Get China Mobile Ltd. Report into the top 10 in terms of the largest tech companies in the world. But it is a rise laced with irony.
China is the world's worst violator of online freedom, and it works very hard at it.
That much was confirmed with the latest ranking of Internet freedom from the advocacy group Freedom House. China is dead last as the worst abuser of digital rights and access on the planet, an ignominy it has suffered for three years in a row.
It's worse even than Syria and Ethiopia, war-torn countries where democracy is a pipe dream. But of course, communist China is a dictatorship, where the people also have little say in the government, let's not forget.
The BATS, as the Chinese internet giants are collectively known, comprise search engine Baidu (BIDU) - Get Baidu Inc. Report , e-commerce giant Alibaba, mobile-gaming industry leader Tencent, and microblogging operator Sina (SINA) - Get SINA Corp. Report , parent of the Sina Weibo site. You'd have to add JD.com (JD) - Get JD.com Inc. Report , China's second-largest online marketplace behind Alibaba, to the mix, too.
That's the Google (GOOGL) - Get Alphabet Inc. Report , Amazon (AMZN) - Get Amazon.com Inc. Report , Netflix (NFLX) - Get Netflix Inc. Report (if we conflate movies with digital games) and Twitter (TWTR) - Get Twitter Inc. Report of China, and increasingly Asia. But by expanding into online-payment platforms and everything from Big Data to self-driving cars, the Chinese counterparts are going far beyond the U.S. companies they were once accused of copying.
Investors need to consider the social and political implications of investments in those companies. China's authoritarian government is never far from the conversation when it comes to business, and that's even truer for companies in the sensitive area of tech. 
The Internet is fine in China, like most things, when it's for commerce. When it's for expression, or satire or politics, think again.
The country scores a perfectly bad 40 out of 40 in terms of violations of user rights online, in the Freedom House ranking. Limits on content are also very poorly rated, and obstacles to access fare only slightly better.
Chinese President Xi Jinping personally heads the Central Leading Group for Internet Security and Informatization, the group charged with shaping China's digital future. He has championed China's "cyberspace sovereignty," imposing borders on an Internet that really doesn't have them.
In his capacity as Censor.com in Chief, he has summoned the heads of Alibaba, Baidu, phone makers Huawei Technologies and Xiaomi, and others to meetings alongside government Internet censors and military cybersecurity sleuths, as he did last year. 
Earlier this year, Xi is said to have called Alibaba founder Jack Ma and Tencent founder Pony Ma for a conflab to remind them who holds ultimate power in China -- no matter the size of their corporate empires. Through their payment systems Alipay and Tenpay, not to mention Tencent's multipurpose chat app WeChat, the companies have exerted ever-greater influence in China. But their reach expands only as far as the government allows.
That much became clear this September. The mainland government imposed its maximum fine under existing cybersecurity laws on Tencent, Baidu and Sina Weibo for failing to supervise content on their sites adequately. The fines, which the government did not disclose, likely hit the 500,000 yuan ($75,000) max under the existing law. While that's a faction of the revenues of any of the companies, Chinese law can change overnight. Licensing, too. 
The tech companies have been treated with kid gloves compared with influential, but controversial bloggers. Huang Qi, the founder of the human-rights Website 64 Tianwang, was detained in December 2016 and later charged with providing state secrets to foreigners. Since even the birthdays of top generals have been considered state secrets in the past -- they suggest when an official or top brass might approach retirement -- the charge is not a hard one to make stick. 
Yet President Donald Trump made scant mention of human rights on his recent trip to China, where he appeared to have a pally and mutually respectful relationship with his counterpart Xi. Both men are popular in China -- the patriarchal type of powerfully connected man who gains a lot of respect in a society that reveres, even worships, its elders.
China returned the favor by calling his quick trip to Beijing a "state visit-plus," complete with a sunset tour of the Forbidden City. Trump has said that "some people" might call Xi the "king of China," and the location of their opera show and dinner in the home of the former emperors appeared to reinforce that point.
There's no doubt Xi is the most-powerful leader of the country since Chairman Mao Zedong. Xi Jinping Thought is enshrined in the Communist Party constitution. Pictures of the president adorn walls left, right and center.
The cult of personality continues online.
The Great Firewall of China is famous for suppressing access to all kinds of overseas and potentially insidious information. YouTube, Wikipedia, Facebook, Twitter, Instagram, even paparazzi site Lazygirls.info ... you can forget about ogling Cats of Instagram or Miley Cyrus anytime soon in Shanghai. Trump would even be unable to tweet.
The Communist Party goes far beyond simply banning objectionable material (sorry, Miley!). Fighting a war on information in the tech age seems to me like a battle you're eventually going to lose. But the Beijing leadership veers well into the realm of propaganda and thought control in its efforts to bolster patriotism and unswerving loyalty to the party in its citizens. 
The Chinese government pumps out 488 million fake social-media posts every year, according to a study headed by Harvard University data scientist Gary King. The government pays the equivalent of $0.08 for people who post comments cheerleading for China, talking about the Communist Party's revolutionary history, or supporting the regime. They're known as the "50-Cent Army," paid 50 fan, or Chinese cents, for each post.
Investors should therefore consider carefully when they invest in the BATS. Although they themselves are not state-owned enterprises, China is working out how to ensure they grow within the graces of the party.
U.S. tech companies have already concentrated power in surprisingly few hands. Google and fellow Action Alerts PLUS charity portfolio holding Facebook (FB) - Get Meta Platforms Inc. Report currently corner 63% of all U.S. digital-advertising revenue, which itself is rising as a fraction of the overall advertising pie. But they are also "parasitic" on the information that they enable others to share on their networks, as Martin Wolf wrote in a column for the Financial Times.
They can become "highly efficient disseminators of non-information," Wolf noted. That fact and the ability to be used "by people of ill will for the deliberate dissemination of dangerous falsehoods," he added, "raise huge issues."
Wolf concluded that our futures are "too important to be left to the mercies of the technology industry alone." Although tech has done "magical" things, "nobody elected it master of the universe."
Nobody elected the Chinese government either, and it appears to have taken a much more progressive, if not aggressive, stance on corralling the medium of the Internet. Investors have booked great gains in stocks like Tencent, which has more than doubled this year. But when they take profits, socially conscious investors also need to consider the manner in which they came.
This column originally appeared on Real Money, our premium site for active traders. Click here to get great columns like this from Jim Cramer and other writers even earlier in the trading day.
More of What's Trending on TheStreet:
At the time of publication, Alex Frew McMillan had no positions in the stocks mentioned. 

Alphabet and Facebook are holdings in Jim Cramer's Action Alerts PLUS Charitable Trust Portfolio. Want to be alerted before Cramer buys or sells them? Learn more now.