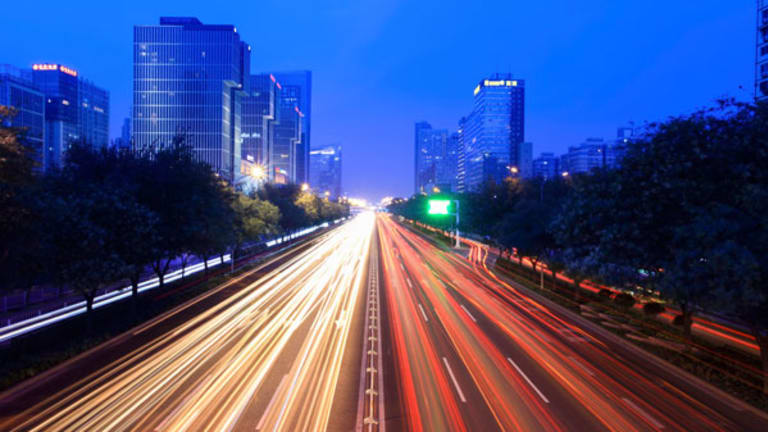 China Stock 'Halt Parade' Hits A-Power
A-Power Energy joins the China stock trend. First, its auditor resigns then the exchange halts trading of company's shares.
(Updated for latest A-Power independent director resignation on July 1 and Duoyuan Global Water annual report delay.)
NEW YORK (
) -- Keep a sharp eye on Chinese companies facing deadlines to file their annual reports with the
Securities and Exchange Commission
. Among the disclosures that may come to light could be an auditor resignation, a trading halt, and a stock delisting.
That's the lesson of 2011 so far when it comes to equities hailing from the People's Republic. On June 27,
A-Power Energy
( APWR), yet another Chinese business that sought capital from U.S. investors by merging with a shell company, said its auditor had resigned, forcing the delay of its annual report. The resignation led to a trading halt called by the Nasdaq exchange after the closing bell Monday.
The A-Power case was especially intriguing, given the company's high-profile efforts to build wind-energy projects in Nevada and Texas alongside luminaries such as Sen. Harry Reid, among others.
According to A-Power's press release on June 27, its auditor, the Toronto-based MSCM, had told company management that it needed to hire a forensic accountant to "evaluate certain business transactions that MSCM stated was necessary for MSCM to complete its audit."
When A-Power failed to hire a forensic accountant, MSCM resigned, according to the company.
Efforts to reach A-Power and MSCM were unsuccessful.
Meanwhile, the defections have mounted. Two independent directors jumped ship on Tuesday. One of the directors, Remo Richli, was the chair of the board's audit committee. According to A-Power, Richli quit "based on his understanding of events that occurred over the past few weeks, including the resignation of the Company's independent auditor. He also stated that he did not agree with the course of action that the Company has proposed to take in response to recent events."
On Friday afternoon, A-Power announced the resignation of a third independent director, Jianmin Wu. A-Power said in a press release, "Wu stated that, considering the recent changes occurring at the company, he believed he would not be able to continue to work effectively as an independent director and contribute as a member of the board of directors."
MSCM is affiliated with the accounting group Moore Stephens, whose associated firms have audited many Chinese small-cap companies in the past, including
China Energy Savings
, now defunct, one of the few Chinese companies to have faced SEC fraud charges. The Moore Stephens affiliate who audited China Energy was censured by the SEC in December over its involvement with the company, which was wrapped up in a pump-and-dump scam.
Like other China-based stocks halted or expelled by major exchanges this year, A-Power has long been suspected by short-sellers of various financial misdeeds. At the same time, the company, which purports to manufacture and install wind turbines and other clean-energy gear, had gained some recognition in the United States after signing deals to
develop clean-energy projects in Nevada with that state's U.S. senator, Harry Reid
. A-Power had made moves to develop similar projects in Texas. As late as April, the company was issuing press releases saying that its chairman and founder had met with Reid and other U.S. dignitaries who were traveling in China on a state visit.
As with China MediaExpress and its anchor investment from Maurice "Hank" Greenberg, the former AIG chief, the involvement of high-level American politicians with A-Power gave the company legitimacy in the minds of investors.
Sen. Reid's office didn't immediately respond to a request for comment.
Earlier this month,
China-Biotics
( CHBT) and
Yuhe International
(YUII)
were hit with trading suspensions. In May,
Jiangbo Pharmaceuticals
( JGBO),
Longtop Financial
( LFT) and
Wonder Auto Technology
( WATG) were halted. In April, it was
Duoyuan Global Water
( DGW),
Universal Travel
( UTA),
Puda Coal
(PUDA)
,
HQ Sustainable Marine
( HQS) and
Keyuan Petrochemicals
(KEYP)
. (Longtop Financial differs from the others; instead of a reverse merger, the company came public in an IPO in 2007 underwritten by
Goldman Sachs
(GS) - Get Free Report
and
Deutsche Bank
(DB) - Get Free Report
.)
Also on Friday, Duoyuan Global Water became the latest Chinese company traded in the U.S. to delay the filing of its annual report, saying in a release that it couldn't file its 20-F annual report until an accounting investigation was completed.
Meanwhile, exchanges and the SEC have booted other Chinese stocks to the over-the-counter markets:
China MediaExpress
( CCME),
Duoyuan Printing
(founded by the same entrepreneur as Duoyuan Global Water),
Rino International
(RINO)
,
China Integrated Energy
(CBEH)
,
Fuqi International
( FUQI),
China Agritech
( CAGC),
China Ritar Power
( CRTP),
China Intelligent Lighting
,
China Century Dragon Media, China Electric Motor
( SDTH),
NIVS IntelliMedia
,
ShengdaTech
( SDTH), and
Subaye
(SBAY)
.
For those counting, that's 23 companies that have had their shares either halted or delisted from major U.S. exchanges in the first six months of 2011 amid an ever-widening fraud scandal. The SEC has also revoked the registrations of a handful of other Chinese companies with stocks that had traded over the counter, never having uplisted to an exchange.
As
reported by TheStreet in December
, the SEC has been investigating allegations of widespread financial fraud at small-cap Chinese companies with stocks that trade in the United States, particularly those that came public here through a back-door process called a reverse merger.
Before the halt on Monday, A-Power shares last traded at $1.67, having plunged from more than $10 a year ago in June. At its highest, the stock traded at nearly $27 in the summer of 2008.
The company's latest departing board members join a director who resigned earlier this month. In a press release on June 17, A-Power said Robert B. Leckie resigned because his views on "process and best practices were not necessarily shared throughout the Company." That same day, a short-seller blogger had questioned A-Power's accounting in a post published on the Seeking Alpha Web site.
A-Power didn't gain its U.S. listing through what's typically thought of as a reverse merger. Instead, the company was acquired by a so-called SPAC, short for special purpose acquisition vehicle. Also known as blank-check companies, SPACs are shells with no business operations, created by dealmakers expressly for making acquisitions, either of a private business or another publicly traded company.
Private investigators hired by investors doing due diligence have looked into A-Power before. In a 2009 report reviewed by
TheStreet
, one China-based investigator wrote that A-Power had misrepresented the nature of its business. Instead of a developer of cutting-edge wind-energy projects , A-Power was "in truth" a designer of small thermoelectric plants and a broker for the large state-controlled companies that actually built them, according to this report. Further, as of 2008, the year the company came public in the U.S., this investigator had found "little evidence" that A-Power was involved in any wind-energy projects, the report said.
The SPAC that acquired A-Power was set up by a firm called Chardan Capital. Chardan is run by Richard Propper, a San Diego physician turned investor who, with his son Kerry Propper, has been heavily involved in bringing small Chinese companies to U.S. capital markets over the years. Their other deals have included
Origin Agritech
(SEED) - Get Free Report
,
Hollysys Automation
(HOLI) - Get Free Report
, and
China Cablecom Holdings
( CABL).
Neither Propper was immediately available to comment.
Also playing an important role in A-Power's promotion in the U.S. was Jeffrey Feinberg, the principal of a now-defunct investment fund called
JLF Asset Management
, which shut down in 2008 amid the financial crisis.
Feinberg's fund made early, anchor investments in
many Chinese reverse-mergers companies
, giving those businesses crucial liquidity in return for cheap shares. Feinberg's other deals included
China Security & Surveillance
( CSR), pork producer
Zhongpin
( HOGS), the now-delisted
ShengdaTech
( SDTH), and an IT consulting company known as
China Expert Technology
, whose executives simply stopped filing regulatory documents to the SEC in 2007, disappearing.
After raising capital in the U.S., China Expert faced a battery of fraud allegations -- a precursor to the present environment.
-- Written by Scott Eden in New York
Disclosure: TheStreet's editorial policy prohibits staff editors and reporters from holding positions in any individual stocks.