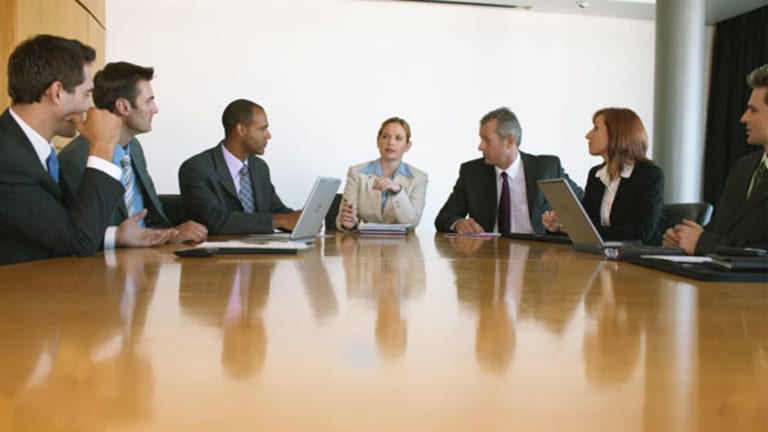 Publish date:
China Stock Fraud News Already Priced In
The SEC crackdown on Chinese 'reverse mergers' comes as no surprise to many investors who have witnessed numerous irregularities or accusations of fraud in 2010.
The SEC crackdown on Chinese 'reverse mergers' comes as no surprise to many investors who have witnessed numerous irregularities or accusations of fraud in 2010.
Rick Pearson is a Beijing-based private investor focusing on U.S.-listed China small-cap stocks. He is a contributing writer to TheStreet whose views on these stocks are independent of TheStreet's news coverage.
BEIJING (
) -- It was widely announced Tuesday that the
Securities and Exchange Commission
was conducting a
on the practice of "reverse mergers" by Chinese companies due to widespread allegations of accounting misstatements and outright fraud. It was top headline news at
TheStreet
as well as the
Wall Street Journal
.
One might assume this type of news would have had a negative impact on the prices of U.S-listed Chinese stocks. However, I decided to run a quick screen to see what the real impact was and the result was a bit surprising. I looked at all U.S.-listed China companies that I track with a market cap of greater than $50 million (266 companies) and found that the overall return for the day was a positive 0.5%. Basically, they were flat on the day.
Why didn't the market react more to this news? Because the market already knew. This year has seen numerous accounting restatements and outright frauds among U.S.-listed Chinese companies and the prices of the entire space have traded down as a result. Therefore, this fraud news is already priced in. But this has been a process that has slowly been evolving over the course of 2010 and the SEC investigation comes as no surprise to many investors who have witnessed numerous individual stocks drop by 40% to 60% in a day due to accounting irregularities or accusations of fraud.
It was just a few years that there were only a handful of Chinese stocks traded in the U.S.. Now there are more than 500 (including the major exchanges, OTCBB and Pink Sheets). And the number is growing substantially every month. The vast majority of these new listings come from reverse mergers, which also are known as reverse takeovers (RTOs) as seen below.
In 2010, Chinese initial public offering, as opposed to RTOs, have garnered much attention for two reasons. First is the sheer number of them, with Chinese IPOs accounting for roughly a quarter of all IPOs completed this year. Second is the performance, with Chinese IPOs being among the year's best aftermarket performers. Examples include:
But herein lies two fundamental problems. For the average investor it is effectively impossible to get allocations in these deals, and even for institutions it is often very difficult to get an allocation large enough to "move the needle" for an institutional portfolio. Investors are stuck buying in the aftermarket, after the stock has spiked and investors are exposed to considerable downside risk.
This table illustrates the downside risk when buying into a hot IPO.
The second problem is one of valuation. Many of the recent IPO deals, particularly anything Internet-related, are priced at mindboggling valuations despite minimal profitability or even a lack of profitability.
As a result of these issues, I avoid playing newly minted IPOs and instead wait for them to season for a while (at least a few months) in the aftermarket when trading becomes more rational.
More often I focus on stocks that have been public for a few years and have a track record and an established reputation among investors. This applies both to IPO stocks and to RTO stocks.
Much attention has been given recently to the presence of fraud in RTO stocks compared to IPO stocks and I believe that concern is legitimate primarily because IPOs, especially the larger ones, have the involvement of established underwriters whereas RTOs typically don't. Large investment banks have the resources to conduct proper and thorough due diligence, and more importantly they have much more to lose in terms of reputation. As a result, the use of a large well-known underwriter is a key factor in weeding out fraud, although certainly not a guarantee.
While RTOs may be perceived as being inherently riskier than traditional IPOs, I believe that the fundamental investment decision-making process should be equally rigorous for both. In other words, just because a stock went public via a traditional IPO there is no excuse to not do a very thorough amount of homework when evaluating the stock.
Maj Soueidan of
Geoinvesting.com
recently posted a very useful article --
"27 Red Flags for Chinese RTO Stock Investors to Look For"
which I think is a must read for anyone investing in this space. Moreover, for the sake of thoroughness, I think these criteria should be applied to IPOs as well as RTOs. When finding these red flags, the devil is always in the details. So it is very important to read all of the available disclosure including 10-Qs, 10-Ks and 8-Ks. These are the places where the red flags will be found, not simply in the press releases that everyone reads.
As for my own take on the decision-making process, I strongly believe that the most important criteria for investors to be aware of is a company's auditor. I have had many discussions with investors about particular stocks and when I ask who the auditor is the majority of people I have spoken with don't have any idea. Many people will spend countless hours researching a stock but never take the time to research the company's auditor.
A very good Web site which lists Chinese companies and their auditors, along with the auditors PCAOB ranking is
. Obviously, with more than 500 Chinese companies traded in the US, it is not possible for every one of them to use a Big Four auditor. But for companies with a top 10 auditor I tend to feel well-protected, as long as it is a firm with a strong China practice.
It should definitely be noted, however, that the list of 27 red flags is an extremely comprehensive one. If an investor wants to narrow his or her list of investments down to companies with zero red flags, there probably won't be many stocks to choose from. In other words, most companies will have at least one red flag.
Take, for example,
China MediaExpress
( CCME). This stock lately seems to be everyone's favorite stock pick. It has been recommended to me via tweets, emails, phone calls and in person. Yet it is explicitly named in the red flag list as an example because of its low domestic credit rating. Or take a look at
China New Borun
(BORN)
. This company was an IPO, not an RTO, yet it gets two red flags for having notably low research and development expenses as well as for having an offering priced well below its initial desired range. It is noteworthy that on the day the SEC's crackdown hit the news, BORN's stock was up as much as 10% despite these red flags.
Now that fraud in China stocks is front page news, many people have been asking me if it is "game over" for the China small-cap space. I continue to give the same answer -- in 2009 the whole space traded up while in 2010 the whole space traded down. I believe that 2011 will be the year when investors start to actually focus on the details, including auditors and red flags, and start to truly differentiate between good companies and bad companies, rather than simply buying up everything China-related or simply selling off everything China-related.
A year from now, as we are looking back on 2011, we will undoubtedly see several things. Many stocks will simply trade within their ranges. We will almost certainly see more price-crushing frauds. But at the same time, without question, there will still be a number of doubles and triples to be found.
The first rule of trading is don't lose money. So it will be important to do everything possible to avoid the next
Rino
(RINO)
. But at the same time, with dozens of companies trading at prce-to-earnings multiples of 5, 6 and 7, there will certainly be very company-specific opportunities for significant appreciation in 2011.
After the holidays, I will once again begin traveling extensively through various parts of China to view company facilities and interview management teams. My goal is to identify those few companies with the least red flags and which provide the strongest auditor comfort in hopes of finding the potential outperformers of 2011. I will post my findings here at
TheStreet
with an extra emphasis on these red flags as well as details on the auditors of the companies and I hope that readers will find it useful.
Pearson has no positions in the stocks mentioned
.
This commentary comes from an independent investor or market observer as part of TheStreet guest contributor program. The views expressed are those of the author and do not necessarily represent the views of TheStreet or its management.
Rick Pearson is a Beijing-based private investor focusing on U.S.-listed China small-cap stocks. Until 2005, Pearson was a director at Deutsche Bank, spending nine years in equity capital markets in New York, Hong Kong and London. Previously, he spent time working in venture capital in Beijing. Mr. Pearson graduated magna cum laude with a degree in finance from the University of Southern California and studied Mandarin for six years. He has frequently lived, worked and traveled in China since 1992.