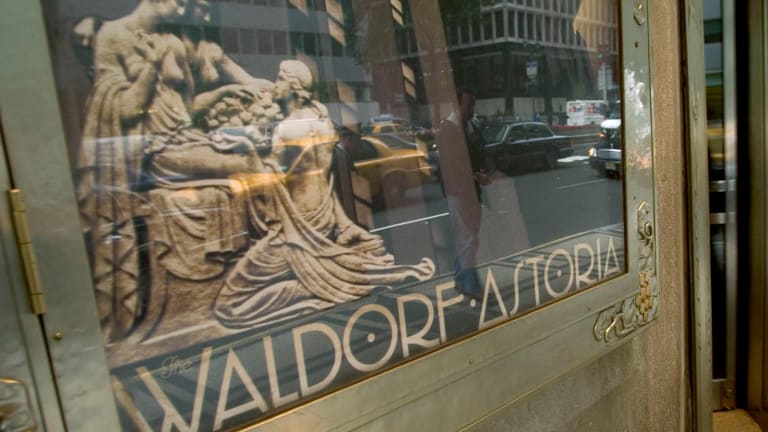 China seized control of one of its biggest and most ambitious companies Friday, and vowed to prosecute its chairman, who has close ties for the country's former leader, in perhaps the clearest signal to date of President Xi Jinping's ambition to tame financial risk in the world's second-largest economy.
Regulators took control of Anbang Insurance Group Co Ltd, a multi-billion Chinese conglomerate that has snapped-up assets all over the world, including New York's Waldorf Astoria from Hilton Hotels (HLT) - Get Hilton Worldwide Holdings Inc (HLT) Report  , early Friday and said the group would be run by a central committee for the next year as it equity is restructured. Anbang was accused of actions that "may seriously endanger the solvency of the company", according to the China Insurance Regulatory Commission, who also said chairman Wu Xiaohui would be prosecuted for "economic crimes".
"Wu is suspected of economic crimes ... illegal operations at Anbang may have seriously endangered the company's solvency abilities, prompting the government to take control of the insurer," the regulator said.
The prosecution of Wu, who is married to the granddaughter of former China leader Den Xiaoping, marks a significant change in the way government officials intend to carry out Xi's promised crackdown on risky financial practices and predatory overseas acquisitions.
Earlier this month, China's HNA Group Co. started trimming some $6 billion in international assets, including its stake in Deutsche Bank (AG) - Get First Majestic Silver Corp. Report , Germany's biggest lender, amid reports of a liquidity shortfall that approaches $2.5 billion. 
China's leadership is also looking to prevent Chinese companies from overextending themselves with high-cost "trophy" purchases overseas. In many instances, such purchases have little to do with the core business of a company and more to do with the penchant of the founding tycoon.
China is keen to encourage the expansion of its industries internationally, both for diversification and so that its companies gain experience of international standards. But Chinese companies regularly expand opportunistically and randomly.
Anbang, once China's second-largest insurance group with $300 billion in assets, used high-yielding products to attract clients and customers domestically and used the profits to fund an international buying spree that included both the Waldorf Astoria and a $6 billion deal with Blackstone Group LP (BX) - Get Blackstone Group Inc. Class A Report for the Strategic Hotels & Resorts Inc. undefined portfolio. Its attempt to purchase Fidelity & Guaranty Life  undefined for $1.6 billion, however, was rejected by regulators in New York and Iowa last year.
Anbang also embarked on a bid for Starwood Hotels (HOT) worth almost $14 billion. Starwood appeared to favor Anbang's all-cash offer over a rival $13.6 billion bid from Marriott International (MAR) - Get Marriott International, Inc. (MAR) Report . But Anbang suddenly walked away citing "various market conditions," with local press reports stating again that Chinese state may have stepped in.