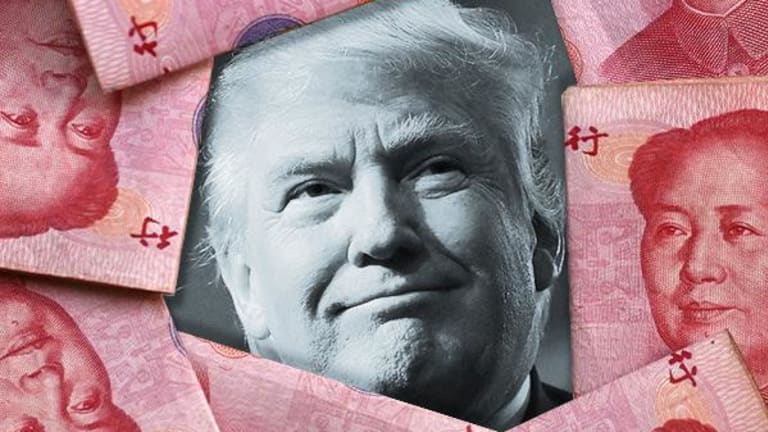 Why Traders Are Thrilled Trump Broke His Promise to Call Out China
On the campaign trail, President Donald Trump vowed repeatedly to label China a currency manipulator on his first day in office.
Editor's pick. This article was originally published on Wednesday, Jan. 25, 2017.
President Donald Trump has broken a promise to declare China a currency manipulator on the first day of his presidency.
We should all be grateful, according to the Swiss bank UBS. 
Such a move, a repeated oath by Trump during his campaign, likely would have signaled the start of a nasty trade war between the United States and China, the world's two largest economies, that could have sent global markets reeling.
China's closely-managed exchange rate probably would have weakened, adding to pressure on that country's already-fragile economy and threatening global growth. Chinese authorities, faced with an insult from a foreign leader as the ruling Communist party prepares for elections of top positions later this year, eventually would have slapped steep retaliatory tariffs on U.S. exporters that send more than $100 billion a year of goods to the Asian country. U.S. manufacturers' profits and stock prices would take a big hit. Chinese stocks also would nosedive.
The resulting market swoon would have looked a lot like that of January a year ago, when investor jitters about the possibility of a steep Chinese currency devaluation helped drive the S&P 500 down by 5% in a single month.
Even though the declaration wouldn't, by itself, have triggered any immediate trade penalties or tariffs, investors would have seen the move as the start of an all-out assault by the Trump administration on Chinese trade and economic policies. Many investors probably would have rushed to pull money out of China -- before the situation got any worse.
"The market would have thought about it in the context of what type of actions would have followed," said Bhanu Baweja, a strategist at UBS in London. "Initially, China would have very likely done nothing, but the market would have aggressively speculated against the currency, and that would have put more pressure on capital flight, perhaps making the currency more likely to depreciate."
Labeling China as a currency manipulator was considered such a drastic -- and unjustified -- step that most traders had written it off as a possibility in the days leading up to Trump's inauguration Friday. That's why markets barely budged Monday as the first full business day of the new president's first term came and went without such a declaration.
Trump's broken campaign promise adds to a growing list since his victory on Nov. 8. Late last year, he retreated on his pledge to appoint a special prosecutor to investigate Hillary Clinton. Other uncompleted items from his promised Day One agenda include moving 2 million "criminal aliens" out of the country during his first hour in office and imposing term limits on members of Congress.
Instead, Trump's most public comments during his first weekend in office were devoted to asserting -- falsely -- that his inauguration-day turnout was bigger than former President Barack Obama's in 2009.
To be fair, Trump has taken immediate actions on some stump pledges, from freezing federal hiring to withdrawing from Obama's proposed multinational Trans-Pacific Partnership trade agreement and taking the initial steps toward renegotiating the two-decade-old North American Free Trade Agreement with Canada and Mexico. This week, the president announced plans to build a Mexican border wall -- another repeated vow from the campaign trail.
His spokesman, Sean Spicer, signaled this week that the U.S. government will push back against China's claim to disputed islands in the South China Sea -- a key international shipping route that's believed to hold rich oil and natural-gas deposits.
Trump has also rattled Chinese officials by opening a public dialogue with leaders of Taiwan, viewed by China as a wayward province.
But on Chinese trade issues, the new administration has been more muted in recent days.
The currency-manipulator allegation dates back at least to November 2015, when the president wrote in an opinion piece in the Wall Street Journal that his Treasury Department would apply the label to China "on day one of a Trump administration."
More recently, Steven Mnuchin, Trump's still-unconfirmed nominee for Treasury Secretary, said in written statements to U.S. senators that he would only commit to reviewing the issue of Chinese currency manipulation, according to Reuters.
Spicer, when asked about the matter at a press briefing on Monday, said that "part of it is to make sure that we don't spend our entire day signing executive orders."
"There's a way that we can do this to make sure that we're getting all of those things that he promised the American people done in short haste and doing it in a way that doesn't just jam them out in a fire hose," Spicer said. 
When a country gets the designation, U.S. officials must begin special negotiations that could ultimately result in import duties on goods or other penalties from the offender.
Typically the Treasury makes the assessments twice a year; the last time China was declared a currency manipulator was in 1994 under Bill Clinton, according to Bloomberg. In the Treasury's most-recent semiannual report in October, China was included on a "monitoring list" but failed to meet the full test. 
"I still think that sooner or later, either President Trump or the U.S. Treasury will decide that China is manipulating its currency," said Mark Williams, chief China economist for Capital Economics in London. "But trying to gauge exactly what's behind the various statements that comes from President Trump is a fool's game." 
Under the Treasury Department's test, currency manipulators must meet certain criteria, including a finding that they're intentionally devaluing their local currencies to help make domestic industries more competitive internationally.
Yet even the Treasury says that China is currently intervening in foreign exchange markets to prevent the yuan from falling faster as its economy slows. Since mid-2014, the country has sold almost $1 trillion of foreign reserves to support the currency.
Even so, the yuan has weakened 4.6% in the past year to 6.88 per U.S. dollar, and the investment bank Morgan Stanley (MS) - Get Free Report predicts it will depreciate further to 7.3 per dollar by the end of 2017. Trades in the currency, whose value was little changed this week, are part of a lucrative business for financial institutions like Goldman Sachs (GS) - Get Free Report , JPMorgan (JPM) - Get Free Report and Citigroup (C) - Get Free Report .
EXCLUSIVE LOOK INSIDE: Citigroup is a holding in Jim Cramer's Action Alerts PLUS charitable trust portfolio. Want to be alerted before Cramer buys or sells the stock? Learn more now.
If China stopped intervening, "there's a good chance that you would get an unruly devaluation, and since they're the second-largest economy in the world, it would be quite disruptive," said David Dollar, a former U.S. Treasury economic emissary to China who now works as a senior fellow for the Brookings Institution. "In other words, they're playing a useful role in the world by intervening to keep their currency high. So why would you provoke them?"
A weaker yuan would make it even cheaper for China to produce goods locally for sale abroad, according to Michael Hirson, a former chief representative in Beijing for the U.S. Treasury. At the same time, a stronger dollar would make it less profitable for U.S. manufacturers to export goods to China. 
"From a practical standpoint, making this move risks blowing back on Trump's key objective, which is to increase competitiveness of U.S. firms," said Hirson, who now leads China coverage for the consulting firm Eurasia Group in New York.
Another question is whether going after China on trade would distract from Trump's broader economic goals of cutting taxes, building infrastructure to stimulate growth and rolling back federal regulations on companies.
Typically, U.S. presidents focus on domestic issues during their first term and foreign policy during their second, said Jan Dehn, head of research at money-manager Ashmore in London, which oversees $52 billion of investments in developing countries like China, Brazil, Russia and India. International financial matters can seem arcane to voters who care more about jobs, wages and other pressing domestic issues.
Senator Chuck Schumer of New York, the top Democrat in the chamber, urged Trump this week to go ahead with the currency-manipulator designation if he really wants to "put America first." 
"It would be a bit of a mistake to get into a major policy conflict with a major overseas power like China on day one," Dehn said. "Maybe he's just realized that actually being chief executive of the United States of America is a pretty involved job, and there's a lot of priorities out there."