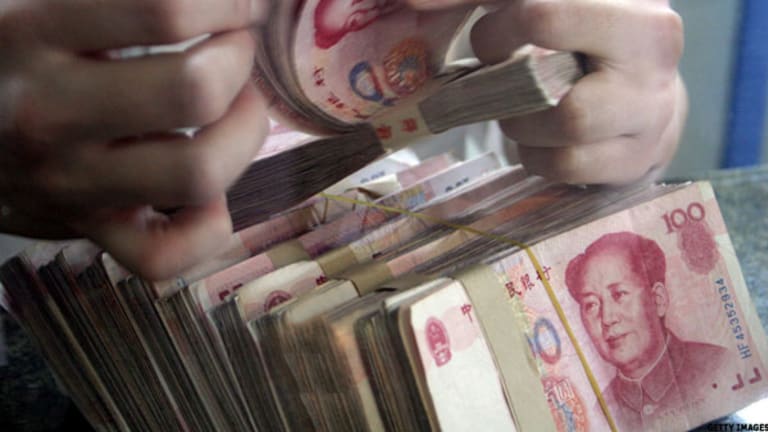 China GDP at 7.5%? Not Likely
GDP figures matched market expectations, but there are troublesome factors that should be of concern for investors.
NEW YORK (TheStreet) -- Stock markets around the world are seeing gains early in the week, propelled, in large part, by relatively strong GDP figures out of China. For the second quarter, Chinese growth was reported at 7.5%, stoking bullish optimism in the market and softening concerns of deceleration in world's second-largest economy.
The
S&P 500
is once again pressuring its all-time highs and the
Shanghai Composite Index
(SHCOMP)
is trading near its best levels for the month. This is the second straight quarter of slowing expansion, but the in-line print was still interpreted as a positive, given recent comments from China's leadership suggesting a willingness to accept weaker growth prospects.
But how accurate is the report? Are there reasons to believe that the data are inflated? The numbers indicate that declining trade activity and official measures to contain bank lending have taken effect, and that the country is now on a trajectory to post growth rates of below 8% for the foreseeable future.
Recent comments out of Beijing prepared markets for a negative outcome, as signs of distress are building. The government's target growth rate for 2013 is now 7.5%, which, if realized, would be the lowest expansionary rate in more than 20 years.
For potential investors, declining headline growth should be taken alongside the recent turmoil that has been seen in Chinese stock markets, which show strong bearish moves in a year of global recovery. Together, this suggests that risk in both the real goods and financial sectors is one the rise, and that investors with exposure to companies in the country should consider reducing that exposure.
Reasons for Skepticism
This week's report does not reflect the severity of China's drop-off in growth, and there is a strong possibility that these latest GDP numbers are skewed in a way that distorts the real economic picture in China. This should light warning flares for those basing their investment decisions on the validity of the country's official data. Along with the contractions in aggregate financing and exports seen in May and June, losses in manufacturing productivity were present throughout the entire second quarter. This creates a scenario where sub-5% GDP growth rates are far more likely.
So, if this is the case, what could be the source of these headline data distortions?
First, the survey is seasonally adjusted. Most countries report this data on an annualized basis, and if China followed this standard, the number would have come in below 7%. Other factors are perhaps more worrisome.
One example can be found in the widely criticized
from April, where potentially inaccurate invoicing inflated export growth to 14.7%.
Central criticisms were based on the fact that these impressive gains came at a time when exports to Europe and the U.S. actually dropped. To make up for this, the report showed a 57% rise in transactions with Hong Kong, even with the region experiencing a port worker strike that closed key trading routes during the month.
At this stage, it looks much more likely that these factors (along with official statistics that do not appropriately adjust for inflation) have created an inaccurate picture of what is really happening in the Chinese economy. More troubling is the fact that the country's leadership seemed to signal this trouble in advance. Before the GDP report was released, Finance Minister Lou Jiwei said China expects yearly growth rates to come in near 7% -- an implicit suggestion that the third and fourth quarters will average something near 6.5%.
This means that Lou either expects China's economy to experience an even greater slowdown in the second half of the year, or he knew the initial projections were unrealistic and he sought to prepare the market for a negative outcome. Either way, investors with exposure to Chinese assets must take these possibilities into account, as China's economic prospects into 2014 look murky at best.
At the time of publication the author had no position in any of the stocks mentioned.
This article was written by an independent contributor, separate from TheStreet's regular news coverage.
Richard Cox is a university teacher in international trade and finance, focusing primarily on macroeconomics and price behavior in equity markets. His articles appear on a variety of websites, including MarketBulls.net, Seeking Alpha, FX Street, and others. Investing strategies are based on technical and fundamental analysis of all the major asset classes (stock indices, currencies, and commodities). Trade ideas are generally based on time horizons of one to six months.