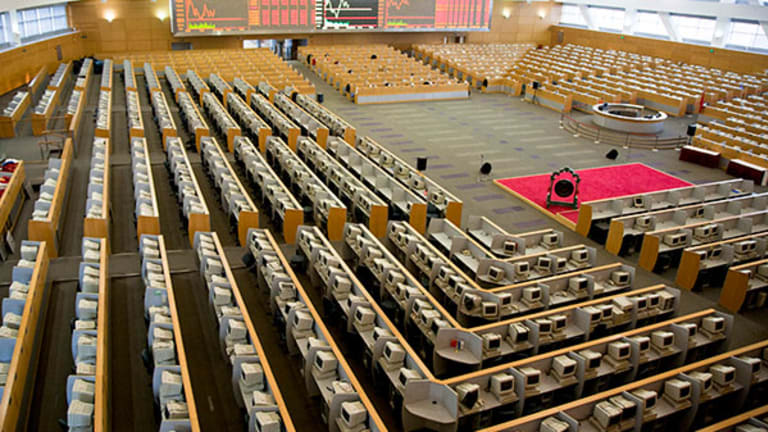 China Circuit Breakers Are Not Calming Global Economic Concerns
China has suspended trading to limit market sell-offs, but it has not eliminated deep-rooted concerns about its economy.
Last year ended with a lot of unanswered questions about China's tumbling economy.
The concerns carried into 2016, sending markets downward. To be sure, investors remain jittery about overvalued stocks, low oil prices and a strong dollar. North Korea's hydrogen bomb testing has exacerbated the overall sense of uncertainty. 
But China's woes have been foremost in mind. The country's moves to stabilize its volatile stock markets has only exacerbated these concerns. That is in no small part because of China's use of circuit breakers, suspensions in trading, to prevent panicky sell-offs. While circuit breakers can have a short-term benefit, they also have long-term repercussions. 
These interventions have been costly and done little to allay concerns about fundamental weaknesses in the Chinese economy. These issues are a threat to global economic stability. The Chinese economy is the world's second largest and its population has accumulated wealth at a rapid rate. That's led to increasing demand for goods and services not only within the country but from trading partners. 
A circuit breaker usually triggers when an index falls to a certain percentage. The exchange then either restricts trading or halts it completely to avoid panic selling. Markets of the United States, Korea and Japan also deploy circuit breakers but their thresholds are typically higher than China's. If Chinese trading drops to 5%, it shuts down for 15 minutes, and if it is 7% or more, the trading halts for the day.
The Securities and Exchange Commission stops trading at the 7%, 13% and 20% thresholds for the S&P 500 index. The circuit breaker gives investors time to take stock of big sell-offs and help ensure that any subsequent drop is reasonable. The hope is that the next day that markets normalize. But the Chinese circuit breakers have not had the desired affect as traders continued to unload shares the following morning at a fast clip. 

This may be because China does not have a mechanism for orderly trading on the day following a market panic. Such a rule would be akin to the SEC's Rule 48, a nine-year-old rule that has been invoked a number of times since 2008 to help restore investor confidence. Rule 48 makes it easier and faster to open a stock price on the day after high volatility. 
China's stock trading interventions may be impacting other economies that depend at least partly on burgeoning Chinese demand for goods. The interventions have also been costly. According to CNBC, when the central bank of China bought the yuan to support the exchange rate last year, China's foreign exchange reserves dropped by more than half a trillion dollars.
The Chinese stock markets are sometimes compared to a casino. But speaking with The Economist, at least one veteran economist, Wu Jinglian, said that this is unfair as casino rules are stricter than the ones for Chinese stock markets. He added that rules in "China's stock markets rarely apply to big investors, who treat price manipulation as a basic trading strategy." 
Regardless, China's sagging economy remains a deep concern in the year ahead. 
This article is commentary by an independent contributor. At the time of publication, the author held no positions in the stocks mentioned.