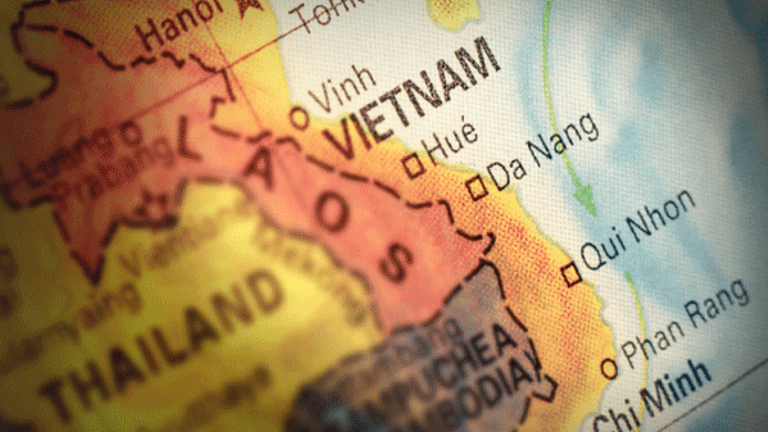 Check Out These 3 Gems in the Punishing Emerging-Market Landscape
The dollar's surge has wreaked havoc on many developing economies. But these three stand out as potential winners this year and beyond.
Thinking about investing outside the U.S.?
Why bother? A portfolio that was focused solely on the U.S. for the past eight years would have delivered the world's best return, and without much hassle or volatility.
In fact, many foreign investors would prefer to invest in our markets rather than their own.
U.S. equity markets account for 38% of the global stock market's value, a 10-year high, Bloomberg reported.
Yet that is precisely why investors should boost their foreign exposure. Valuations for firms in other parts of the world have become more compelling as domestic stocks have been inflated by falling dividend yields and rising multiples.
The relative value set-up is true for China, Europe and Japan as well as emerging markets.
The average holding in the iShares MSCI Emerging Markets Exchange-Traded Fund, for example, is valued at 3.8 times trailing cash flow and carries a 3.3% dividend yield, according to Morningstar.
That compares with 10.7 times trailing cash flow and a 2.2% dividend yield for the S&P 500. That iShares ETF is a more suitable proxy than one would think, with 91% of its holdings characterized as large-caps or mega-caps.
Still, a number of emerging markets contain clear country risk, if they are on the hook for an ample amount of dollar-denominated debt. If the dollar continues to strengthen, after a recent pause, those debt burdens may prove to be unsustainable.
With that in mind, here are three country-specific ETFs that carry little near-term dollar risk, and great long-term growth potential.
1. Global X MSCI Colombia ETF (GXG) - Get Free Report
This South American nation has just concluded a multi-decade civil war, but now comes the hard part. Plans call for higher taxes to fund much-needed investment in the nation's poorest regions.
That is likely to create an economic headwind in the near term: The International Monetary Fund pegs gross domestic product growth this year at just 2.7%.
But the backdrop of peace should allow Colombia to join Argentina and Chile as Latin nations with per-capita income levels approaching developed-world levels.
Gross national income has risen from $2,340 in 2003 to about $7,000, which is about the level that tends to trigger a virtuous cycle of domestic consumption growth, according to the World Bank.
Despite that income surge, Colombian stock markets have badly lagged ours, as this ETF has delivered a -11% annual return over the past five years, according to Morningstar.
The net result is that the average holding in this Colombia ETF trades right at book value, at one times sales and about 4.5 times cash flow, and it offers a 3.8% dividend yield.
2. VanEck Vectors Africa Index ETF (AFK) - Get Free Report
These days, most emerging markets investors think of Asia, while some also look for exposure to Latin America. Few think of Africa.
But they should.
A recent survey by McKinsey & Co. for example, found that "the rate of return on foreign investment is higher in Africa than in any other developing region."
To be sure, it is unwise to paint Africa with too broad a brush. Egypt and Libya up north are an absolute mess.
Stunning levels of poverty persist in war-torn regions such as the Democratic Republic of Congo, and corruption in places such as Nigeria can make one wince.
But this fund wisely focuses on Africa's clear pockets of strength.
South Africa accounts for a 30% weighting, which is logical, in light of that nation's strong multinational presence throughout the continent. About one-third of the fund is invested in financials, with another third going to consumer and telecommunication stocks.
The economies of Cote d'Ivoire, Ethiopia, Rwanda, Senegal and Tanzania are all growing at a solid pace, and firming oil prices should begin to help beleaguered nations such as Angola and Nigeria.
This is clearly a long-term investment, as Africa is likely to be volatile from year to year, but it represents solid potential growth over the long term.
3. Van Eck Vectors Vietnam ETF (VNM) - Get Free Report
The Vietnamese economy grew 6.2% last year, even as key trading partners stumbled. The Asian Development Bank expects a similar growth rate this year.
The nation's improving infrastructure and low-cost wage base have lured a broad range of multinationals to open plants there, most recently a major new technology facility by Samsung Electronics. Vietnam's manufacturing sector is growing at 13.6% clip, fueling a $2.7 billion trade surplus last year.
And rising per-capita incomes over the past decade have fueled a robust and growing consumer class, a key consideration for a nation with 90 million people. About one-third of this fund's portfolio is invested in consumer stocks.
Yet it is the nation's changing capital markets that explain why fund managers such as Franklin Templeton's Mark Mobius are singing Vietnam's praises. The country is following the playbook of other emerging markets by letting the private sector have a greater hand in key industries, and a long-awaited privatization process appears to be picking up steam.
---
Worried about a bear market? We've found a genius trader who makes this bold promise: "If I don't deliver 24 triple-digit winners in the next year...I'll give up $1,950." His top-tier trading service reeled off twenty-four triple-digit winners in less than a year, along with more than thirty double-digit winners thrown in for good measure. And he racks up these profits in up or down markets. Get the details here.
The author is an independent contributor who at the time of publication owned none of the stocks mentioned.