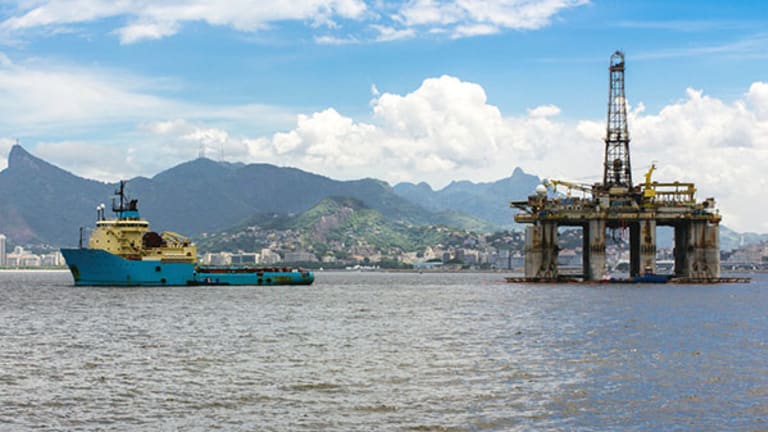 Brazil Oil Giant Petrobras Disputes Aurelius Capital's Default Claim
Petrobras disputed a hedge fund's claim that it is in default and said it would negotiate with creditors if future financial statements are late.
NEW YORK (TheStreet) --Petrobras (PBR) - Get Petroleo Brasileiro SA Sponsored ADR Report Thursday initially disputed a hedge fund's claim that it is currently in default on its debt, though the chief financial officer conceded it would need to negotiate with creditors if its fourth quarter filing is late.
Aurelius Capital Management, a New York-based hedge fund that owns bonds of the Brazilian energy giant, has been trying to convince other bondholders to put Petrobras into default, according to a Dec. 29 letter from Aurelius to other bondholders that was reviewed by TheStreet.
Initially, Aurelius claimed Petrobras was in default because it had not released timely third quarter financial statements due to a money laundering investigation involving politicians and Petrobras executives, who have since left the company. Petrobras released its third quarter financial statements Wednesday, roughly a three-month delay. 
A statement from Aurelius to Reuters claimed Petrobras was in default because its financial statements are not in compliance with the International Accounting Standards Board (IASB).
Petrobras admits in its latest financial statement that the carrying amount specified for certain property, plant and equipment affected by the money laundering investigation are not in compliance with the IASB.
Still, when asked about Aurelius's statement during a conference call to discuss third quarter results, Petrobras Chief Financial Officer Almir Barbassa responded, "this is the opinion of one person; the company's opinion is that we are in compliance with the covenant. If a creditor disagrees, we are naturally going to speak with them to make sure that we are on the same page. But I cannot explain somebody's opinion. It's impossible to do it."
Despite these comments, Barbassa separately told reporters the company may miss its April deadline to file fourth quarter financial statements, requiring negotiations with creditors, Reutersreported. Under the contractual obligations to bond-holders, otherwise known as bond covenants, the company is required to negotiate with creditors if there is a delay in releasing the fourth-quarter audited financial statements.
The creditors could declare Petrobras is in default if it fails to hold such negotiations, which could then force the energy company to make an early payment on the bonds, which could be as high as $54 million, according to Reuters.
Contacted by TheStreet, an Aurelius Capital spokesman had no immediate comment.
Petrobras U.S. traded ADRs, which were down all morning, rose slightly and briefly touched positive territory just before Thursday's call kicked off at 1:14 p.m. EST.  They gave up most of those gains, however, and finished the day down 2.5% at $6.40. The shares are down more than 60% over the past six months, though it is difficult to determine how much of the decline is due to the decline in oil prices and how much is due to the corruption investigation, said Peter Lannigan, emerging markets strategist with CRT Capital Markets.