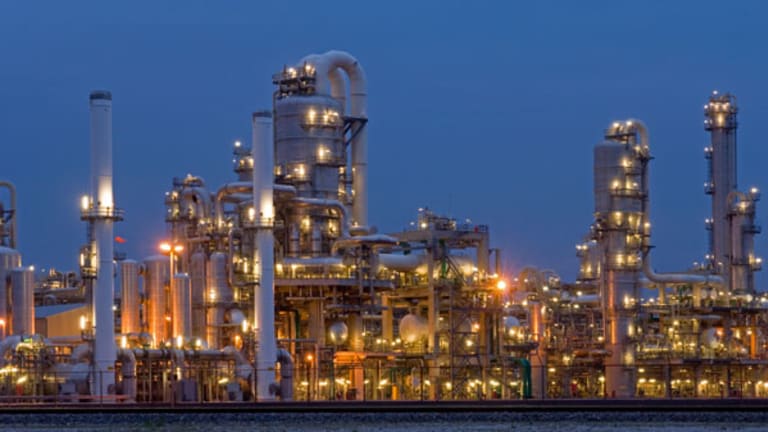 Bigtime Investors Lose Big on China
As the China-stock fraud scandal continues to widen, bulge-bracket banks and blue-chip fund managers are getting swept along for the ride.
NEW YORK (TheStreet) -- There's an argument to be made that no one played a bigger role in popularizing Chinese small-cap stocks for widespread consumption than the smart money -- the boldfaced fund managers whose names and faces are always splashed on the covers of the financial magazines. When they started to buy big stakes in what had been obscure little companies doing business in remote corners of the People's Republic, the world took notice.
It helped, of course, that these companies were growing so fast that it was almost hard to believe.
Almost.
That growth was being documented, after all, right there in black and white in the companies' filings with the
Securities and Exchange Commission
.
Plus, there were all those long lunches and dinners over which American investors got acquainted with charismatic company chairmen and chairwomen in the restaurants of Harbin or Shanghai or Shenzhen or Xi'an. Plus, there were all those due diligence tours of bustling factories and offices and operations -- tours always arranged and chaperoned by company executives -- which demonstrated such exciting entrepreneurial acumen and spirit.
Plus, it was happening in China, the
greatest investment opportunity of all time
-- which seemed to be the beginning and the end of most China-stock investment theses.
Wellington Management
, which oversees more than $600 billion in assets around the globe, acquires 8% of a Shanghai maker of yogurt cultures named
China-Biotics
( CHBT).
The hedge fund
Paulson & Co.
, run by John Paulson, the legend who called the mortgage crisis, goes long the Toronto-listed shares of a grower of Chinese trees.
The investment vehicle of famed former
AIG
(AIG) - Get Free Report
boss Maurice "Hank" Greenberg cuts a deal to buy 15% of a firm with a can't-miss business model -- install flat-screen TVs on inter-city buses and sell advertising on those screens -- named
China MediaExpress
( CCME).
The gurus at private-equity behemoth
Carlyle
can't resist taking a more than 20% stake in a company that says it produces organic fertilizers and that has a director with a faked resume. The company also was brought public in the U.S. with the help of a stock promoter with a colorful regulatory history.
All of those investments have ended in disaster. Auditors have resigned, alleging fraud. Regulators have launched investigations, suspecting fraud. Exchanges have banished equities, fearful that fraud is ongoing.
These financial disasters will affect the big fund managers only minimally, of course; they'll remain rich. (For most of these firms, their China-stock holdings, even at the top of the market last fall, weren't substantial enough to amount to a rounding error on the value of their largest single positions.)
But for many small retail investors who followed that smart money into these stocks, lulled by the highly flawed logic that sophisticated market players "must have done their due diligence," financial ruin has come.
Here's a list of some top money managers (in no particular order) who have led retail investors down these dubious paths:
(None of the funds described below would comment on their China investments for this story, let alone offer a description of what due diligence measures they take before investing in foreign-based equities.)
Maybe the highest-profile of the high-profile funds to take a significant stake in a company later attacked, John Paulson's Paulson & Co. owned nearly 35 million shares of
Sino-Forest
, or 14% of the company, as of October 2010, before dumping the entire position recently. According to some reports, the vaunted manager may have taken a loss of more than half a billion dollars.
Sino-Forest denied allegations that it has overstated the size of its timber holdings, first lodged at the end of May by the infamous short-selling research shop Muddy Waters. A
recent investigative report on Sino-Forest
by Canada's
Globe & Mail
newspaper also had damning information to report.
Paulson's firm, which has an office in Hong Kong, started amassing its position as early as 2008. At its peak, on March 31, when Sino-Forest touched its all-time high of $25.85, the stake would have been worth about $880 million. In Toronto trading recently, the shares were moving at about $2.50.
A Paulson & Co. spokesman said the firm wouldn't comment.
Hank Greenberg has been nonchalant of late when talking to the likes of
CNBC
about his fund's disastrous investment in China MediaExpress, another flame-out that saw Muddy Waters play a role, though short-sellers had been circling around the company for months.
In March, MediaExpress's audit firm, the Chinese affiliate of Deloitte, resigned after saying it had uncovered accounting impropriety. The SEC has launched a probe into the company -- a probe that likely is coupled with
the agency's broader investigation
(reported by
TheStreet
in December) into possible widespread securities violations among Chinese companies.
Greenberg's investment vehicle,
C.V. Starr
, filed suit against MediaExpress and several of its executives not long after the brouhaha erupted, alleging that it had been duped out of its money.
Starr had built a 12.3% stake in CCME before evidently trimming the position. As of March 31, Starr held 8.3% of the company, according to Edgar Online.
A spokeswoman for Starr said the fund had no comment.
The gigantic investment manager Wellington Management has made some pretty hefty bets on a number of Chinese stocks that are now halted or delisted. The firm built an 8.2% stake in China-Biotics, the yogurt-culture company in Shanghai, despite the fact that China-Biotics had spent the previous year defending itself against report after report by short-sellers and the Chinese media alleging that the company isn't what it says it is.
The Nasdaq exchange
halted trading in China-Biotics
last week after it failed to meet the deadline for filing a 10-K report with the SEC.
But it doesn't stop there for poor Wellington, a spokesman for which declined to comment. The firm holds 5% of
Jiangbo Pharmaceuticals
( JGBO), whose shares have been halted since May 31; 3.7% of
Yuhe International
(YUII)
, a provider of "day-old chickens" whose shares were halted on June 17; and 2.2% of
Puda Coal
(PUDA)
, whose shares were halted on April 11. Wellington also recently unloaded an 800,000-share position in
China Electric Motor
(CELM)
, a company
after finding alleged irregularities. CELM was delisted by Nasdaq earlier this month.
Carlyle co-founder David Rubenstein
.
One of the largest private-equity firms in the world, if not the largest, took 20% of a company called
China Agritech
( CAGC) back in October 2009, when it participated in a private-placement deal with the organic fertilizer producer. About a month earlier, Agritech's shares had been "uplisted" to the
Nasdaq
from the over-the-counter markets, having reverse-merged into a shell in 2005. As is the case with many such deals, there were "make-good" provisions in the private-placement contract with Carlyle. If Agritech didn't hit certain earnings targets, it would owe Carlyle more shares.
Agritech hit those earnings targets.
The investment was a flyspeck relative to Carlyle's many, many billions worth of portfolio companies, but the fund's presence as anchor investor seemed to suggest that heavy-duty, private-equity-style due diligence had at least taken place. Another institutional investor,
Glickenhaus & Co.
ended up taking a 1.6% stake in China Agritech
based in part on the Carlyle imprimatur
.
After gaining the Nasdaq listing, the company's stock ramped to highs of more than $30 before beginning a long collapse as short sellers attacked and auditors decided they didn't like what they saw. Neither did
Nasdaq
, which expelled the equity to the over-the-counter markets this year after yet another public battle between bears and bulls played out in the media and in the blogosphere. The company has yet to file a 10-K annual report for the year 2010.
Carlyle hasn't sold any of its Agritech stock, according to a person familiar with the matter
A spokesperson at the firm's Washington headquarters declined to comment.
Longtop Financial
( LFT) came public in the U.S. through the front door, using an IPO as opposed to a murky backdoor reverse merger, in which a private entity is folded into a shell company that already has a stock registration. As such, Longtop ought to have undergone a more rigorous screening process -- by regulators as well as investors.
None of this was able to prevent the eruption of yet another accounting scandal four years after the IPO, underwritten by Goldman Sachs (see below) and
Deutsche Bank
(DB) - Get Free Report
raised about $180 million for Longtop. In an astonishing series of disclosures in May, Longtop was forced to reveal that its auditor -- once again, the Chinese affiliate of Deloitte -- claimed to have found evidence of bank-document forgery and other falsified financial data. The stock was halted on May 17 and remains so. Longtop said its cooperating with an SEC probe.
Longtop's bulge-bracket backing drew in a group of brand-name investors and mammoth investment funds as institutional holders, including
Fidelity
and several so-called "Tiger Cubs," former apprentices of the hedge-fund legend Julian Robertson: Lee Ainsle's
Maverick Capital
and Charles "Chase" Coleman's
Tiger Global Management
. As of March 31, the two funds held 10% and 4.6% of Longtop, respectively.
It's Tiger Global, however, that has the honor of owning large blocks of two halted Chinese stocks at the moment: Longtop and
Duoyuan Global
( DGW), the sister company of
Duoyuan Printing
(DYNP)
, which was summarily delisted by the
earlier this year after an auditor resigned and the SEC began investing potential illicit activity.
A spokeswoman at Tiger Global declined to comment.
Not everyone is left holding the bag.
Goldman Sachs
(GS) - Get Free Report
, for example, which has had its
run-ins with alleged fraud in China before
, was able this time to get out while the proverbial getting was good.
Goldman's money-management unit acquired, on the behalf of clients, a batch of convertible bonds issued by a company in Shangdon Province that said it had a technology to turn limestone into "nano precipitated calcium carbonate" -- an additive for the chemical industry -- and sell it at great profit.
That company,
ShengdaTech
( SDTH), emerged as a U.S.-listed entity through a reverse merger orchestrated by reverse-merger pros like the
. But Wall Street nobility also helped the company raise capital;
Morgan Stanley
(MS) - Get Free Report
underwrote the $130 million private offering of convertible notes in late 2010.
Four months later, in April, ShengdaTech saw its auditor, this time KPMG, resign after raising questions about the company's accounting. The auditors also had problems confirming customers, according to filings.
ShengdaTech's stock listing was revoked by Nasdaq last week. The shares now trade over-the-counter at about 66 cents.
Goldman, however, sold the entire block of bonds -- convertible into some 7% of ShengdaTech -- about a month before the company's problems came to light, according to a Goldman spokesman.
-- Written by Scott Eden in New York
>To contact the writer of this article, click here:
Scott Eden
.
>To follow the writer on Twitter, go to
.
>To submit a news tip, send an email to:
.
Disclosure: TheStreet's editorial policy prohibits staff editors and reporters from holding positions in any individual stocks.