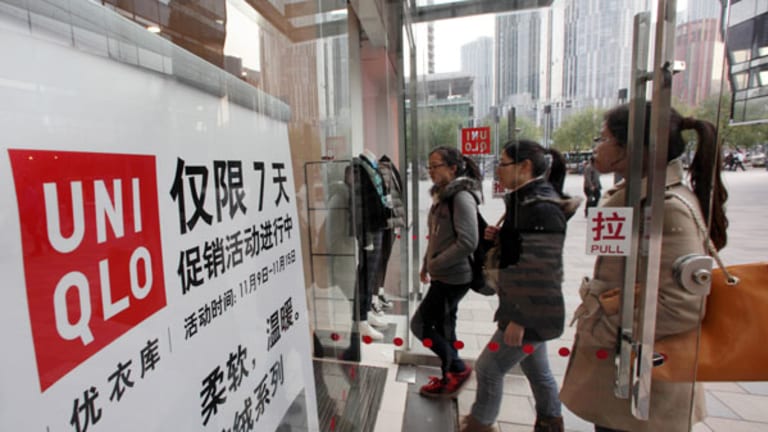 Publish date:
Bigger Cities in China Should Mean Bigger Profits for Coach, Michael Kors
Urbanization in China should greatly increase the gross domestic product, leading to higher levels of spending.
Urbanization in China should greatly increase the gross domestic product, leading to higher levels of spending.
NEW YORK (TheStreet) -- Some of the best-known western companies, including Yum! Brands (YUM) - Get Report, McDonald's (MCD) - Get Report, Bombardier, Coach (COH) and Michael Kors (KOS) - Get Report, should all do well as a result of more Chinese living in cities.
In an interview earlier this year in Barron's, Carl Weinberg, chief economist for High Frequency Economics, was bullish on China due to the increasing urbanization. Weinberg stated in the interview that China "grows by moving people from the farms to the cities, and every time someone moves off the farm into the city, they contribute six times more to GDP than they did on the farm. If you do this 10 or 20 million times per year, you get six percent to eight percent GDP growth just out of the demographics. So that's my outlook for China."
A major change from the urbanization of China will be in diet. More affluence leads to more meals being consumed at restaurants like McDonald's and those of Yum! Brands such as KFC, Pizza Hut and Taco Bell. Yum! Brand was the first "quick service" restaurant in China with KFC back in 1987. At present, there are more than 6,000 Yum! Brand restaurants in 850 Chinese cities. McDonald's has almost 2,000 franchises currently in the People's Republic. Studies show that as consumers move up to the middle class, they spend almost 20% more to eat out at fast-food and other restaurants.
In addition to eating out more, the more affluent in cities buy more luxury items from companies such as Coach and Michael Kors.
It is not just Carrie, Miranda, Samantha and Charlotte -- Asian women also desire designer handbags. The first handbag museum was opened in South Korea. Luxury spending in China is estimated to be worth more than $320 billion yearly with a growth rate of 12%, according to CLSA, a research firm specializing in Asia. China accounts for about one-third of the world's spending on luxury goods and almost two-thirds of the growth.
To tap into that market, Coach is planning to expand its square footage internationally as same-store sales grew by 35% in China for the most recent quarter. Michael Kors plans to open 100-125 new stores in China over the next few years. Those should do well as Michael Kors is already the most sought-after American brand in China, according to the Digital Luxury Group.
The more living in urban areas, the greater the need there will also be for public transportation.
Bombardier is a unique company in that it is the only one in the world that makes both planes and train cars. Overall, Bombardier is the world's #3 airplane maker and the #2 train car maker. Many of its planes are ideal for regional travel in Asia.
China's CDA Leasing just contracted to buy 15 planes from Bombardier, with an option for 15 more. Between 2012 and 2015 Bombardier expects sales to increase 30%, with much of the increase coming from aerospace. As detailed in a previous article, Bombardier is listed on the pink sheets, which offers opportunities to savvy investors because there are many fine companies trading on that exchange, despite its reputation.
A report from Arvind Subramanian, a senior fellow at the Peterson Institute for International Economics, stated that China is the world's biggest economy in terms of purchasing power.
According to Weinberg, the purchasing power of China should rise even more due to urbanization increasing the gross domestic product growth substantially. From McDonald's to Michael Kors, there are a number of publicly traded companies well-positioned to profit from that increased affluence.
At the time of publication the author had no position in any of the stocks mentioned.
This article was written by an independent contributor, separate from TheStreet's regular news coverage.
Jonathan Yates is a financial writer who has had thousands of articles appear in periodicals and Web sites such as TheStreet, Newsweek, The Washington Post and many others. He has degrees from Harvard University, Georgetown University Law Center and The Johns Hopkins University.