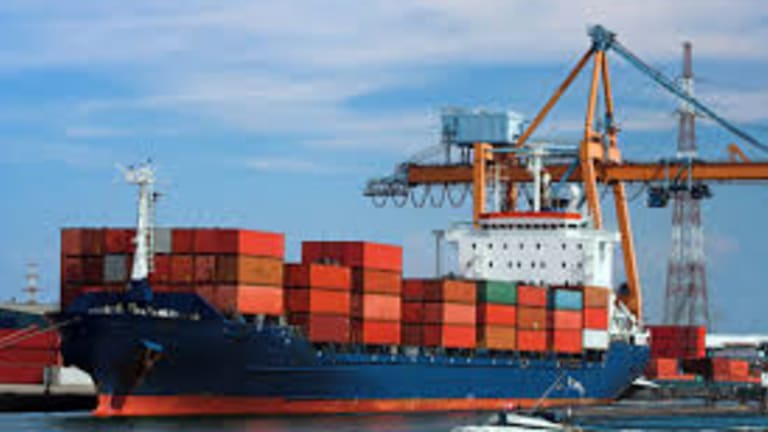 The slowdown in international trade has been putting the squeeze on shipping companies across the board, from Maersk Line and China Shipping Group to FedEx (FDX) - Get FedEx Corporation Report and Diana Shipping (DSX) - Get Diana Shipping Inc. Report .
Maersk, the world's largest shipping line, saw an astonishing drop in its bottom line last quarter, 61%, along with a 15% decline in its revenues. China Shipping Group has recently announced plans to merge with China Ocean Shipping Company to become the 4th-largest shipping line in the world.
data by
These signs point to the overwhelming decline in trade volumes, which stem from China's weakening manufacturing sector and falling exports; it's causing concern among players in the industry.
Economies that rely heavily on export trade, like Germany, Brazil, and Australia, are also feeling the pain as China and Europe's slowing demand for energy, goods, and commodities have thrown some economies into recession and others struggling to pick up their productivity.
Brazil, for example, is experiencing its worst recession in almost 25 years as demand for oil has fallen off a cliff since last summer. Companies, like Petrobras, have seen declines of some 75% in its share price from a lack of demand in energy exports. China is Brazil's largest trading partner and is the world's largest consumer of energy.
Diana Shipping, a company that transports dry bulk cargoes and commodities, has seen staggering losses as its net income and net operating cash flow fell over 144% and 47%, respectively.
data by
International trade companies don't see 2016 getting much better, but, on a more positive note, they don't see it getting much worse. Acquisitions, mergers and consolidations can be good for the industry as smaller companies who won't be able to secure funding may have a chance to get acquired. Or firms like China Shipping Group and China Ocean Shipping Company might be able to merge and begin sharing resources and increase efficiency for their clients.
Either way, expect 2016 to see some rough waters ahead as global demand and exports experience volatility.
This article is commentary by an independent contributor. At the time of publication, the author held no positions in the stocks mentioned.