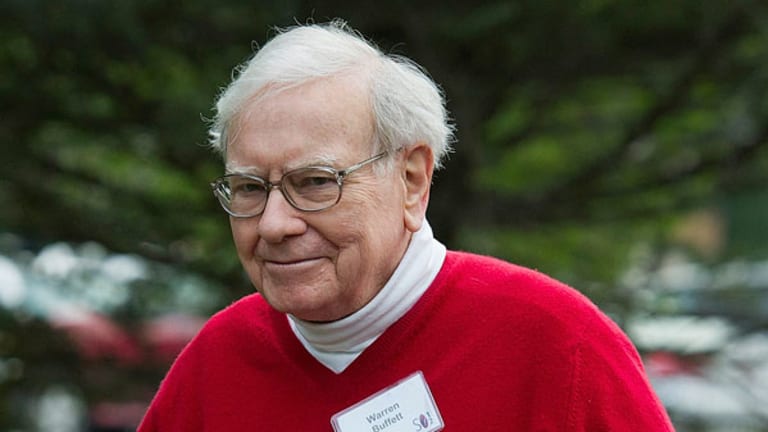 Berkshire Shares Hit New Record As Buffett's Omaha Meeting Looms
Here's what to expect from Berkshire Hathaway's annual shareholder meeting.
Updated from 8:09 a.m. ET on May 2, with a preview of Berkshire Hathaway's first-quarter financial results and additional information throughout.
NEW YORK (
) --
Berkshire Hathaway's
(BRK.B) - Get Report
shares continue to hit new record highs, as investors await the next big move by the Warren Buffett-run conglomerate, heading into the company's shareholder meeting Saturday.
Berkshire Hathaway's annual meeting, the "Woodstock for Capitalists" as Buffett has said, will provide investors context on the strength of the U.S. and global economic recovery, while also giving shareholders an update on the direction of America's fifth largest company by market capitalization.
Investors are likely to celebrate a 30% rise in the shares of Berkshire Hathaway to new record highs in the past year on gains in the company's $90-billion plus investment portfolio and earnings growth in operating units such as
BNSF Railways
,
MidAmerican Energy
and its insurance business, among over 80 subsidiaries.
Class-A shares of Berkshire Hathaway opened Friday trading above $163,000, a new record for the company.
The Berkshire celebration, however, will also carry somber undertones as investors seek clarity on succession plans for Warren Buffett, the 82-year old investor commonly known as the "Oracle of Omaha."
Particularly Scrooge-like Berkshire investors, may want to know who will succeed Buffett and how that will impact financial decisions such as returns of cash to shareholders by way of dividends and share buybacks,
with
Apple
(AAPL) - Get Report
since the passing of Steve Jobs.
For now, investors' eyes will be trained on Omaha, Neb., for Buffett's outlook on making investments in 2013, and any updates on how he plans to run Berkshire Hathaway in coming years.
"I'd be curious and I would hope we have a chance to hear more about Warren's appetite globally," Thomas Russo, a partner at
Gardner, Russo & Gardner
, says of his expectations heading into Berkshire's shareholder meeting.
Buffett detailed in
Berkshire's annual shareholder letter
that the company made about $10 billion in capital expenditures in the U.S. in 2012, 88% of the conglomerate's overall capex, amid rising expectations of economic recovery.
"We will keep our foot to the floor and will almost certainly set still another record for capital expenditures in 2013. Opportunities abound in America," Buffett wrote, in the
.
"I am just curious why he has softened his hunt for global elephants," Russo said, highlighting Berkshire's lack of commentary or activity in international markets, in recent years.
Gardner, Russo & Gardner is Berkshire's tenth largest shareholder with a stake of nearly $800 million in the company's Class A shares and over $200 million of Class B shares, according to
Bloomberg
data. Russo says Berkshire holding's represent about 11% of the firm's assets.
On Wednesday, Berkshire said
it would buy a remaining 20% stake
in Israel-based
IMC International Metalworking Companies
for $2.05 billion. Berkshire took an 80% stake in the company at a valuation of $5 billion in 2005, and since then has enjoyed a surge in IMC's earnings.
"I think he will be willing to talk about big deals around the world," Whitney Tilson of
Kase Capital
said of Buffett's international deal making. "He is trying to replicate Iscar," added Tilson, referencing IMC.
After a February
of
Heinz
(HNZ)
, the iconic ketchup maker, Buffett has said he's ready to put the Berkshire pro-forma cash stockpile of over $30 billion to work in large acquisitions.
"
We still have plenty of cash and are generating more at a good clip. So it's back to work; Charlie
Munger and I have again donned our safari outfits and resumed our search for elephants," Buffet wrote, of his so-called "elephant guns" for M&A.
Recent acquisitions such as BNSF Railways, chemicals giant
Lubrizol
and Iscar, meanwhile, have helped Berkshire's post-crisis earnings growth and will continue to drive investor expectations for new share price records in 2013.
"Despite tepid U.S. growth and weakening economies throughout much of the world, our "powerhouse five" had aggregate earnings of $10.1 billion, about $600 million more than in 2011," Buffett wrote, referencing BNSF, Iscar, Lubrizol,
Marmon Group
and
MidAmerican Energy
. "Of this group, only MidAmerican, then earning $393 million pre-tax, was owned by Berkshire eight years ago."
"
Berkshire is well positioned to benefit from improving earnings in its non-insurance business as the economy recovers, as well as from robust property-casualty insurance results," Jay Gelb, a Barclays analyst, wrote in a late April note to clients.
Gelb will be among two analysts asking questions at Berkshire's shareholder meeting.
Shareholders are investing in Berkshire's ownership of operating businesses and the leverage that the company should get from the next five-to-10 years of economic improvement, according to William Smead, chief investment officer of
Smead Capital
, an investor in Berkshire's B-shares.
"I expect Mr. Buffett and Mr. Munger to share how undervalued they still think their stock is... I would love to get reinforced on that," Smead said.
The consensus among analysts polled by
Thomson Reuters
is for Berkshire Hathaway to report a first-quarter profit of $3.3 billion on revenue of $42.2 billion, compared to earnings of $3.0 billion on revenue of $39.2 billion in the first quarter of 2012.
Shares of Berkshire Hathaway have gained about 20% in 2013 and are within reach of all-time highs hit earlier in the year.
In a twist to the shareholder meeting, Doug Kass -- head of
Seabreeze Partners
and a contributor at
TheStreet
-- will present a case for
shorting shares of Berkshire Hathaway
.
While Kass will certainly have room to make an argument, and he could
, shorting Berkshire Hathaway shares has made for a disastrous trade over multiple decades.
Kass, who said he is shorting Berkshire's Class B shares and is slightly underwater since initiating the position about a month ago, has bet against the 'Oracle of Omaha' before.
In March 2008, Kass wrote an article for
TheStreet
outlining
11 reasons to short Berkshire shares
. Subsequently, Berkshire shares fell about 40% amid a collapse in the U.S. financial sector.
On Saturday, Kass
TheStreet
his participation as a Berkshire bear will add a twist to the conglomerate's annual meeting.
"
Warren Buffett was probably feeling the questions were getting a bit redundant... I think he wants to be challenged," Kass told
TheStreet
.
"I have one big challenge for him, which I think will reverberate the auditorium," Kass said.
Kass's
at Berkshire's shareholder meeting may also underscore investor concerns about the direction of the company such as management transition and a deployment of the company's cash stockpile.
"I think the succession question will be obviously front and center," said Russo, the Garner, Russo & Gardner partner. "I gather there will be some commentary."
Buffett has already made it clear his two portfolio managers Todd Combs and Ted Weschler are likely to takeover reins of Berkshire's investment portfolio.
"Todd and Ted are young and will be around to manage Berkshire's massive portfolio long after Charlie and I have left the scene," Buffett wrote. "In 2012 each outperformed the S&P 500 by double-digit margins. They left me in the dust as well.
In late 2011, Buffett also said his son, Howard Buffett, will
as a non-executive chairman of Berkshire to oversee a maintenance of the firm's values.
Less clear is who would be chief executive of Berkshire Hathaway. Currently, speculation centers on insurance unit head Ajit Jain, BNSF railroad CEO Matthew Rose, MidAmerican Energy CEO Greg Abel as leading candidates to be Buffett's successor.
Buffett has informed Berkshire Hathaway's board of directors of his successor.
Russo, the Berkshire investor, sees room for multiple job openings to replace Buffett, when the time comes. For instance, someone like Weschler or Combs could find a new role at Berkshire advising the company's various operating subsidiaries. A separate role could be made for acquisitions, decisions traditionally handled by Buffett.
Russo expects up to four roles to replace Buffett.
"My assumption is that it is Ajit Jain," Meyer Shields, a Keefe, Bruyette Woods analyst covering Berkshire's shares, says of CEO transition. "You've got capable mangers in Berkshire's operating units. In Ajit's case, the primary skill he has is saying no. It sounds trite but that is the trickiest part of the job because you can make so many mistakes."
Shields also forecasts Berkshire's insurance unit may become more aggressive in writing premiums in coming years. His expectations are highlighted by Berkshire's recent hiring of four top executives from insurance giant
AIG
(AIG) - Get Report
.
In a Friday interview with
Bloomberg Television
, Warren Buffett said the four AIG executives had approached Berkshire and will help the company grow its commercial insurance business.
"We would like to get into the commercial-insurance business very big time," Buffett said.
With units such as
Geico
and
General Re
, Berkshire has large operations consumer insurance and reinsurance, however, it has less of a market position in providing insurance to businesses.
William Smead, the Berkshire investor and CIO of Smead Capital highlighted insurer
Aflac
(AFL) - Get Report
as one elephant-sized acquisition for Buffett, were the Amos family ever to decide on selling the company. Smead sees a deal as unlikely but notes, "It's just a matter of Aflac coming to Berkshire with a price."
While Berkshire has outlined a path toward
, few investors or analyst expect
under Buffett's tenure.
"I don't think there is any chance that Berkshire will pay a dividend while Buffett is running Berkshire and I am happy with that," Tilson of Kase Capital says.
The prospect of a Berkshire dividend and CEO transition will have an impact on markets given Buffett's influence as an acquirer of companies and a willing investor of billions in emergency capital in the likes of
Goldman Sachs
(GS) - Get Report
,
General Electric
(GE) - Get Report
and
Bank of America
(BAC) - Get Report
.
"They will have a practice of dispersing cash more regularly," Russo says of his expectations when a management transition occurs. He suspects a dividend will be about helping to transition Warren Buffett's fortune to philanthropic commitments such as the Bill and Melinda Gates Foundation.
"We think it is a very strong company from a credit perspective and it is going to remain a strong company through a management transition," Bruce Ballentine, a Vice President in Moody's Insurance team, said in an April interview.
"We assume the company will manage share repurchases or any future dividends to protect its credit profile."
While Kass's presence as a Berkshire short-seller and Warren Buffett's advancing age could elevate some anxieties of shareholders, ultimately, the meeting is most likely to remain a celebration. That's especially true given Berkshire's unique position to benefit from a
strengthening economic recovery
in the U.S. and internationally.
"Berkshire annual meeting or Kentucky Derby Day... For me, Berkshire by 10 lengths," Mario Gabelli, head of GAMCO Investors,
on
Twitter
.
Buffett also has the ability to integrate social media with this year's annual meeting, after the 'Oracle'
on Thursday.
-- Written by Antoine Gara in New York.