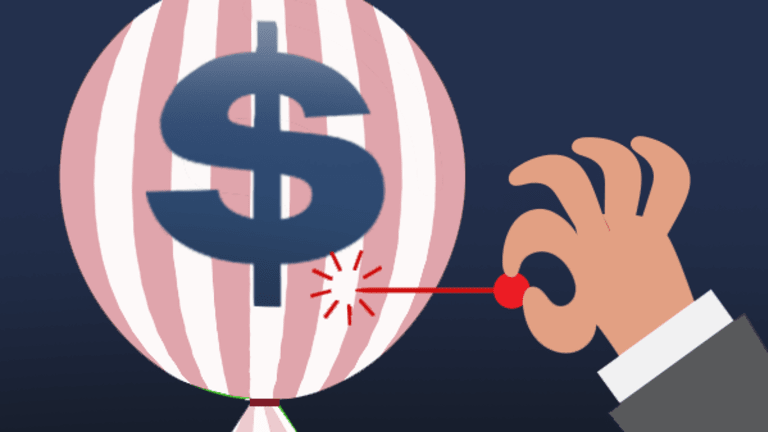 Publish date:
5 Huge New Risks to the Roaring Stock Market Nobody Is Discussing: Market Recon
The Fed's "quantitative tightening" looms large, and tensions with North Korea escalate.
The Fed's "quantitative tightening" looms large, and tensions with North Korea escalate.
"Between calculated risk and reckless decision-making lies the dividing line between profit and loss." -- Charles Duhigg
Avenues of Attack
U.S. equity markets are battling with volatility here and there. Generally, though, stocks have moved sideways for most of the summer, at levels some might call lofty. The S&P 500 is trading at an aggregate 25 times 2017 earnings, but only 18 times 2018 projected earnings. I can live with that. Expensive by historical valuations? Sure -- but tell me what that has to do with price discovery at the point of sale. Not much, my friends. Historical valuations count for a lot in a controlled environment where variables are constant, but the market's variables are anything but constant these days, if they ever were.
That said, not every stock is participating in the market's bull run. The Dow Transports, the small-caps -- heck, maybe even the S&P 500's bottom half have all struggled just to keep their collective heads above water.
Here's what we're facing, and what to do about it:
Earnings Risk
U.S. public corporations have just completed a quarter earnings season that was generally good. Again.
The S&P 500 saw double-digit year-over-year growth in percentage terms for the second straight quarter. (That's better than Mantle and Maris.) We saw 11% second-quarter growth that followed 15.3% gains for the first quarter.
Revenue growth also met expectations at roughly 5%, led by (you guessed it) the energy sector, followed by techs and the industrials. By contrast, the materials and telecom sectors both saw earnings growth shrink.
Now, earnings are the lifeblood of stock prices. They're what got the market to record territory, and as you are supposed to stay with who "brung" you to the dance, that should always remain your first consideration going forward.
Are valuations high in that context? That depends on what you're looking at, where you are and where you're going. It also depends on what the other guy thinks.
By the way, comparisons have been rather easy for earnings during the past two quarters. In 2016, it was the third quarter when earnings really started to show growth in aggregate after a prolonged earnings recession. That means that things might get a little sloppy in Wall Street's mosh pit later, when we get third-quarter 2017 results.
Federal Reserve Rate Hikes
There are three avenues of possible monetary policy-related attacks on our portfolios that we must defend against. The first is the outright trajectory of the federal funds rate, which currently stands in the 1%-to-1.25% range.
Many expect the Fed to tack on another quarter-point this year. As I write this, the futures are pricing in a 42% probability of another rate hike before Dec. 31.
But incredibly, there's also a 2% chance of a rate cut. The likelihood of that additional rate hike has dropped over time, as nobody wants to wear the blame should the Fed's actions push the U.S. economy into recession.
The Balance Sheet
Next, we have to see if the Fed begins to drain its $4.5 trillion balance sheet by tapering its reinvestment program.
This program, which some a dubbing "quantitative tightening," will (hopefully) commence when the Federal Open Market Committee releases its latest policy statement on Sept. 20. This action is well overdue.
Foreign Monetary Policy
Will the European Central Bank taper its own quantitative-easing program now that the eurozone economy is clearly showing recovery signs? How about the Bank of Japan?
Don't even ask about poor Bank of England chief Mark Carney. I think his hands are tied for the moment. Then there's a seemingly resilient Chinese economy.
I think these foreign central bankers will have to act to remove monetary accommodation at some point. That will put further downward pressure on the U.S. dollar, which is what my fellow columnist Douglas Borthwick has been telling us since last December.
Macro Risk
U.S. macroeconomic conditions have improved somewhat recently. For example, second-quarter gross-domestic-product growth was just revised up to 3% based on positive revisions to both durable- and non-durable-goods purchases.
A living, breathing U.S. consumer? We're not used to that, but it's somewhat less awful out there than it has been for a very long time.
True, inflation remains a laggard. But that might be an almost-permanent condition, given the sustained pressure that technological progress is putting on wages, not to mention the elimination it's causing of several entire occupations. Without higher inflation, you and I, but especially the U.S. government, are all going to have to figure out how to manage our debt.
As for the rest of the U.S. macro universe, manufacturing's recovery remains on track, although that's admittedly off a very low base. Retail sales also improved this summer, even without much help from auto sales.
Businesses have likewise started to build inventories again after a very long pause. Combined with a decent pop in July core capital-goods orders, this implies that there's increased business spending. Production is still at very poor levels, but has also started to outpace unit labor costs, which almost never happens.
Yes, housing has started to stagnate a little -- but let's face it, if you have to stall somewhere, these are decent levels to do so.
The bottom line -- we've made undeniable progress, but we still have far to go. Tax reform has almost never been more important. Get to it, Congress.
Political Risk
Current U.S. political risk really boils down to two things -- President Trump's ability to discipline his reckless style and any progress (or lack thereof) that Congress can make on economic reforms.
Eight months after Inauguration Day, Republican control of the White House, the House and the Senate has yet to yield any real GOP legislative victories. The first target here would obviously be tax reform.
I believe it's incumbent on lawmakers to cut taxes and boost fiscal spending. Nothing will kick-start the economy like improving both the business and individual tax landscape, while increased infrastructure and defense spending are not only both necessary, but would push GDP growth higher.
Geopolitical Risk
Scott Gamm asked me toward the end of our Trading Strategies roundtable in August what I saw as the No. 1 threat to U.S. markets. My answer was North Korea, which proved to be the smartest thing I probably could have said.
That threat not only still exists, but is almost overbearing at this point. Obviously, the persistent threat of radical extremist terrorism is also a threat to almost all nations at this point.
These twin threats -- plus an unpredictable, expansionist Russia and several other countries that always seem to be up to no good -- are the reasons that I doubt I'll ever be underweight defense and aerospace stocks again.
Investor Sentiment
You need to know two things regarding investor sentiment.
First, the latest weekly Investors Intelligence poll saw the share of financial advisers who describe themselves as bullish drop to 48.1% from a previous 50.5%. Meanwhile, 18.3% viewed themselves as bearish, up slightly from 18.1% a week earlier.
That's not weak enough to get me excited about the market's short-term prospects. I remain bullish myself, but expect to face an increased need for finesse throughout autumn.
As for average investors, they are voting with sell orders. Bank of America Merrill Lynch reported that investors withdrew $2.6 billion from U.S. equity funds in the week ended Aug. 23. This brought the weekly losing streak to 10 -- and the total outflow to $30 billion dating back to June. Don't look at last week, as there was a significant re-balancing that benefited stocks. Now, it gets interesting. Now, we play ball.
CEOs are coming out in support of DACA, which will be in the news on Tuesday. 
Macro
07:30 - Fed Speaker:Federal Reserve Gov. Lael Brainard, a voting member of the FOMC, will speak from New York City. It has been nearly a month since we have heard from Brainard on policy. At that time, she was still on board with balance sheet management, but seems to be backing off from another rate hike anytime soon.
10:00 - Factory Orders (July):Expecting -3.2%, June +3.0% m/m. This item spiked wildly higher at the headline level in June thanks to soaring orders for aircraft. That surge will prove unsustainable today, as July's number roll in at a possible complete rollback of that June spike.
13:10 - Fed Speaker:Minneapolis Fed Pres. Neel Kashkari will speak from Minneapolis, where he will open himself up to questions from the audience. Kashkari has stressed the need to be patient on raising rates this year and has indeed been the lone dissenter when the FOMC has acted aggressively. I would think that he is likely to remain dovish today.
19:00 - Fed Speaker:Dallas Fed Pres. Robert Kaplan will speak from Dallas tonight. Kaplan is a hawk turned dove, who does vote on policy this year. Kaplan has sounded optimistic on economic growth recovering in his district in the wake of the immediate hit taken from Hurricane Harvey. Kaplan will take questions from both the media and the audience.
Sarge's Trading Levels
These are my levels to watch today for where I think that the S&P 500, and the Russell 2000 might either pause or turn.
SPX: 2490, 2481, 1274, 2468, 2461, 2454
RUT: 1427, 1421, 1415, 1408, 1400, 1393
Today's Earnings Highlights (Consensus EPS Expectations)
After the Close: (CASY) - Get Report ($1.45), (PLAY) - Get Report ($0.55), (DLTH) - Get Report ($0.11), (HPE) - Get Report ($0.26)
Get Morning Recon delivered directly to your inbox each market day. Click here to sign up for e-mail delivery of Stephen "Sarge" Guilfoyle's Morning Recon, Jim Cramer's Daily Booyah! or other great free newsletters from TheStreet.
More of What's Trending on TheStreet:
At the time of publication, Stephen Guilfoyle had no positions in the stocks mentioned.