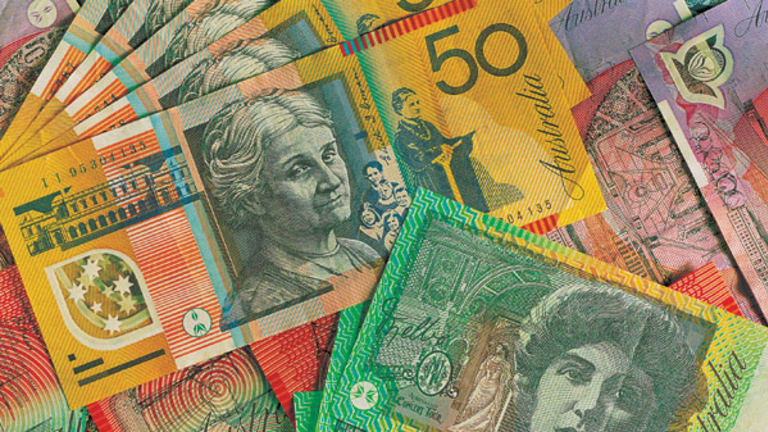 Are Currency ETFs Zero-Sum Speculation or a Hedge Against Risk?
Revisiting a once-popular investment vehicle.
NEW YORK (TheStreet) -- It wasn't always easy to invest in currencies.
But now exchange-traded products offer access to asset classes that previously could not be accessed through brokerage accounts, including currencies.
Currency funds first hit the market in in 2005, when Rydex (since acquired by Guggenheim), created the CurrencyShares Euro (FXE) - Get Invesco CurrencyShares Euro Trust Report. That was then followed by CurrencyShares for several other currencies in the ensuing months.
The belief back then was that the dollar had to go down. The new currency funds offered a form of diversification for a dollar-based portfolio.
Read: Fed Says LIBOR 'Understated,' Describes Wachovia Deposit Run at 2008 Meeting
The concept was immediately popular, as the dollar was dropping against some of the major currencies in what many at the time believed was a one-way trade. In one stretch from late 2005 into 2008, the dollar fell 25% against the euro and 12% against the British pound. In 2007, CurrencyShares announced the FXE had amassed over $1 billion in assets.
Since then, the euro and other major currencies stopped being a one-way trade and turned into a less predictable, short-term trading vehicle.
FXE bled assets. Now, according to ETF.com, it has only $210 million in assets.
Read: We Don't Talk About Our Number One Concern: Money
The currency fund with the most assets now is the CurrencyShares Australia Trust (FXA) - Get Invesco CurrencyShares Australian Dollar Trust Report at $325 million, probably because of FXA's relatively high trailing yield of 1.98%. Still, over the last year it is down 12% more than its offsetting yield.
The reality is that exposure to a single currency is closer to a zero-sum speculation as opposed to an investment. While speculation is of course valid, it may not be what all investors want to do.
One form of currency exposure that could work more effectively to diversify a dollar-based portfolio are ETFs that offer exposure to baskets of currencies.
In terms of currency-basket assets, WisdomTree dominates with its WisdomTree Emerging Currency ETF (CEW) - Get WisdomTree Emerging Currency Strategy Fund Report, which has $148 million in assets, and the WisdomTree Commodity ETF (CCX) - Get Churchill Capital Corp II Class A Report, with only $11 million in assets. A newer alternative is the PIMCO Foreign Currency Strategy ETF (FORX) , which just started trading last February.
CEW seeks an equal-weight exposure to 15 emerging market currencies. Regionally, CEW allocates 46% to Asia, 26% to Latin America and 26% to Europe, the Middle East and Africa. CEW can pay a dividend but has not paid one since December 2011. Perhaps the most appealing thing about CEW from a diversification standpoint is its 0.25 correlation to the S&P 500, according to ETF Replay.
CCX offers roughly equal exposure to New Zealand, Australia, Norway, Brazil, Canada, Chile, South Africa and Russia. Similar to CEW, CCX can pay a dividend but has not done so in two years. Where CEW captures broadly positive trends in emerging markets, CCX is a mix of developed and developing countries that should benefit from positive trends in emerging markets.
Pimco's FORX is an actively managed fund that can also include short exposure. Currently FORX has 15% long exposure to Norway, 14% in Brazil and 11% in Mexico, and a 7% short position in Japan.
Over the last 12 months, all three funds have endured high single-digit losses. That certainly is off-putting.
Read: Girl Scouts Getting High on Capitalism
But the currency markets have been distorted by global central bank policies. Investors have likely heard terms like competitive devaluation and currency controls, which indicate how central banks have shaped markets to prevent their respective currencies from rising.
In part because of competitive devaluation, most foreign equity markets have lagged U.S. equity markets.  That's of course a reversal from most of the last decade. When the pendulum swings back to favor foreign assets, then the currency funds will likely also rotate back into favor.
While now low prices in foreign currencies can certainly go lower from here, after several years of trending lower, there will at some point be a turn and foreign currencies will again move higher.
At the time of publication, the author held no positions in any of the stocks mentioned.
This article represents the opinion of a contributor and not necessarily that of TheStreet or its editorial staff.