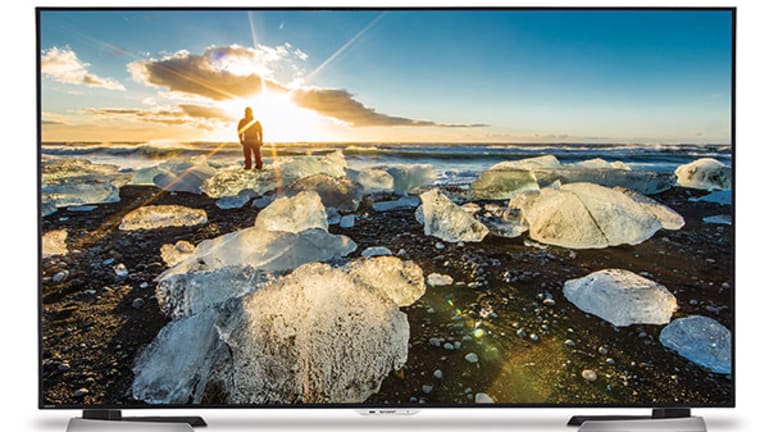 Apple Supplier Foxconn Moves Into European TV Business Through Sharp
Sharp's acquisition of European businesses marks a comeback in TV productions in the region.
Foxconn has taken another major step in its ambition to expand beyond its role as a key supplier to Apple (AAPL) - Get Free Report  in committing to the European consumer electronics business. 
Sharp (SHCAY) , now a Japanese subsidiary of Foxconn, will buy two TV companies in Eastern Europe - in Slovakia and Poland -- in a move that would signify its return to a business it once dominated. 
Osaka, Japan-based Sharp said Thursday it would acquire 56.7% in Cyprus-based SkytecUMC, a holding company which owns Slovakia-based Universal Media and UMC Poland, which are both involved in TV operations. The purchase comes as an extension of a business alliance Sharp had already signed with Universal Media in September and would mean the Japanese consumer electronics player is making a comeback in the arena of TV making and selling in Europe.
The announcement follows reports last week that Sharp will no longer supply LCD TV panels to South Korean rival Samsung Electronics (SSNLF) from next year, even though that meant it would lose half of its annual sales volume. The decision sparked speculation that Foxconn, through Sharp, would not only revive the loss-making Sharp, but also boost its presence as maker of end-products. There was also media speculation that Sharp and Foxconn are considering building a new LCD TV panel plant in China.
Investors will watch whether Sharp will make similar moves in other regions, including the U.S., where last year the company gave its brand license to Hisense as part of a move to restructure its North American LCD TV business. 
Universal Media is a designer, maker, and distributor of several brands, including Sharp, Germany's Blaupnkt, and the US's HarmanInternational's (HAR) Harman Kardon. Meanwhile, UMC Poland was established in 2006 as Sharp Manufacturing Poland involved in LCD module and TV assembly productions, and has established relationships with European retail chains.
Foxconn, also known as Hon Hai Precision Industry (HNHPF)  , acquired 66% in debt-ridden Sharp in August for ¥388 billion after a ¥100 billion price reduction as due diligence raised concerns about Sharp's corporate value. The purchase was perceived as a long-time ambition of Foxconn CEO Terry Gou, who in the end beat Innovation of Network Corporation of Japan, a public-private fund which wanted to break up Sharp and add its panel business into JapanDisplay (JPDYY) , another major Apple supplier.
Sharp was the fourth-biggest LCD TV maker in 2008. It has consistently lost market share every year since, according to Statista, while Samsung has dominated the $100 billion annual market. Sharp's finances haven't fared much better: it booked net losses in four out of the last five years -- the latest amounting to a loss of ¥256 billion -- and remains stuck in the red as of Sept. 30.
(Apple is held in Jim Cramer's charitable trust Action Alerts PLUS. See all of his holdings here.)