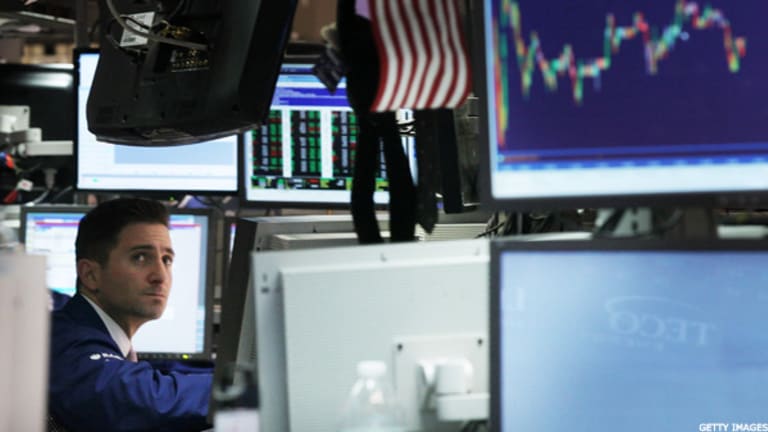 Apple Pay Unimpressive; Economy Won't Support Rally: Best of Kass
In highlights from his trading diary of the past week, Kass said he's not excited about Apple Pay, and doesn't see the U.S. economy supporting the stocks rally in 2015
NEW YORK (Real Money) -- Doug Kass of Seabreeze Partners is known for his accurate stock market calls and keen insights into the economy, which he shares with RealMoney Pro readers in his daily trading diary.
This past week, Kass wrote that he's unimpressed with Apple (AAPL) - Get Apple Inc. (AAPL) Report Apple Pay, noting that the product doesn't seem to add much value. Kass doesn't see recent economic data supporting the stocks rally in 2015.
Originally published on Dec. 19, 2014 at 11:55 a.m. EST
I don't see it as a needle mover.
I have read about a great deal of excitement regarding Apple Pay and the possibility that the application will be a "needle mover" for Apple (AAPL) - Get Apple Inc. (AAPL) Report
I started using Apple Pay this week and, besides the comfort of the security issue, I see little value added to the application.
I would just as well use my credit cards.
I recognize that credit card companies like the Apple Pay product as it protects them from fraud and Apple gets only 0.15% per transaction. However, in light of the possible threat of market share inroads by Apple, one would think that the credit card providers will shortly "retaliate" with a more secure product and card offerings of their own in the not so distant future.
Even if the market is left to Apple by the credit card companies, the needle will not be moved. Try multiplying 0.15% by any reasonable sales figure and you will see why.
What am I missing here?
I will stick by my short investment case that the current product upgrade cycle, while gigantic in terms of current sales, represents the last major product upgrade cycle in quite a while and that neither the watch or Apple Pay will likely be significant incremental contributors to Apple's sales and earnings.
One Day More

Originally published on Dec. 19, 2014 at 8:16 a.m. EST
The expanding disconnect between (rising) stock prices and (a weakening in) the real economy might be borrowing against future market gains.
Late last week, as the markets fell, I argued that a year-end rally could emerge from the oversold.
Over the last two days a more significant rally than I expected has developed, possibly borrowing (or taking away) from any more seasonal strength.
Anecdotally, some observers who hated the market at last week's depths have turned unambiguously bullish now.
I would argue that reward vs. risk (upside vs. downside) is now turning unattractive (for traders that have a time frame of 1-2 months).
I expect 2015 do be a more challenging year than 2013-2014. Valuations have risen quite substantially over the last two years as the disconnect between stock prices and the real economy has been stretched.
One needs only to parse through the domestic economic data that have been released this week (and have generally been ignored as a result of the spectacular climb in global equity markets).
First, the Markit flash services PMI was much weaker than consensus expectations (coming in at 53.6 compared with an estimate of 56.3 and to the prior month of 56.2). Importantly, the drop relative to consensus was driven by the weakest new orders print (53.4 from 55.6) in more than nine months. Input prices declined to the lowest level in mor ethan four years. Payrolls in December, says Markit, should be weaker than seen in recent monthly reports. And the rise in backlogs was at the slowest pace in six months. According to Markit, the manufacturing and services PMIs suggest that 4Q 2014 real GDP could drop below 2%.
Second, the Philly Fed Index also came in below consensus expectations (at 24.5 vs. 26.0E and from 40.8 in the prior month). Most components (including employment, shipments and new orders) were lower than expected, while inventories were at the higher end of estimates.
Though consumer confidence and retail spending have been relatively strong, the above weak reports are in line with the poor PMI report (of four days ago) and present a mixed view of the trajectory of the domestic economy as we enter 2015.
Suffice to say, recent data suggest that the non-U.S. economies are also weakening and the chaos in Russia is raising additional risks to the downside.
Let's get back to the equity markets.
This morning a Quad Witch might positively impact the opening as expirations are often skewed to the buy side.
After trading like a drunken sailor over the last 10 days, I expect to reduce my activity and, as I suggested, gradually reduce my Value at Risk in the days ahead.
TGIF ... one day more!
A look at Russian Risks

Originally published on Dec. 18, 2014 at 7:40 a.m. EST
Let's dive deeper into the issue.
The consensus view is that lower oil prices will buoy global growth, moderate and contain the rate of inflation, reduce interest rates and permit central bankers to stay lower for longer.
As we approach the end of the week, I wanted to do a deeper dive and be more specific in assessing the risks associated with the Russian problem and the possibility of a loan default.
As I see it here are at least six identifiable risks.
Russia defaults: This is not a high probability event as, according to students of that country, Russia has $210 billion in public sector debt. This represents only about 1/10 of Russia's GDP and compares with more than $400 billion in foreign exchange reserves (though how much of this is liquid is being debated).
Russia's economic contraction adversely impacts an already moribund EU economy. In turn, this cripples global GDP: Direct trade between Russia and Europe is relatively small because Russia is not integrated into that region of the world. More risky is an economic slowdown in other energy-dependent emerging markets (some of whom might face capital outflows as oil prices descend). Such a contagion must be closely monitored.
Risks associated with Russian corporate debt and bank loans (particularly to Europe): This risk is a serious one as a levered and already-challenged European bank problem could erupt into a systemic problem and could spread to our economy and financial institutions. For now, according to the sell side, a potential Russian bank situation has been contained as bank loan exposure in Europe to Russia represents about 3-4% of their capital bases and only about 1% of total EU GDP.
Geopolitical risk: This is the big unknown as no one knows what a scared mouse (Putin) might do when faced with a bunch of cats.
The Russian Ruble is overvalued: As expressed yesterday morning, capital outflows and a run of the banks is a big risk as the recent rise in interest rates from 10.5% to 17% has failed to halt a capital exodus and to stabilize the country's currency. Capital controls may be next, but controls rarely have anything but a temporary impact.
Owners of emerging market debt and equity sell their liquid assets: This sort of domino impact must be watched closely because those markets (both debt and equity) tend to be limited liquidity.
I continue to be of the view that the drop in the price of oil may have a more ambiguous net impact on economic growth (relative to consensus).
Stay tuned.
At the time of publication, Kass and/or his funds were short Apple although holdings can change at any time.
Doug Kass is the president of Seabreeze Partners Management Inc. Under no circumstances does this information represent a recommendation to buy, sell or hold any security.