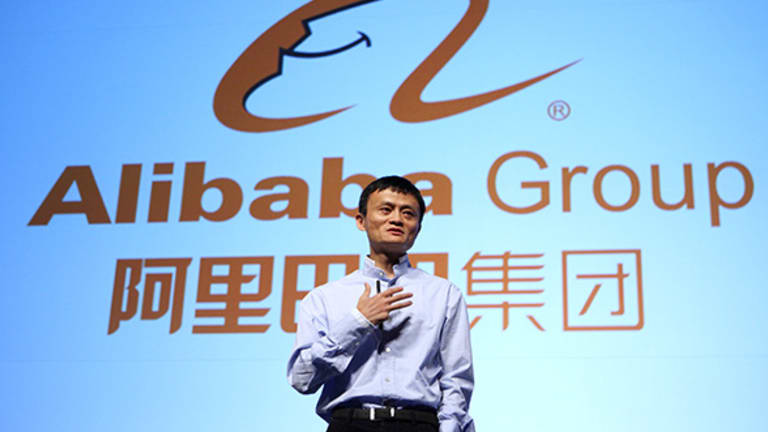 Alibaba Tries to Catch Up to Tencent and Baidu in Online Video
Alibaba announced a new Netflix-like service that may help the e-commerce giant compete with Tencent's lead in China's online video market.
NEW YORK (TheStreet) -- Chinese e-commerce giant Alibaba (BABA) - Get Report is ready to take on Chinese Internet conglomerate Tencent (TCEHY) and make a play for the online video market.
On Sunday, Alibaba announced that it will be releasing Tmall Box Office, an online streaming service akin to both Netflix (NFLX) - Get Report and Time Warner's (TWX) HBO. The service will be available in about two months through Alibaba's set-top box and televisions that support its operating system. It will offer both original content created by Alibaba as well as content purchased from overseas.
Alibaba's entertainment affiliate Alibaba Pictures completed a $1.57 billion stake sale in Hong Kong in June to help finance potential content acquisitions.
Online video is a $5.9 billion market in China, according to Shanghai-based Internet consultant iResearch, and while Tencent is currently the leader in the market, Alibaba thinks it can take a chunk of that for itself.
"Digital video and high quality content is a key component of our long-term growth strategy," an Alibaba spokesperson said.
The announcement of the streaming service follows a number of moves from Alibaba in the entertainment space, mainly through its affiliate Alibaba Pictures, over which Alibaba gained control in 2014 after increasing its stake in the company to 70.8%. In April, Alibaba announced a proposal to inject some of its entertainment-related business into Alibaba Pictures to help solve some of its financial struggles, sending shares of Alibaba Pictures up 37%.
Alibaba also has a $1.22 billion stake in Youku Tudou (YOKU) , China's alternative to YouTube. And Alibaba chairman Jack Ma has been trying to acquire more content in Hollywood and elsewhere, according to Bloomberg.
However, Alibaba may have an uphill battle going against online video incumbents like Tencent and Baidu (BIDU) - Get Report, which has a majority stake in one of China's most popular streaming sites, iQiyi.
"Given that Baidu's iQiyi is becoming one of the best video sites in China now and Tencent Video is catching up, I think Ali[baba] just feels that it needs to have something," said Si Shen, founder of PapayaMobile, which provides a Chinese advertising platform for companies like Amazon (AMZN) - Get Report and Alibaba.
Even if it takes a while for Alibaba to catch up, the investment in online video could pay off big time. In China, and especially for Alibaba, e-commerce tends to have a broader definition, according to Wedbush Securities analyst Gil Luria. Media is an obvious component of e-commerce there, he said, since the country's definition of e-commerce includes anything and everything that can be consumed.
Plus, Alibaba views the TV as one more screen that can be tapped for e-commerce. Take for instance a consumer watching a movie and eyeing a dress that one of the actresses is wearing. Alibaba could integrate its platform within the movie so that the consumer could act then and there and purchase the dress.
"[Alibaba has] an explicit multiscreen strategy," Luria said. "They don't want you to just buy on your computer or phone, they think other screens are conducive to commerce -- first and foremost the TV screen. Just as how they shifted from being all on desktop to a half on mobile, it wouldn't be surprising if there's an inflection point three or four years down the road where a lot of commerce is done on TV."