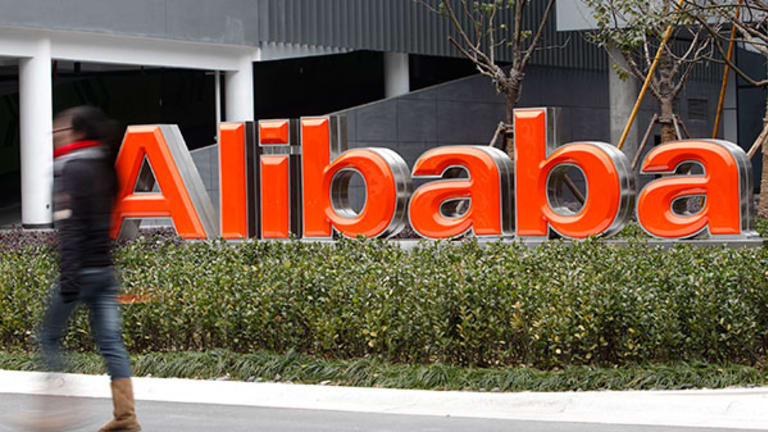 Alibaba All Set for Takeoff, Picks NYSE, Ticker BABA for IPO
As Alibaba moves forward with an initial public offering, the company said on Thursday it will list its shares on the New York Stock Exchange under ticker BABA.
NEW YORK (TheStreet) -- As Chinese e-commerce giant Alibaba moves forward with an initial public offering, the company said on Thursday it will list its shares on the New York Stock Exchange (NYX) under ticker "BABA." Alibaba disclosed the exchange selection and ticker in an amended S-1 filing with the Securities and Exchange Commission.
Jim Cramer: Alibaba Is An Unstoppable Freight Train
Alibaba's decision to list on the NYSE is a huge coup for the exchange and could generate significant fee-related revenue. While the size, price and timing of Alibaba's IPO haven't yet been disclosed, the offering is widely expected to be the biggest in U.S. history. The firm could also receive a valuation in excess of U.S. e-commerce pioneer Amazon (AMZN) - Get Amazon.com Inc. Report.
Traditionally, tech companies including Amazon have listed their shares on Nasdaqundefined. However, in recent years many prominent tech-related IPOs have chosen the NYSE. While Facebook listed its shares on Nasdaq, Twitter listed its shares on the NYSE.
Earlier in June, Alibaba disclosed new information about its partnership and board of directors. The firm disclosed the names 27 partners who are able to nominate a majority of director appointments to the company's board. Alibaba also disclosed its board of directors, which will be comprised of a majority of outside directors.
One little-reported element of Alibaba's partnership structure is its gender diversity. A third of Alibaba's partners are female, TheStreetfirst reported, perhaps, showing inclusiveness that would compare favorably to the company's Silicon Valley competitors.
Alibaba's partnership was also the impetus for the company's decision to move forward with a share offering in the U.S. and ultimately with the NYSE.
Partnership Drives U.S. Listing
Alibaba decided to list its shares in the U.S. because of a spat the company had with Hong Kong regulators, who would not allow the company to list its shares with a special partnership structure. Both the NYSE and Nasdaq approved Alibaba's partnership structure, paving the way for the company's U.S.-based offering
Many U.S. financial pundits took Alibaba's decision to list in New York as reason to believe the company would list its shares with a dual class stock structure, giving insiders different voting rights than ordinary shareholders.
While Chinese companies recently making an IPO, such as JD.com (JD) - Get JD.com Inc. 京东 Report, Weibo (WB) - Get Weibo Corporation Report and Cheetah Mobile (CMCM) - Get Cheetah Mobile Inc. American Depositary Shares each representing 10 Class Report have listed in the U.S. with dual class voting standards, Alibaba isn't. Instead, the company's partnership seeks to nominate a majority of directors to its board of directors.
"Unlike dual-class ownership structures that employ a high-vote class of shares to concentrate control in a few founders, our approach is designed to embody the vision of a large group of management partners. This structure is our solution for preserving the culture shaped by our founders while at the same time accounting for the fact that founders will inevitably retire from the company," Alibaba states in its F-1 filing with the SEC.
Alibaba Underwriters Go From Alpha to Beta
Alibaba's Board of Directors
Alibaba said its board would consist of founder Jack Ma, executive vice chairman Joseph Tsai, SoftBank CEO Masayoshi Son, Alibaba CEO Jonathan Zhaoxi Lu, COO Daniel Yonhg Zhang, Chee Hwa Tung, vice chairman of the Twelfth National Committee of the Chinese People's Political Consultative Conference of the PRC, former KPMG executive Walter Teh Ming Kwauk, Michael Evans, and Yahoo! (YHOO) founder Jerry Yang.
It is worth noting that none of Alibaba's board directors after its IPO are female.
Evans, a longtime banking executive who led Goldman's equity underwriting business, was often mentioned as a possible candidate to succeed Lloyd Blankfein as CEO of the famed investment bank until his surprising retirement at the end of 2013. As Vice Chairman of Goldman's Asia operations for nearly a decade, Evans had a history of leading the bank's investments in China's rising corporate giants such as the Industrial and Commercial Bank of China.
Yang led Yahoo's early investment in Alibaba and SoftBank's Son has also been a long-time investor and partner as the company has grown to the undisputed leader in e-commerce in China. Yahoo, unlike Goldman Sachs, retained most of its stake in Alibaba and is poised to receive tens of billions of dollars as a result of the company's IPO.
Alibaba's Businesses
Alibaba operates Taobao Marketplace, China's largest online retail site, Tmall, a branding platform, and Juhuasuan, a group buying marketplace. When combined, the three divisions generated $248 billion in gross merchandise volumes from 231 million active buyers and 8 million active sellers in 2013. Mobile GMV's accounted for 27.4% of Alibaba's total volume in the first quarter, indicating that the company is continuing to see rising activity from mobile devices.
Activity from mobile devices is key to Alibaba's growth prospects given rising online penetration in China as a result of smartphone and tablet devices. Many new Chinese internet users have bypassed the desktop PC and are accessing the internet purely from their mobile devices.
The company also operates Alibaba.com, China's largest online wholesale marketplace by revenue, 1688.com, and AliExpress, a global consumer marketplace.
In addition, Alipay, serves as Alibaba's online payment platform. The division generally draws comparison to eBay's PayPal unit. Alibaba also said it offers cloud computing services to third parties and which supports the company's ecosystem.
Alibaba's Partnership is One-Third Female
Selling Shareholders, Underwriters
Softbank, Yahoo!, Jack Ma and Joe Tsai are listed as principal or selling shareholders in Alibaba's prospectus. Prior the offering, Alibaba said Softbank is the beneficial owner of 34.3% of the company's shares, while Yahoo is a beneficial owner of 22.5% of the company. Ma is the beneficial owner of 8.9% of Alibaba, while Tsai owns 3.6% of the company.
Masayoshi Son, Jacqueline D. Reses, Jonathan Z. Lu, Daniel Y. Zhang, Maggie W. Wu, Jian Wang and Timothy A. Steinert are also listed as beneficial owners of Alibaba.
Alibaba has hired six underwriters, Credit Suisse, Deutsche Bank, Goldman Sachs, JPMorgan, Morgan Stanley and Citigroup, to lead its U.S.-based IPO.
Alibaba Underwriters Go From Alpha to Beta
Alibaba IPO Documents Disclose Partnership Structure
Alibaba's Board Gets Goldman Banker Evans
JD.com Founder's $591 Million Payout
-- Written by Antoine Gara in New York