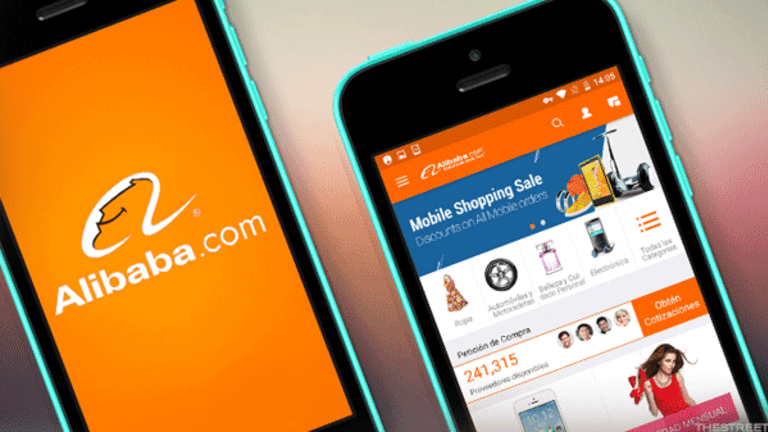 Alibaba Is Going to Soar to $200 a Share -- This Is What Will Unleash the Value
Alibaba's positive revenue growth forecast is forcing analysts to revise previous estimates.
Alibaba's positive revenue growth forecast is forcing analysts to revise previous estimates.
Alibaba  (BABA) - Get Report  is on fire and it doesn't look like anything can stop the Chinese e-commerce giant. At least in the eyes of Wall Street.
The company's forecast for up to 49% revenue growth over the next year continues to send ripples through Wall Street analysts' views on the Chinese e-commerce giant. 
The stock is trading up about 63% to $143.71 year-to-date. Analysts surveyed by FactSet have a total of 38 "buy" ratings and three "hold" ratings on Alibaba, not including JPMorgan which initiated coverage of Alibaba with a $190 price target in a note on Tuesday. 
The latest nod of approval came from Barclays' analyst Gregory Zhao, whose sum of the parts (SOTP) analysis values Alibaba at $200 per share. Using SOTP analysis is helpful when valuing a company like Alibaba that has a number of investment holdings, as well as a number of businesses in different stages of growth. 
The firm also raised Alibaba Group Holdings Ltd.'s price target to $175 from $141 in the note sent to investors on Tuesday morning and maintained its "overweight" rating on the stock. 
The company recently revised its revenue guidance, saying it would increase revenue by 45% to 49% year-over-year in 2018.
The guidance "is striking considering management's typically conservative stance," wrote Zhao, referencing guidance announced at Alibaba's two-day investor event in early June. The consensus estimate from analysts surveyed by FactSet was for 37% revenue growth. 
The price target increase at Barclays comes after JPMorgan Chase & Co. initiated the Chinese e-commerce giant with an overweight rating and $190 price target in a new note Tuesday, representing more than 30% growth over Monday's closing price of $142.73.
In JPMorgan's eyes, Alibaba is entering a transformation from a pure play e-commerce company to a data-driven beast that stands to power its bottom line more than most expect.
The bullishness from Wall Street comes as a product of Alibaba's own bullishness, as the firm typically guides conservatively.
At last year's investor day event in the summer of 2016, Alibaba guided for a conservative 28% revenue growth before revising it up to 53%. In the end, the company handily beat both estimates with its 56% reported revenue growth for the year to $23.3 billion. However, the figure is somewhat skewed because the company absorbed video site Youku and Southeast Asian e-commerce platform Lazada in the past year ended March 31. After adjusting for the two business consolidations, revenue growth would have been about 44% to 45%.
The 49% revenue growth guidance for the next year implies accelerated organic growth for Alibaba's core e-commerce businesses due to Taobao's marketing efforts, Tmall Supermarket and its New Retail strategy, which aims to boost sales in brick-and-mortar stores through the use of big data. 
When you consider Alibaba's global growth rate, its hard to find similar alternative investments, Zhao noted. 
The continued upside for the company will likely come from its core e-commerce business, AliCloud, and other investments, he said. Alibaba continues to improve user engagement on its e-commerce platforms with the use of targeted content that encourages viewers or readers to then purchase an item on the site. In addition, its cloud business already boasts a 41% share of the China market, which is equal to the next seven players behind it combined, and it still has room to grow.
Lastly, Alibaba will most likely do heavy investing in its New Retail strategy, which is already helping to turn around sales figures at department store company Intime and at Lianhua Supermarket. 
Earlier in June, Alibaba vice chairman told TheStreet that the company was hoping these early New Retail turnaround examples would stand as prototypes that would drive other struggling brick-and-mortar stores to come to it for help. This way, Alibaba would rely on partnerships rather than investments or acquisitions of other physical stores. "We don't necessarily have to make equity investments," he said. "Our intention is to run a capital-light strategy, but initially, you need to develop some prototypes so that people can see how they work and then they will be more inclined to work with you."
Alibaba's shares fell 0.8% to $141.58 by Tuesday's close.
Visit here for the latest business headlines.
Read More Trending Articles:
Stocks Extend Losses as Tech Falls, Senate Delay Hits Healthcare