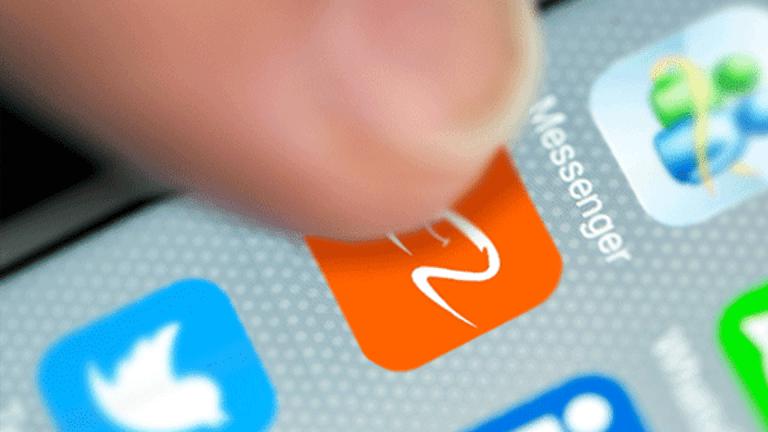 Alibaba and JD.com's Latest Numbers Reveal E-Commerce in China Is Booming
The Chinese e-commerce giants saw impressive third-quarter sales growth and even better Singles Day volume growth. A few different trends are giving them a lift.
The Chinese e-commerce giants saw impressive third-quarter sales growth and even better Singles Day volume growth. A few different trends are giving them a lift.
For a little while in 2016 and early 2017, as Alibaba Group Holding Ltd.'s (BABA) - Get Report transaction growth slowed, and worries about slowing Chinese GDP growth picked up, it didn't seem far-fetched to think that China's online retail boom was slowing down in a meaningful way.
But today, as Alibaba and top rival JD.com Inc. (JD) - Get Report bask in the glow of very strong third-quarter and Singles Day numbers, such worries are looking antiquated. Just as Amazon.com Inc. (AMZN) - Get Report has been able to accelerate its U.S. growth this year thanks to both the local e-commerce market's growth and share gains made possible by its superior scale and resources, China's e-commerce giants are seeing the good times roll on.
For Singles Day (Nov. 11, by far China's biggest online shopping day), Alibaba reported its gross merchandise volume (GMV) for transactions settled via the Alipay payments platform grew 39% annually to $25.3 billion. That's above the 32% growth registered during last year's Singles Day, as well as the 22% GMV growth Alibaba's Taobao and Tmall marketplaces saw in fiscal 2017 (it ended in March).
JD, which didn't disclose Singles Day numbers in prior years, reports its GMV for the Nov. 1-11 period grew more than 50% to $19.1 billion. That's a little better than the 46% GMV growth JD saw in 2016.
JD's shares rose 3.5% on Nov. 13 to $41.34, following both the release of its Singles Day event data and a better-than-feared Q3 report. The company's sales rose 39% annually in Q3 to $12.61 billion, slightly topping a $12.59 billion consensus. GMV rose 44% to $32.9 billion.
Those growth rates, it's worth noting, represent a slowdown from the 44% revenue growth and 53% GMV growth JD saw in Q2. And growth might slow a little more this quarter: JD is guiding for 35% to 39% Q4 sales growth.
But from the looks of things, the culprit here isn't slowing demand growth, but tougher competition from Alibaba, whose Tmall marketplace (it caters to larger merchants) has stepped up its efforts to grow sales within verticals such as electronics and apparel. On its earnings call, JD said it recently lost over 100 merchants from its marketplace due to attempts by a rival (clearly Alibaba) to force merchants to choose between its platform and JD's.
JD added the merchants that left were all "major domestic apparel brands," and that it hasn't seen any big foreign brands depart. Nonetheless, Alibaba dismisses JD's allegations, and insists merchants are free to use whichever online platforms they want.
Alibaba, for its part, beat its September quarter estimates and reported its China Commerce Retail revenue, which covers Taobao, Tmall and offline Chinese businesses, grew 64% to $5.9 billion. That's better than the June quarter's 57% growth, not to mention the 43% growth seen in fiscal 2017.
Alibaba doesn't break out the segment's quarterly GMV growth anymore. But for the second quarter in a row, it did announce that Tmall's "physical goods GMV" grew 49%. It also said that the segment's Commission revenue, which is driven by Tmall, saw growth improve to 47% from the June quarter's 28%. Customer Management revenue, which covers ads and other services provided to Taobao/Tmall merchants, grew 58%.
Going forward, Alibaba wants to keep its momentum going by making giant investments in its Cainiao logistics platform, which the company recently upped its stake in to 51%. Cainiao relies on both its own infrastructure as well as those of partners to handle a large chunk of the orders placed on Alibaba's sites.
Building up Cainiao's internal warehouse and delivery infrastructure would partly address what to date has been one of JD's core strengths. Namely, the quality control that comes with having your own logistics infrastructure, directly selling a large percentage of the goods offered on your platform and closely vetting which third parties sell on the platform. In April, JD created a logistics subsidiary, a move meant in part to let the company provide logistics services for merchants using other platforms.
In addition to share gains against smaller rivals with less mindshare, product selection and economies of scale, a few different trends have been giving both Alibaba and JD a lift this year:
After moderating in prior years, China's GDP growth has inched higher this year, defying fears of a continued slowdown. It came in at 6.9% in Q3.
Disposable income growth continues growing faster than GDP, as China's middle class swells. It also doesn't hurt that the Chinese government has been trying to boost consumer spending.
China's relatively poor physical retail infrastructure, together with the big investments Alibaba, JD and others have been making in improving online delivery and lowering fulfillment costs, are allowing e-commerce to claim an outsized share of retail transactions in many urban locales.
The aforementioned trends are also contributing to booming sales of fresh food, bulkier consumer staples and other items one would normally expect to buy offline. JD says it sold over 20,000 tons of fresh products from Nov. 1 to 11.
China remains a trendsetter when it comes to mobile commerce and payments. Mobile devices accounted for 79% of Alibaba's fiscal 2017 mobile GMV, and a whopping 90% of the company's Alipay-based Singles Day GMV this year.
Until those growth drivers show signs of abating, Chinese e-commerce remains as powerful of a growth story as one will find in tech.
What does Alibaba actually do?
More of What's Trending on TheStreet: