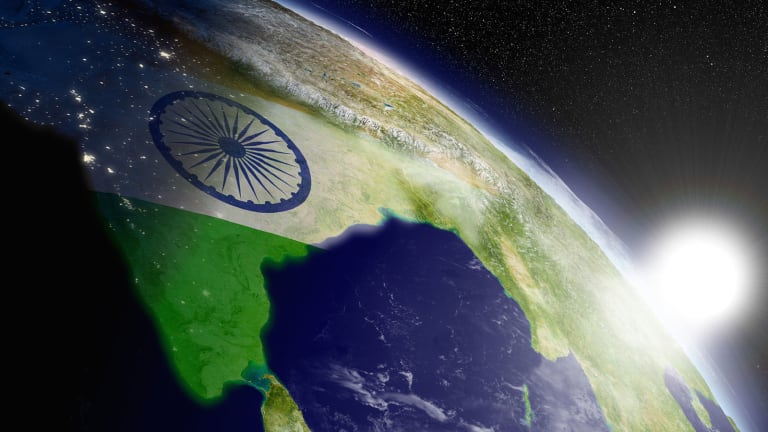 India's Rise as a Superpower Center Stage at Davos - Here's One Hot Trade
Infosys scores well on both sales and net income growth, and sports attractive margins.
India is rising. Its pace of growth is beating that of China. Here is how to play it besides Action Alerts Plus holding Apple (AAPL) , which is making big-time investments in the country. 
I assume that you've heard of Infosys Limited (INFY) ? A $39 billion firm now trading above $18? This Bangalore-based firm provides business information services including application development, infrastructure management, engineering services, systems integration, and the list does go on. Basically, this is a technology business solutions firm.
The share price has run of late, so you may not want to chase this. There is a 2.2% dividend yield (paid semi-annually). The firm clearly has its debt situation under control, which I always look at, and always like. The firm scores well on both sales and net income growth, and sports attractive margins. For my own account, this is one that I am flat, but through researching this morning's note have become more interested in. Let's see what the chart tells us.
This chart gets a little too busy for my liking, but out of necessity. I hope you'll bear with me. Going into Modi's appearance at Davos, one can easily see that the short-term indicators such as the daily moving average convergence divergence (MACD) and recent Relative Strength have gone significantly higher. That would tend to have me, when running my own money, wait a bit, though clearly you might see a furthering of this pop in the coming days.
You can see that the green Pitchfork had run in place since mid-August, using the central trend line as a pivot. Then the stock broke north. In order to apply a new Pitchfork (blue) that made any sense, I had to omit those one-day selloffs and declare them aberrations. Does that invalidate the model? It might. The answer to that question will require hindsight at a later date. What I find interesting here is that the blue Pitchfork and the red Fibonacci levels both point to $16 as an area of significant support. That's a 12% correction from here. I understand that. Know what? The stock has indeed traded there this year.
The recent move is the result of a pricing agreement with the IRS, as well as statements made by CEO Salil Parekh that the firm will update its priorities by April. I am in no rush. I can wait for the chart to develop a little, so that my decision might be a little more educated. That said, you know where my interest ramps up dramatically. Until then, maybe I take the ETF route.
(This is an excerpt from Stephen "Sarge" Guilfoyle's Morning Recon, which now appears exclusively on Real Money, our premium site for active traders. Click here for a free 14-day trial and receive Morning Recon every day, along with exclusive columns from Jim Cramer, James "RevShark" DePorre, technical analyst Bruce Kamich and more.)
More of What's Trending on TheStreet:
At the time of publication, Stephen Guilfoyle had no position in the securities mentioned.