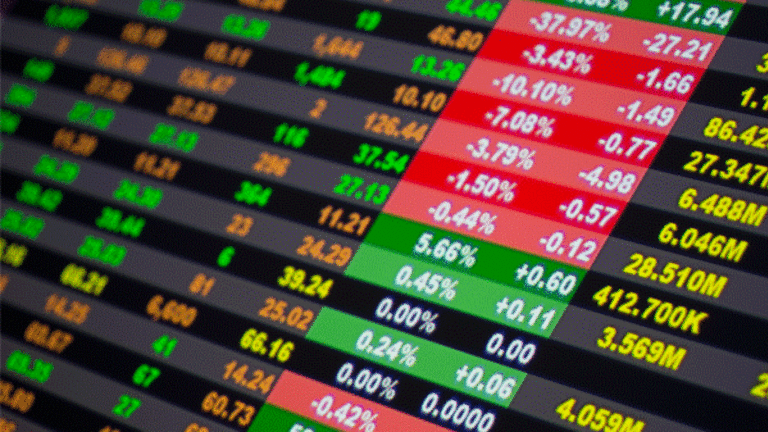 5 ETFs to Watch This Week
Check out Pimco's latest actively managed fund, which has already attracted a strong following.
NEW YORK (TheStreet) -- Here are five ETFs to watch this week.
iShares Gold Trust
(IAU) - Get iShares Gold Trust Report
During the middle of last week, Fed Chairman Ben Bernanke commented on his monetary policy before the House Financial Services Committee. While his statements touched on a number of topics, he remained mum on was the likelihood of a new round of quantitative easing.
With hopes of QE3 fading, the markets surrendered to selling pressure and major stock indices slid into negative territory. These losses were contained, however, compared to the steep drop-off seen from gold. On Wednesday, shares of IAU fell over 5% -- the first decline of this magnitude in 2012.
After this tumble, the bullion-backed fund clawed back a bit. However, some have already begun to question whether the ride is over for gold. Despite the doubters, I still feel that gold holds a place in a long-term investment portfolio. As Cramer noted last week,
gold should be owned, not traded.
PowerShares QQQ
(QQQ) - Get PowerShares QQQ Trust Ser 1 Report
For weeks, investors, analysts and market commentators have had their sights set on the
Dow Jones Industrial Average
's 13,000 mark and determining its significance for the market's recovery. As the early-year rally has persisted, other historical milestones have begun to enter the discussion.
>>Kass: Constant Craving for Stocks Misguided
The
Nasdaq
, for instance, has managed to surge back to the 3,000 mark for the first time since the start of the new millennium. Some have contended that this event is more important than the Dow's. However, I feel that both pose as exciting and encouraging signs of how far we have come since the depths of the Great Recession.
Pimco Total Return Exchange-Traded Fund
(TRXT)
Actively-managed ETFs have endured a rough ride as investors remain hesitant about venturing away from the passive products they have grown accustomed to. One company, however, that has managed to see some success in this field has been Pimco. The firm's
Pimco Enhanced Short Maturity Strategy Fund
(MINT) - Get PIMCO Enhanced Short Maturity Active ETF Report
has amassed an impressive following, evidenced by its $1.4 billion in assets under management.
During the latter half of last week, the fixed income giant announced the launch of its newest actively-managed fund, the
Pimco Total Return Exchange-Traded Fund
(TRXT)
.
As its name implies, TRXT is designed to mimic the performance of the iconic
Pimco Total Return Fund
(PTTRX) - Get PIMCO Total Return Inst Report
. Like PTTRX, this highly anticipated offering is managed by Bill Gross.
There are some differences between the ETF and mutual fund offerings, which I highlighted in "
Gearing Up for a New Addition," which was published last week on "ETF Profits."
Pimco's newest offering has already attracted a crowd. In its opening day of trading, TRXT saw over 500,000 shares change hands. Given the popularity of Pimco Total Return and Gross' recognition, TRXT stands a strong chance of overcoming the Darwinian challenges in the ETF universe. Still, I urge investors to stick to the sidelines until the initial frenzy surrounding this fund subsides.
United States Natural Gas Fund
(UNG) - Get United States Natural Gas Fund LP Report
While oil prices appear to be on the forefront of investor minds, other corners of the energy spectrum are struggling to find footing. Natural gas, for instance, has returned to its losing ways over the past few weeks, leading the futures-tracking UNG back towards all-time lows.
The
iPath Dow Jones UBS Natural Gas Subindex Total Return ETN
(GAZ) - Get iPath Series B Bloomberg Natural Gas Subindex Total Return ETN Report
, meanwhile, continues to struggle with a crippling premium. As I've explained on a number of occasions, this disconnected fund is not to be toyed with. Investors beware.
Market Vectors Vietnam ETF
(VNM) - Get VanEck Vietnam ETF Report
The Vietnam ETF has been an interesting product to watch in recent weeks. The fund suffered a downturn that persisted throughout much of 2011. In 2012, however, it has come roaring back, recovering to levels last seen since early September. Although it seemed to slow down during the opening half of last week, losses were quickly reversed and it has since powered to new 2012 highs.
>>Banking Crisis Ground Zero: Georgia
While exciting to watch, VNM is not a product for the faint of heart. History shows how inherently volatile the fund can be. Even aggressive investors should view it as a small niche holding.
--
Written by Don Dion in Williamstown, Mass.
At the time of publication, Dion Money Management owned iShares Gold Trust and PowerShares QQQ.