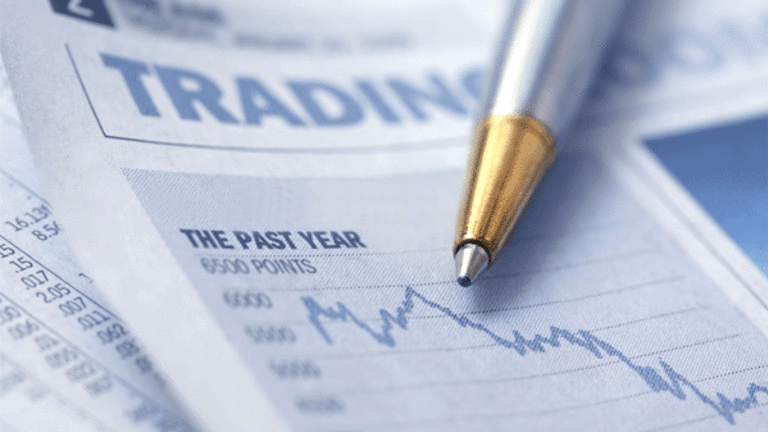 5 ETFs to Watch This Week
The start of a new earnings season figures to influence a number of funds.
The start of a new earnings season figures to influence a number of funds.
NEW YORK (TheStreet) -- Here are five ETFs to watch this week.
iShares Dow Jones U.S. Financial Services Index Fund
(IYG) - Get Report
Alcoa
(AA) - Get Report
will kick off earnings season after today's market close. While this is a particularly exciting period for stock traders, ETF investors should also keep a close watch on the blizzard of reports slated for the weeks ahead.
On Friday, for instance,
JPMorgan
's quarterly performance report and outlook will play a major role in influencing IYG since it is the fund's second largest holding, accounting for over 10% of its portfolio.
JPM's details will also set the stage for other financial players on the docket. Given the challenges the banking industry has faced in recent months, this is sure to be a closely watched release.
SPDR S&P Retail ETF
(XRT) - Get Report
In the latter half of this week, the December retail sales report will be released, providing investors with insight on consumer spending during the holiday shopping season. A strong report would bode well for XRT, which has struggled to break above its November highs.
XRT is well suited for investors looking for expansive exposure to traditional, brick-and-mortar-type retail players. Investors looking to game the strength of the e- and m-commerce industries should also keep an eye on the
First Trust Dow Jones Internet Index Fund
(FDN) - Get Report
, which is headlined by
Amazon
(AMZN) - Get Report
,
Google
(GOOG) - Get Report
and
eBay
(EBAY) - Get Report
.
iShares MSCI Italy Index Fund
(EWI) - Get Report
In the first week of 2012, investors were greeted to strong news regarding the U.S. economy. Unfortunately, at the same time glimmers of strength on the jobs front were helping to aid investor sentiment, continued tumult in Europe ensured that any optimism remained subdued.
Italy has taken center stage with investors questioning the strength and long-term prospects of banking giant UniCredit, a top EWI holding. Across the region, morale continues to flounder.
Bloomberg
reported at the end of last week that European economic confidence readings have tumbled to the lowest level in over two years.
Looking to the week ahead, I don't expect the tensions in this region to let up. Continue to steer clear of EWI and other EU-linked ETFs.
SPDR Gold Shares
(GLD) - Get Report
Given gold's shaky action in December, it is not surprising that investors fled from GLD during the final weeks of 2012. According to the fund flow data compiled by the ETF Industry Association, the physically backed behemoth saw over $2.2 billion in outflows during the course of the month. The
iShares Gold Trust
(IAU) - Get Report
saw only $17 million head for the exits.
The 2011 flow performance of these two bullion-backed products helps to highlight the influence of the ongoing ETF price wars. Over the course of the year, GLD saw net outflows totaling $372 million. The cheaper IAU, meanwhile, welcomed $2.7 billion into its ranks -- a 66% increase in inflows from 2010.
Over the past few days, both IAU and GLD have enjoyed a welcomed string of strength. It will be interesting to see if they can hang onto these gains as we move ahead.
iShares MSCI South Korea Index Fund
(EWY) - Get Report
Last Friday, Samsung, the South Korea-based tech giant, reported strong earnings. This news bodes well for EWY, which lists the firm as its largest holding, accounting for a fifth of its assets.
Strong smartphone sales were fingered as a major contributor to the company's record quarterly profits. In October, the firm
officially became the leading player in the smartphone industry.
EWY will continue to be a fund to watch this week as South Korea and China meet to discuss the possibility of a free-trade relationship. Such an agreement would bode well for the export-driven South Korean economy.
Despite the seemingly optimistic news from this corner of Asia, investors tempted to jump into EWY should exercise caution. The fund's top-heavy nature, combined with the ongoing tensions in the northern half of the peninsula, will likely ensure that volatility persists here.
Written by Don Dion in Williamstown, Mass.
RELATED ARTICLES:
>>Cramer: Black Is White, Up Is Down
>>16 Picks By Prize-Winning Fund Managers
At the time of publication, Dion Money Management owned iShares Gold Trust and First Trust Dow Jones Internet Index Fund.