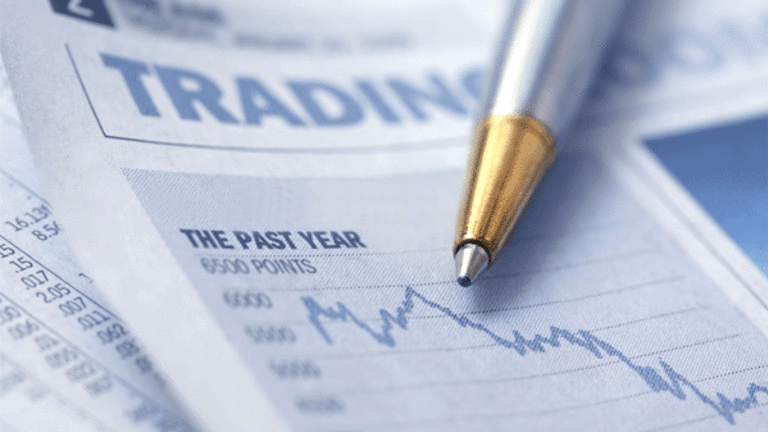 5 ETFs to Watch This Week
ETF investors will be closely following another big week of earnings
ETF investors will be closely following another big week of earnings
NEW YORK (TheStreet) -- Here are five ETFs to watch this week.
Industrial Select Sector SPDR
(XLI) - Get Report
The industrials have run into trouble the past few months as investors have begun to question the strength of the global economy. Since its July breakdown, shares of XLI have struggled to recover lost ground, as the fund has jockeyed back and forth along a generally sideways path.
During the middle and latter half of the week, investors can expect to uncover important clues regarding the current state and future prospects for this sector. Sprinkled within the busy earnings calendar are names including
United Technologies
,
General Electric
(GE) - Get Report
,
Honeywell
(HON) - Get Report
and
Union Pacific
(UNP) - Get Report
. All of these firms are among XLI's top holdings.
Fans of the transportation sector will want to keep close watch on this week's earnings. Aside from UNP, fellow railroad goliaths including
CSX
(CSX) - Get Report
and
Kansas City Southern
(KSU) - Get Report
will be on tap.
Southwest Airlines
(LUV) - Get Report
will also report. Investors looking for dedicated exposure to the transportation sector can turn to the
iShares Dow Jones Transportation Average Index Fund
(IYT) - Get Report
.
iShares Dow Jones U.S. Telecommunications Sector Index Fund
(IYZ) - Get Report
Although only two of IYZ's top holdings are up for earnings this week, the respective performances from
AT&T
(T) - Get Report
and
Verizon Communications
(VZ) - Get Report
(VZ) will have heavily influence the fund's action.
Telecommunication ETFs like IYZ are designed to provide investors with expansive exposure to this market segment. However given the dominance of AT&T and Verizon, many of these products dedicate the lion's share of their portfolio to these two companies. In the case of IYZ, nearly one-third of the fund's portfolio is dominated by the two companies.
IYZ will be interesting to watch as these two telecom goliaths report their quarterly results. Investors looking to get in on the action need to be cautious. In order to protect against the risks associated with a top-heavy product like IYZ, exposure must be kept small and focused.
iShares Dow Jones U.S. Technology Sector Index Fund
(IYW) - Get Report
Google's strong earnings performance set the stage for what could be an impressive showing from the technology sector over the next few weeks. In the days ahead, investors will have their sights set on companies such as
Apple
(AAPL) - Get Report
,
Intel
(INTC) - Get Report
,
EMC
(EMC)
, and
Microsoft
(MSFT) - Get Report
as they prepare to report their own earnings numbers and outlooks.
International Business Machines
(IBM) - Get Report
will kick off this week's tech earnings today.
In recent pieces, I have directed investor attention towards subsector products like the
iShares S&P North America Technology Software Index Fund
(IGV) - Get Report
and the
First Trust Dow Jones Internet Index Fund
(FDN) - Get Report
as being attractive ways to target specific aspects of the tech sector. While these products remain attractive, those looking for a way to cast a wide net over the sector may want to consider looking to the IYW.
iShares Dow Jones U.S. Financial Services Index Fund
(IYG) - Get Report
Whereas Google's earnings numbers provided a dose of optimism, banking giant
JPMorgan
(JPM) - Get Report
reminded investors the markets are still battling against hurdles. Despite beating analyst expectations, the firm noted that its income saw a 4% dip, pressured by ongoing global market turmoil.
Fitch did little to ignite confidence following JPMorgan's disappointing quarterly report. Last week, the company placed a collection of U.S. and European banks on review for a possible downgrade.
This week, investors will uncover additional clues regarding the state of the U.S. financial system as companies such as
Citigroup
(C) - Get Report
,
Wells Fargo
(WFC) - Get Report
,
Bank of America
(BAC) - Get Report
and
Goldman Sachs
(GS) - Get Report
release their earnings. While these earnings are interesting to watch, I would encourage conservative investors to stick to the sidelines.
iShares MSCI Thailand Investable Market Index Fund
(THD) - Get Report
The first half of October have been promising for Thailand's markets, as indicated by THD's impressive multi-week bounce off of its September lows. While this run-up may be alluring, conservative investors may want to hold off before jumping in.
Analysts have been watching Thailand closely as the nation takes steps to defend against rising flood waters brought on by heavy monsoon season rains. Government officials have attempted to determine the economic impact this natural phenomenon could have on the Thai economy. The nation's Deputy Prime Minister warned last week that the damage could slash GDP growth by 0.6% to 0.9%.
Written by Don Dion in Williamstown, Mass.
RELATED ARTICLES:
>>Google Plus Numbers Belie Social Struggles
>>Yahoo! Needs Some Soul-Searching and CEO
At the time of publication, Dion Money Management owned the First Trust Dow Jones Internet Index Fund.