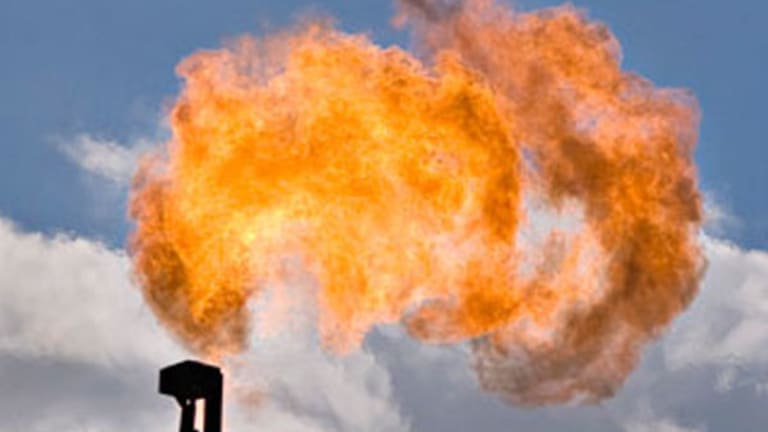 4 Reasons Why Natural Gas Prices Will Tumble
Expect United States Natural Gas, Chesapeake Energy, Southwestern Energy and others to decline more.
NEW YORK (TheStreet) -- In January on TheStreet, I cautioned that, although natural gas prices were soaring, we were heading for "a price drop for natural gas when the demand cools down as the weather gets warmer."
And now it's happening.
United States Natural Gas ETF (UNG) - Get United States Natural Gas Fund LP Report, the main exchange-traded fund for natural gas, is down more than 5% for the last week. Southwestern Energy (SWN) - Get Southwestern Energy Company Report, a major player in the natural gas sector, is off nearly 4% for the last week due to a downgrade from Goldman Sachs. Also down 2.5% for the week with a large short float is natural gas firm Chesapeake Energy (CHK) - Get Chesapeake Energy Corporation Report.  
There are four reasons why investors should expect securities in the natural gas sector to fall even more.
1. Supply and Demand
In my January article, I said that natural gas prices would rise in the short term due to cold weather in the U.S. That certainly did transpire. United States Natural Gas is up more than 19% for 2014. Much of that rise was from speculators following the "hot money."
From that high, it is inevitable that the price of natural gas will decline. Why? The four-year run-up was not based on the economic fundamentals of supply-and-demand that are needed to sustain an increase.
2. Substituting Coal and Alternative Energy for Natural Gas
The economic principle of substitution is also forcing natural gas prices lower.
Due to the four-year peak that natural gas prices hit as a result of speculation and the cold weather, usage of coal for electric utilities in the United States surged. According to data from the U.S. Energy Administration, if natural gas prices remain high, coal's percentage of power production will rise even more. And natural gas will drop in use at American power plants.
It is not just coal, either: natural gas also makes alternative energy power much more economically viable, too.
3. New Pipelines Will Decrease Costs
Natural gas prices certainly rose in part due to speculation. But much of the price increase was due to a pipeline shortage in the Northeast.
There are three pipeline projects underway for production from the Marcellus Shale in Pennsylvania that will do much to smooth out natural gas pricing in the winter months. Those pipelines will also make future speculation on natural gas securities much less profitable than it was last winter -- unless, that is, you're going short right now.
4. Exports Won't Keep Prices Up
There has been a lot of talk about U.S. exports of natural gas in the future. But export abroad will not keep U.S. natural gas prices up either.
There is already more than enough production of natural gas in the U.S. to satisfy demand from abroad. In addition, natural gas is only useful in wealthy nations, as it requires three sets of pipelines to take it from the ground to the end user.
The most affluent area in the U.S. does not even have enough pipelines, as last winter demonstrated. And economic growth in emerging markets will not drive up the price of natural gas -- since emerging markets can't make use of much natural gas now. 
Without demand at home or abroad, natural gas prices will drop even more.
At the time of publication, the author held no positions in any of the stocks mentioned.
This article represents the opinion of a contributor and not necessarily that of TheStreet or its editorial staff.