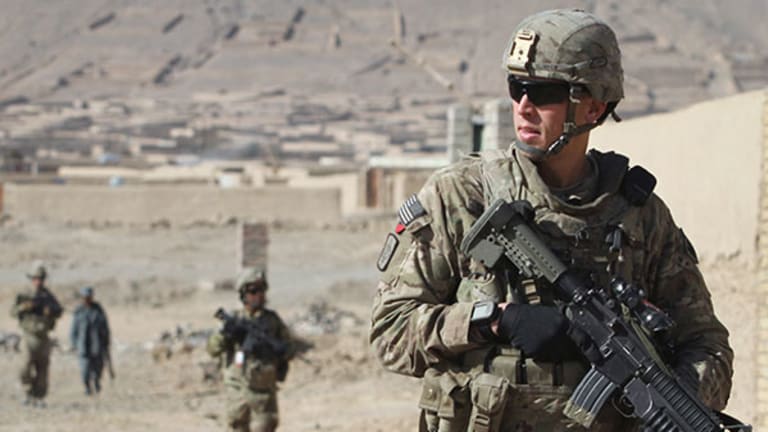 3 Ways to Profit From the Endless War on Terror
The omnipresent terrorist threat, as reflected by this week's deadly downing of an EgyptAir jet over the Mediterranean, will pump billions of dollars into the coffers of these companies.
Editors' pick: Originally published May 20.
The cause of the crash of EgyptAir Flight 804 with 66 passengers aboard is more likely terrorism than technical failure, Egyptian and U.S. officials said.
Given this news and the likelihood that terrorist attacks will continue, investors might want to build a perpetual war portfolio.
During the Cold War, the enemy was clearly defined and eventually defeated. But the battle against terrorism looks ceaseless, with no victory parades to mark a conclusion.
The surest way to make money over the long term is to tap mega-trends with momentum, and ever-bigger defense budgets are a permanent fact of existence. Military spending also is vital for national economies and job creation, which makes the defense sector an even more attractive investment proposition.
Let's look at three undervalued but dominant defense stocks that are poised for market-beating gains. All three look like growth stock winners in 2016, a year that many analysts expect to be tepid at best for the overall market.
This isn't the appropriate venue to judge whether massive defense spending is beneficial for humanity and the planet, whether it is an effective use of capital or whether it even keeps us properly safe. To use a popular expression: It is what it is.
Based on the latest numbers from Pentagon officials and the White House, the Department of Defense's proposed base defense budget is $523.9 billion for next year, representing a whopping 82.54% increase over the base budget of $287 billion in 2001. The next time a presidential candidate tells you that America's military has been neglected and starved for funds, know that it is a demagogic lie.
Regardless of any efforts at fiscal austerity by Congress, the U.S. defense budget is likely to grow over the next decade, as military strategists attempt to contain Russia, pivot to the turbulent hot spots of Asia, and fight an escalating war against the Islamic State in Iraq and Syria.
Defense contractor revenue and profits will not only survive over the next several years but also thrive, making this a rare buying opportunity for investors to pick up inherently strong companies on the cheap. The shares of these three picks have been weighed down by unduly pessimistic concerns about budgetary austerity, making them value plays.
Here is a quick rundown of the three best defense stock opportunities:
1. Boeing (BA)
Boeing is the world's largest manufacturer of aircraft. The company will benefit from commercial aviation's resurgence, and it is also a play on persistent demand for military aircraft.
The greatest demand for fighter jets will come from regional flash points engaged in arms races. Boeing sells several popular jet fighter models to developing nations around the world.
The company's F/A-18 E/F Super Hornet is a particular favorite of developing nations that are seeking to enhance their defenses.
Future customers for Boeing's military planes are especially prevalent in the Pacific Rim, where nations are wrangling over offshore oil and mineral rights. China's muscle-flexing in the region also is spooking its neighbors, prompting them to loosen their purse strings for new fighter jets.
Boeing's trailing 12-month price-earnings ratio is 17.31. Shares trade at about $128, and the median one-year analyst price target is $144, while it is $196 on the high end, which would represent a gain of 53%.
2. Honeywell International (HON)
Honeywell supplies the ultra-complex avionics and electronic components that military manufacturers need. The company also is attractive because it is diversified in both the commercial and military sectors.
The company's entrenched position as a supplier for popular commercial airliners amid the global expansion in passenger travel will propel the stock to higher altitudes this year and beyond.
Honeywell's TTM P/E ratio is 18.23. Shares trade at about $112, and the median analyst price target is $126, while it is $135 on the high end, which would represent a gain of 20.19%.
3. Lockheed Martin (LMT)
With a market capitalization of $72.73 billion, Lockheed Martin is the largest defense contractor in the world, manufacturing a host of military aerospace products for the Pentagon and international clients. In addition to its core competency of combat jet fighters, the company makes missiles, satellites and coastal warships.
Lockheed Martin makes the advanced F-35 Joint Strike Fighter as well as the F-16. The latter is the world's most sought-after combat jet.
Countries lining up for more F-16s include Indonesia, Taiwan and Turkey.
The stock's trailing TTM P/E ratio is 21.13, which is reasonable, compared with its growth prospects and the TTM P/E of 17.88 for the aerospace/defense industry. Lockheed Martin's shares trade at more than $238, and the median one-year analyst price target is $243.50, while it is $273 on the high end, which would represent a gain of 14.27%.
LOCKHEED MARTIN is a holding in Jim Cramer's Action Alerts PLUS Charitable Trust Portfolio. See how Cramer rates the stock here. Want to be alerted before Cramer buys or sells LMT? Learn more now.
---
Defense spending is one of the surest moneymaking trends. Here is another cash-generating machine: an 85% accurate trader who turned $50,000 into $5 million trading by his own proprietary method. He is guaranteeing investors at least $67,548 per year in profitable trades if they follow this simple step-by-step process. Click here for details.
John Persinos is editorial manager and investment analyst at Investing Daily. At the time of publication, the author held no positions in the stocks mentioned.