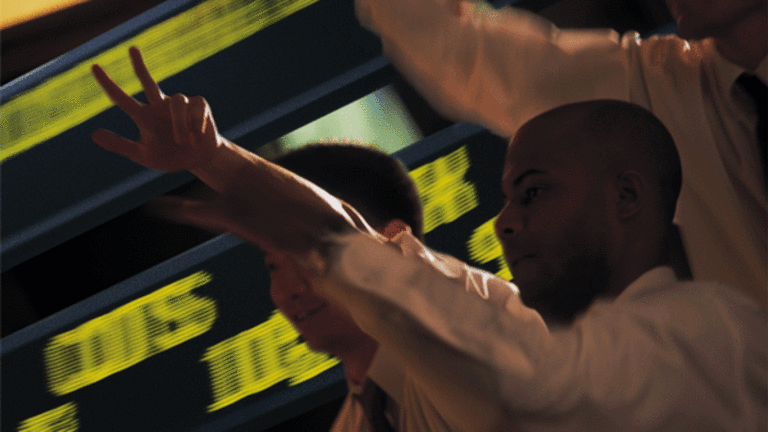 3 Safe-Haven ETFs for Eurozone Uncertainty
Here are three stock ETFs to skirt the Eurozone contagion.
Notre Dame's Fighting Irish may have fans singing its football praises for pounding an Army squad 27-3.
Yet the third weekend of November brought little cheer for Ireland itself, as the country conceded its need for a financial bailout.
Meanwhile, the European Union and the world at large have been desperately trying to avoid the dreaded debt scare from spreading. The problem is the sovereign debt crisis has been highly publicized for a full year.
Containment to Greece and Ireland hasn't been simple, as investors have been nearly as unwilling to risk the poor credit risks of Spain, Italy and Portugal.
An optimist might suggest that there are only a handful of "PIIGS" nations whose spending desires cannot be met by the issuance of new debt. Unfortunately, many market watchers feel that they've seen this movie before, with the toxic subprime debt held by U.S. banks.
Indeed, a satisfactory solution may yet emerge for the half of Europe that's teetering on bankruptcy. Then again, who's to say that the eyes of the world won't turn their attention to individual U.S. states next. One of the chief reasons provided for extreme
Muni Bond ETF selling in November
was the notion that Republicans might not support bailing out cash-strapped California or debt-slammed New York in the future.
All of these observations aside, there are a number of key differences between the 2008 credit catastrophe and the 2010 European debt crisis. First, large corporations are far better equipped to weather economic uncertainty going forward, as scores of companies have access to their own cash or inexpensive credit in the marketplace.
Second, governments presumably have more power to bail out themselves and/or one another, whereas the banks were subject to market forces for longer periods. (No judgments here; just recognition.)
Perhaps most notably, the majority of stock benchmarks had questionable fundamental valuations and ugly technical downtrends in 2008; at this moment in 2010, valuations appear inexpensive or fairly valued and most benchmarks exhibit clear uptrends.
Might we be witnessing yet another correction? Sure. The beginning of the next bear market? I don't see it. (Note: Either way, I
protect client assets with stop-losses
.)
Consider one of these 3 stock ETFs for the current uncertainty:
1.
iShares MSCI Chile
(ECH)
. Near the U.S. market's lowest ebb in 2010, I penned a feature on July 2 entitled, "
5 Reasons To Choose The Chile ETF Before Getting Another U.S ETF
."
One of those reasons included Chile's status as a creditor nation, not a debtor nation. Another reason was the fact that ECH carried less standardized risk than the U.S. market carried.
Indeed, the same circumstances exist today. Moreover, ECH is not entirely dependent on Chilean natural resources, but rather, it has a high weighting in several less volatile sectors (e.g., 22.6% utilities, 14.15% consumer Staples, etc.).
2.
PowerShares Technical Leaders
(PDP)
. This ETF rebalances each quarter to reflect relative strength trends with enviable results.
It has gains over five days, one month, three months, six months and one year and a 26.5% return over that one-year period. By contrast, the
S&P 500 SPDR Trust
(SPY)
boasts only 10.5%.
You might also appreciate PDP's presence in the 80th percentile on relative strength across all exchange-traded vehicles. PDP is also above its 50-day trendline and its 200-day trendline.
3.
iShares Russell MidCap Growth
(IWP)
. If you believe that the European mess will drag on a bit longer, the euro would struggle against the dollar and make U.S. stocks relatively "safer."
If you're going to swing that direction and if for no other reason that you shouldn't keep everything in Emerging Market ETFs or cash, you should go with the premier "style."
At the moment, mid-cap growth has the largest 6-month gains and the highest relative strength ranking. Simply put, mid-sized companies have been in the sweet spot, while growth has dramatically outperformed value.
Readers Also Like:
>>6 Hot Sites for Cyber Monday Deal Seekers
Disclosure Statement: ETF Expert is a website that makes the world of ETFs easier to understand. Gary Gordon, Pacific Park Financial and/or its clients may hold positions in ETFs, mutual funds and investment assets mentioned. The commentary does not constitute individualized investment advice. The opinions offered are not personalized recommendations to buy, sell or hold securities. At times, issuers of exchange-traded products compensate Pacific Park Financial or its subsidiaries for advertising at the ETF Expert website. ETF Expert content is created independently of any advertising relationships. You may review additional ETF Expert at the site.