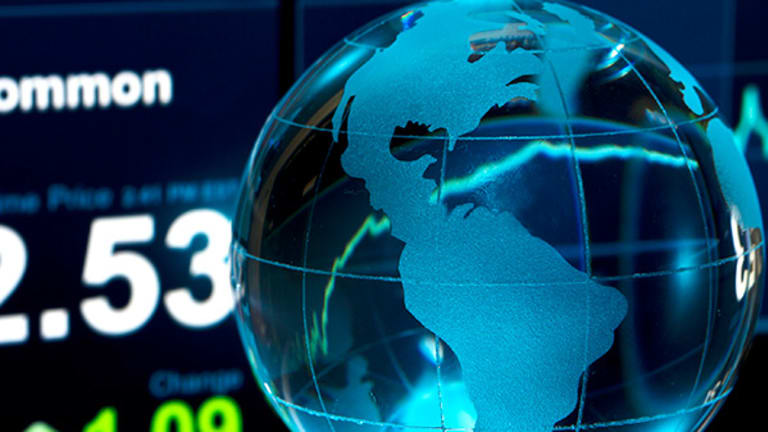 3 Reasons Global Markets Could Get Volatile
The Volatility Index (VIX) has already seen a jump in November and markets may get more volatile due to the rising uncertainties across China, U.S. and Eurozone.
As the European Central Bank (ECB) and Federal Reserveprepare to move in opposite directions in their upcoming December meetings, a slowdown in China remains a growing concern for global markets.

The recent strong U.S. jobs data has made it more likely the Fed will enact an interest rate hike, whereas the ECB is looking to ease its monetary policy in order to reach its target inflation (just below 2%). Another market concern is around the uncertainty of China's slowdown, which may come at a cost to neighboring countries. As China's economy weakens, Asia-Pacific stocks face the repercussions of the ailing economy. The uncertainties in U.S., China and Eurozone may significantly impact a global investors' positioning and strategic goals. Volatility, as measured by the S&P 500 VIX ETF (VXX) - Get iPath Series B S&P 500 VIX Short-Term Futures ETN Report , is up in November. 
data by
Here are three things to monitor that might be reason for concern:
1. Fed Interest Rate Hike and Effect on Market Volatility
In the last Fed meeting, the central bank's chair Janet Yellen remained consistent with the established mandate of achieving maximum employment and stable prices. The strong jobs report released a few weeks ago Friday increased the chances of an interest rate hike from the Fed. According to Bloomberg, there is a 66% chance for an interest rate hike in December.
The Fed's benchmark rate has been kept close to zero for about six-and-a-half years and this has benefited the stock markets. The interest rate hike will increase borrowing costs and bring balance to the economy by controlling the corporate growth that had been profiting from lower rates.
Concern: Stock markets may get highly volatile but the effect will be short lived.
The repercussions of an interest rate hike will be mixed but the reaction among investors will probably mean highly volatile markets, even if only short-lived. Since tightening of a monetary policy usually means that economic conditions are stronger than before, the markets may automatically correct themselves to capture the positive impact. Having said that, the U.S. markets will still remain vulnerable to external uncertainties like China's economy and the ECB's decision on quantitative easing.
2. China's Slowdown and Effect on Emerging Markets
On November 9, world equity indexes dropped due to disappointing data from the world's largest emerging market, China. The three major stock indexes fell by 1% with European shares closing 1.1% lower than usual. With a weakening growth rate ranging between 6% and 7%, China remains a big worry for the world markets. More specifically, emerging markets may feel the pressure of China's slowdown, which, according to Moody's, may last for the next two years. In case of an interest rate hike by the Fed, emerging markets may be in greater trouble in the future.
Concern: Emerging markets may remain in turmoil affecting trade and investments. 
The news of China's slow economy may adversely affect its trading partners that are dependent on commodity exports. The commodity prices may fall further and push down the prices of oil and other commodities. Since China is a huge consumer of energy and raw materials, commodities' price fall will spread across smaller economies that are trade-dependent on China and had been driven by its past robust economic growth. 
3. ECB's Quantitative Easing Policy and Effect on the U.S. Dollar
In his speech in Milan on November 5, ECB's head Mario Draghi said that the monetary easing has been "undoubtedly effective" in the Eurozone but had not denied more quantitative easing (QE) to help the region achieve its target inflation. The ECB's dovish hints in October towards more quantitative easing in December sent European stocks upwards. But while stocks rose, the Euro fell against the dollar by more than 1.5%, indicating that the U.S. dollar is likely to come under pressure if the ECB sticks to its extended QE plan.
Concern: Euro will get weaker and dollar will get stronger
While Eurozone tries to revive its economy, the U.S. may feel the pressure of a strong dollar, which has already been a worry. For an investor in foreign stocks or bonds, a stronger currency can drag down the positive returns in an investment portfolio. Besides this, dollar denominated debt owed by many emerging countries will increase too.
This article is commentary by an independent contributor. At the time of publication, the author held no positions in the stocks mentioned.