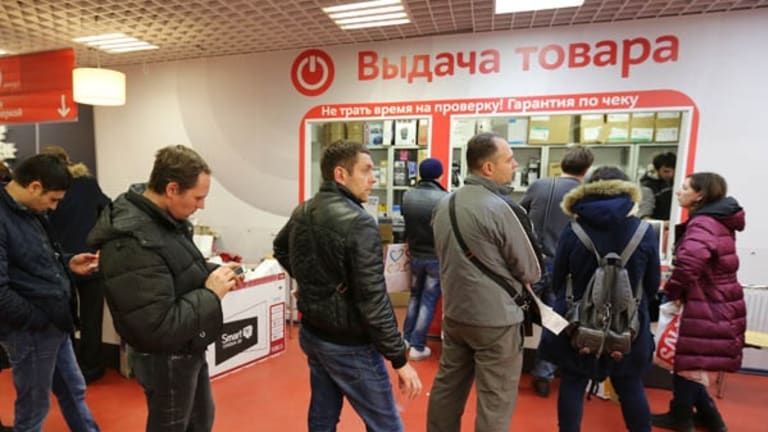 Publish date:
15 Things You Need to Know About The Russia Crisis Right Now
Russia is panicking. The ruble has plummeted. Here's what you need to know about the current Russian crisis.
Russia is panicking. The ruble has plummeted. Here's what you need to know about the current Russian crisis.
NEW YORK (TheStreet) -- There's panic in Russia.
The ruble has been plummeting. Russia's central bank intervention in October and Tuesday's interest rate hike to 17% did nothing to stop it, but additional efforts on Wednesday by the bank seem to be stemming the tide.
The ruble's rout is due to plummeting oil prices, which have hobbled Russia's energy-dependent economy. Moody's says as much as a quarter of the country's economic output relies on the energy industry. Russia's Economy Ministry last week said Gross Domestic Product will shrink 0.8% next year and with oil below $60 a barrel, it could fall further.
While the situation is different now than in 1998 when Russia's defaulted on its debt and sent the world's financial markets into a tailspin, the current turmoil has already affected companies, countries and investors.
Here are 15 things you need to know about Russia right now:
1. Chart of the year. The ruble's slide in one chart. 
2. Russia again tries to stem the panic. In its attempt to stem the ruble plunge for a second day, the Bank of Russia eased bank accounting rules to "curb bank's need for dollars." But Russia's ruble gained strength on Wednesday following new support by the country's central bank and pressure on "exporters not to hoard foreign-currency earnings."
3. The U.S. and European Union's imposing more sanctions on Russia. The EU has agreed to widen a ban on investment in Crimea that would target Black Sea oil and gas exploration. President Barack Obama also signaled new sanctions targeting Russian defense, banking and energy industries.
4. Oil prices to stay low. No respite in site for one of the main causes of Russia's problems, as the country reiterated that it would not cut output. 
5. Russia's wealthy are losing billions. The collapse of the ruble is hitting those who have the most to lose the hardest. 
6. No more iPhones for now. Apple (AAPL) - Get Apple Inc. (AAPL) Report has halted online sales of its products in Russia, including the iPhone and iPad, over "extreme" ruble fluctuations.
7. Cartier is closed today.Cartier says Moscow stores closed for the first half of today, according to Twitter chatter.
8. Consumer companies are nervous. Companies like McDonald's (MCD) - Get McDonald's Corporation (MCD) Report are raising prices in Russia, while others are stepping back on plans to expand there. One example is Germany's largest retailer, Metro AG, which has now suspended indefinitely the IPO of a Russian chain.
9. Are these four blue chips in your portfolio?General Electric (GE) - Get General Electric Company (GE) Report , ExxonMobil (XOM) - Get Exxon Mobil Corporation Report , Ford (F) - Get Ford Motor Company Report and BP (BP) - Get BP p.l.c. Sponsored ADR Report are among the firms exposed to the Russian economy.
10. Brokers are closing out positions. Foreign-exchange brokers have suspended trading or raised the cost for trading the ruble for retail clients.
11. Pimco's Emerging Markets Bond Fund got whacked. The Pimco fund has more than 20% of its assets in Russian bonds and is down 7.9% over the past month.
12. Putin to blame? Putin's regime, which claimed so much credit for Russia's resurgence, could be to blame for the current crisis. Are the foundations of the Putin economic system collapsing? Will Putin become more combative if the Russian economy doesn't stabilize soon?
13. "Putin" has been keeping investors up to date. A fake Vladimir Putin Twitter account has been keeping investors up to date on the crisis on Twitter while the real Vladimir Putin hasn't tweeted since last week.
14. Vladimir Putin goes Hollywood. Russia's main state TV channel released a movie-style trailer for Putin's annual press conference on Thursday.
15. Meanwhile, Wall Street analysts have been aflutter over the events happening in Russia. Here's excerpts from some of the latest research notes:
Kamakshya Trivedi, Goldman Sachs (Dec. 16)
The bottom line is that, with this degree of RUB volatility and the oil price moving lower, there are no easy choices. In the presence of Western sanctions, external swap line arrangements -- such as those that helped in 2008-09 and which could help to deflect the risks of a self-fulfilling liquidity crisis -- are unlikely. In the immediate future, markets are likely to test the CBR's commitment to sustaining the current high interest rates and its willingness to stomach the economic pain that comes alongside it. The current set of measures could prove effective in stabilizing the RUB in the coming days, especially alongside FX interventions and a heavy dose of moral suasion on local institutional players. The alternative scenario would likely involve allowing a free-fall in the RUB as dollarization is intensified and the authorities become unwilling to allow the punitive rate regime to prevail.
While moves in Russian assets have been center-stage, there have also been substantial moves across other EM assets in recent weeks. Excluding the RUB, EM FX has sold off 2.6% versus the USD since the start of December, average EM 10-year rates are 30bp higher even as US 10-year rates have moved down by about 20bp, and EM equities are down nearly 4% and have underperformed the S&P500. This has raised concerns about broader contagion across EM assets from the volatility in Russia.
Artem Zaigrin, Deutsche Bank (Dec. 17 note)
The 650bp emergency rate hike to 17% by the CBR late on Monday failed to stabilize the ruble, which fell by a further 5% yesterday, hitting the lowest point of intraday trading at RUB/USD58 and reaching the top closer to the end of the day at RUB/USD80 before settling down at RUB/USD67.9. Given the potential for domestic capital flight, with access to external financing severely constrained due to the ongoing sanctions and oil prices still falling, it is almost impossible to call the floor with any degree of confidence in this environment.
... Nevertheless, we believe the ruble has significantly overshot any sensible measure of fair value. We also continue to believe that Russia has enough reserves to meet its FX obligations over the next year or two. Against this backdrop, imposing capital controls such as a moratorium on foreign debt service payments would make little sense, given the damage it would do to long-term investor confidence in the economy and the banking system. The CBR may nevertheless need to do more to restore confidence. Having been behind the curve for the last few months, yesterday's emergency rate hike was a significant step in the right direction. But its provision of FX liquidity has been timid, with only USD50bn made available (compared to Brazil's USD100bn through FX swaps) and on terms that, initially at least, were unattractive. Should the ruble fail to stabilize of its own accord in the next few days, we would expect the CBR to ramp up these facilities, supported potentially by further rate hikes. At the same time, the risks of a deeper recession are looming as the economy adjusts to a higher interest rate environment.
Phoenix Kalen, Societe Generale (Dec. 16 note)
Amid the dramatic rout on the currency and accelerating capital flight, financial stability risks finally become too urgent for the CBR to ignore. In a decision announced overnight, the central bank hiked the key repo rate by 650bp to 17%, with the stated objective of "limiting substantially increased ruble depreciation risks and inflation risks". We believe that the aggressive action was both warranted and necessary (if not a bit late), in light of the pressing financial stability risks, collapsing domestic confidence on the ruble, and a banking crisis in bloom borne of currency depreciation and ever lower bond re-pricing. The question is whether this emergency hike will be sufficient to halt the currency's slide. We believe that while the move will likely cause a sharp rebound in the ruble and lead to some short-term stabilization, the underlying fundamentals remain nevertheless quite challenging, including lower oil prices, developments regarding Western sanctions, and Russian geopolitics. Additionally, the price of the CBR's action includes continuing financial stability risks elsewhere in the system and aggravated economic weakness over the medium term. We remain skeptical that the CBR would be willing to maintain this level in the policy rate over the medium term, given the painful economic toll, but its room to maneuver may be a function of future oil price and currency trajectories.
Vladimir Osakovskiy, Bank of America Merrill Lynch (Dec. 16)
We think that the unilateral introduction of severe capital controls - like a moratorium on EXD repayments - remains largely a risk of the potential escalation of the sanctions war between Russia and the West. We note that with over US$1 trillion of Russian assets abroad, any potential benefits of policy-induced defaults could be easily offset by counter-actions against issuers and might result in their assets and export earnings being put at risk. Therefore, the likelihood of severe capital restrictions could become meaningful only if sanctions pressure from the West started to threaten the security of Russian official assets abroad, which could improve the risk/reward of a potential moratorium. Although we would not rule out such a scenario entirely, we still think the likelihood is low for now.
The market impact of an initial move towards capital controls would likely be muted, as the strain on the RUB could give way a little as speculative pressure eases in the short term. However, any positive impact could be offset by further deterioration of investor sentiment towards Russian assets, which could become the main source of pressure with regards to the risk of a further regulatory burden, which could boost preference for offshore instruments, or reduce further investor interest in Russia from a risk, compliance and other perspective. In general, banks will likely feel the main strain of the financial and administrative costs of capital controls, while the operations of exporters should remain relatively unaffected.
Matthew Circosta, Moody's economist
Russia's central bank is in a tough spot. Gradual rate hikes from midyear and foreign exchange intervention have proved fruitless in stabilizing currency and equity markets, prompting the central bank to act more boldly this week. The super-sized rate hike should help stem the currency's decline and ease inflation pressures, but will also exacerbate weakness in private consumption and investment. Economic prospects are dim.
- Written by Laurie Kulikowski in New York.