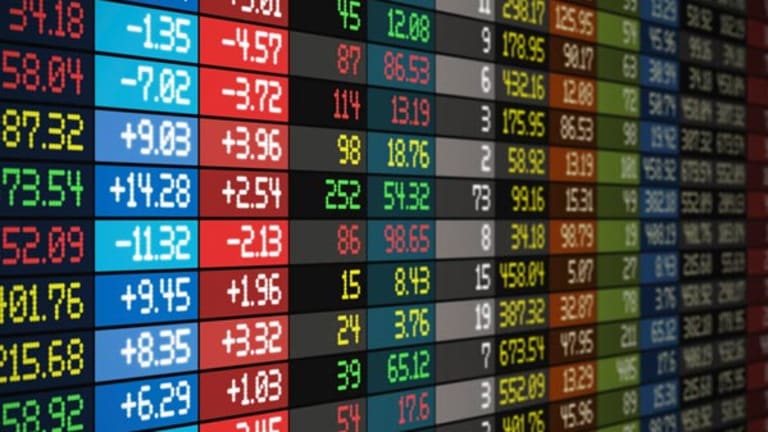 10 Market Predictions for 2012
Oliver Pursche, a co-portfolio manager of the GMG Defensive Beta Fund, offers up his views of what could come to pass next year.
NEW YORK(
) -- Oliver Pursche, a co-portfolio manager of the GMG Defensive Beta Fund, isn't afraid to go on the record with what he's expecting in 2012.
Pursche, who is also president of Gary Goldberg & Co., has not only laid out his expectations for next year with 10 predictions. He also plans to revisit the list next year "and either pillory myself, or emboldened, make 10 more."
Like many New Year's resolutionists with high hopes for the new year, Pursche is rosy about the market's prospects in 2012.
"For the past few months this market has been overly pessimistic and has largely ignored positive fundamentals," Pursche said in a telephone interview.
Into 2012, there will be "a continued realization that things aren't as bad or as negative as everyone feared in August and September," he said.
Pursche feels that organizing his thoughts into a set of predictions "helps the investment management process" and this was part of his motivation for going public with the list.
Without further ado, Pursche's predictions:
1. The S&P 500 will gain at least 10%
As the benchmark index of American stocks nears the end of the year down a little more than 1% on a price basis with few trading (and holiday shopping) days remaining, Pursche is optimistic about the future.
Here, he says he has history on his side because the market tends to receive a boost in election years. "Since 1900, the market has gone down just three times in a presidential election year," Pursche claims.
On this fact, Pursche is a little off. S&P historical returns shows the market has fallen seven times in 21 election years since 1926, three years after Standard & Poor's introduced its first stock index, the S&P 90, according to Bloomberg data.
Pursche was correct in stating the market fell in 2008, 1980 and 1960. But he missed 1932, 1940, 1948, and 2000.
Besides the history argument, Pursche expects stocks to rise as investors come to realize the U.S. and the rest of the world - with the exception of Europe - has avoided sinking into recession.
2. Greece will begin negotiations to exit the euro
As shocking, and potentially devastating, as it may seem to some, Pursche sees the Mediterranean nation beginning official negotiations to exit the Eurozone in 2012.
Key to this process is Greece's next parliamentary election, expected to happen in February. This election is likely to reveal "the mood of the country and the political pressure they
Greece's leaders are likely to follow," Pursche said.
For investors, Pursche recommends being underweight on exposure to international and emerging markets to avoid the potential consequences of fear-induced capital flight.
3. President Obama will win a second term as president
Pursche believes Obama will continue to sit comfortably in the White House as the ferocity of the Republican primaries divides the party.
"In spite of a weak economy and continued high unemployment, the Republican party's own lack of leadership and cohesiveness will weaken them to the point where Obama looks like the better option," he wrote. "Moreover, the party's willingness to pander to the right wing will make them unpopular with middle class and middle-of-the-road voters."
But for investors, the question is still open: "Obama, Romney, Paul or Gingrich: Who would you assign to grow your investments?"
"Obama, Romney, Paul or Gingrich: Who would you assign to grow your investments?"
4. China will ease up on currency controls
Amid increasing outrage and criticism of exchange rate control for the Renminbi from Chinese trading partners,
led by the U.S.
, China will finally give in and "slowly, and rather quietly" loosen monetary policy and allow the currency "to rise nearly 8% against the dollar," Pursche predicts.
"Count on them to do everything to they can to maintain growth," he wrote. "Looser monetary policy may be the least of it."
In order to benefit from this prediction, Pursche recommends owning multinational consumer staples, including
McDonald's
(MCD) - Get Report
and
Yum! Brands
(YUM) - Get Report
, both stocks that Pursche's GMG Defensive Beta Fund owns.
He also recommends an ETF for the group, the
Consumer Staples Select Sector SPDR Fund
(XLP) - Get Report
, which his fund does not own.
Yum! has been aggressively expanding operations in China and increased its full-year earnings expectations, thanks to rapidly expanding sales in the country. The operator of Taco Bell and KFC restaurant chains has made its Pizza Hut chain into a nice restaurant in the country, deemed by some contemporary Chinese to be a great place for a first date, while introducing products such as fried dough sticks, egg tarts and shrimp burgers to suit local tastes.
5. Commodities will resume their bullish run
Pursche's optimism extends from the equity market to commodities.
He blames the recent slump in commodities on recession fears and wrote, "the avoidance of a global recession or slowdown will act as a catalyst for commodities related companies" as global demand for agricultural and base metal commodities will remain high.
To play this prediction, he recommends investing in global agricultural companies, including
Monsanto
(MON)
,
Deere
(DE) - Get Report
and
Caterpillar
(CAT) - Get Report
.
For ETFs, he recommends
PowerShares DB Agriculture Fund
(DBA) - Get Report
and
PowerShares DB Base Metals Fund
(DBB) - Get Report
.
6. Europe will spend most of 2012 in recession
In one of Pursche's less shocking predictions, he expects Europe to spend most of the next year stuck in a recession as the continent continues to struggle with its debt crisis.
However, he expects the recession to be "relatively mild" as Germany helps lead "reasonably good performance in manufacturing."
Investors should underweight European equities, Pursche says, though he believes "there are some good values in European multinationals, especially those who derive most of their earnings from outside the Eurozone."
In particular, he recommends
Royal Dutch Shell
, which will benefit from his bullish commodity predictions while providing a 4.7% dividend to boot.
7. The U.S. will avoid recession while GDP growth remains slow and steady
In line with his bullish outlook for the S&P 500, Pursche sees the U.S. continuing to avert recession while maintaining GDP growth of around 2% as the U.S. consumer carries the country forward.
"With confidence gradually building, we are seeing some of the impact of pent-up demand for consumer durables," he wrote. "Wider recognition that a recession has been averted will kick in during the second quarter," he suggests, while the European debt crisis continues to weigh on stocks through the beginning of the year.
The market will remain volatile in the coming months as Greece's negotiations to leave the Eurozone will "deliver considerable havoc on the markets," he wrote.
Pursche believes investors should "get fully invested in early 2012," which he says means "no more than 10% in cash," although he expects the year will be a bumpy ride.
"The 'when' of investing is going to be very critical as stock market volatility is likely to remain prevalent," he says.
8. Ten-year Treasury yields will surge
Ten-year Treasury bond yields will jump toward 3% in 2012 as the
next phase of central bank quantitative easing fails to keep rates down, Pursche predicts, "because the flight to safety will be less urgent."
For investors with fixed income investments, Pursche urges movement into shorter-term maturities to avoid "the downside of rising rates."
He says, "the time to shift into shorter term maturities is now, to take advantage of lower prices, and position yourself for a gain in 2012."
As of Dec. 20, the benchmark 10-year Treasury had a yield of 1.93%.
9. Brazil will rebound after a dismal year
The
Brazil Bovespa Stock Index
, which has erased 18.7% this year after surging a remarkable 87% in the prior two years, has "sold off far more than it should have," Pursche wrote.
The government's decision to eliminate a 2% tax on foreign equity investors will "bring investors off the sidelines and into Brazilian equities," Pursche predicts, while the central bank's loosening of monetary policies to spur growth and stabilize the currency will offset the real's climb against the dollar over the past few years.
Buy the
iShares MSCI Brazil Index Fund
(EWZ) - Get Report
in 2012 to play this bet, Pursche says. The ETF is cheap after dropping 26.9 percent
this year
.
10. "More shoes will drop in 2012"
In his final prediction, Pursche ironically predicts that more unpredictable events are yet to come. He cautions that the market's advance will continue to be slowed by "a continuous ebbing of confidence in what were once unassailable institutions."
Here Pursche is referring to the Wall Street and the big banks, which continue to flounder more than three years after the financial crisis took hold.
"2012 will see another shoe drop that continues to undermine investor confidence," he concludes. "Of this I'm sure because the culture of greed has yet to be expunged."
With
MF Global's
implosion still fresh in mind, it's hard to argue with the idea that Wall Street still hasn't absorbed its lesson.
"Sarbanes-Oxley was a good start, and the Dodd-Frank Act is well intentioned, but you can't legislate morality, and the current generation of leaders have proven themselves to be hard learners," Pursche wrote.
--Written by Kaitlyn Kiernan in New York.
>To contact the writer of this article, click here:
Kaitlyn Kiernan
To follow the writer on Twitter, go to
.