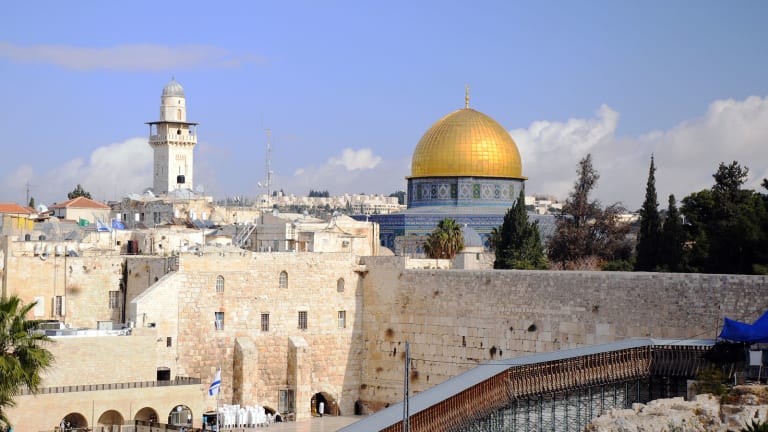 10 Amazing Israeli Start-ups You've Never Heard of, But Will Soon
Some of these little guys are likely to become the next unicorn companies, or start-ups worth more than $1 billion.
NEW YORK (The Street) -- So much has been said about Israel as a hub of innovation there is no reason to bore you with the statistics about how the country is the size of New Jersey and has more tech than almost any other place on earth.
Yet there is something really interesting happening that not many people have spoken about. Let's call it a "transition from start-up nation to unicorn nation."
Unicorns, or $1 billion start-ups, like MobileEye, Waze, Wix, Taboola, Outbrain, and so many others originate in this small country and that it's something worth paying attention to.
There are enough companies in Israel that are getting their fair share of love from the press -- companies like Meerkat, Yo, Moovit, and others -- but what about the next generation of unicorns, still in their infancy?
Some of these little guys, if statistics are of any significance, are likely to become the next .
So here are ten companies that you most likely never heard of, but surely will in the near future (and not only because you are reading this post).
A young company founded by female entrepreneurs Tal Shoham and Shany Peleg, Evolero enables anyone to become an event organizer with all the tools they need including ticketing, social integrations, speaker profiles, and much more under one roof.
The company recently closed a seed round of over $2 million and is now expanding after helping produce hundreds of events around the world. Some Evolero customers include TEDMED, AOL (AOL) , Microsoft (MSFT) , DLD Tel Aviv, Ernst & Young, and Orange (ORAN) .
I originally found out about this company through its investors, venture-capital fund Aleph (which also invested in Meerkat, which has since become the fund's claim to fame.) Of course, the freight market will never be as sexy as some other consumer spaces -- unless of course you look at the numbers.
It's a tremendous untapped market. Some 20% of e-commerce purchases are cross-border but no site can support global shipping for oversized bulk or business-to-business capacity shipping.
As far as consumers are concerned, think about the ability to seamlessly buy and ship larger items such as a dining room table on eBay (EBAY) . This could easily become the next old-school market to be disrupted and this company leads the way.
The start-up is working with some of the world's largest freight forwarders and over 50,000 automated freight quotes were generated online with Freightos in 2014.
How many times have you turned to your social graph for a business contact you needed or a new hire? Silo, founded by one of those people you just have to know in the Israeli start-up scene, Moshik Raccah, is a platform for doing good. No, really.
It is a Web platform for people looking to help out on the one hand, and tap into their graph for a little help, on the other. Sounds pretty simplistic, right? People are loving Silo and from what I can tell, this company has managed to scale good deeds. It doesn't get much better than that.
Roadshows is taking aim at Etsy.
Roadshows
RoadShows solves two problems: creators of hand-made products searching for new ways to sell their products but are unable to penetrate brick-and-mortar retail; and brick-and-mortar retailers seeking to find ways to attract and engage customers in an age of increasing e-commerce.
For creators, the only options are sites like Etsy (ETSY) , with no face-to-face interaction with customers, or craft fairs that are often cheap and unprofessional.
RoadShows brings creators into a real store, with real customer contact, and puts them and their creations on center stage in a real retail environment. And for stores, there's currently no platform that helps them discover and connect with local "makers" for experiential retail events.
It was inevitable. After all, how could you write an article in 2015 about start-ups without at least one messaging app? Its name aside, this is a beautifully designed, super simple messaging app that has, in many cases, already replaced iMessage for me.
Simply put, you write a message to someone, and the message sends instantly. The person reads the message and it disappears. Yes, I know what you're thinking. No, it is not like Snapchat at all, but really, you are going to have to try this app to see why it's on this list. The attention to detail is fantastic.
Invisu
This one is a pretty easy sale. Founders are busy building stuff and shouldn't have to spend their time, at least not at an early stage, designing one-pagers and decks for investors.
The founder of Invisu, Donna Griffit, spent the last several years helping Israeli start-ups tells their stories in a more engaging way. She then integrated her expertise into Invisu and helped automate the process. Simply put, with invisu, start-ups -- or anyone -- can create dynamic and engaging one-pagers with little effort or design expertise.
Simplex enables crypto currency businesses to accept credit cards with no fraud chargeback guarantee. Or, more simply, Simplex allows the transfer of Bitcoin using standard credit cards. Simple, right? The company has raised $1.4 million, has been live for three months and has already processed over $600,000 in transactions.
This is an extremely impressive company, and not only because the apps it has released have well over 30 million downloads. The company has taken no external funding, and hasn't spent any time on marketing, so all that love comes from users genuinely loving their apps.
Basically, all the Clear Sky apps (besides one, Passible) are in the fitness space and help users who are looking to get started with fitness do just that. Besides the numbers and the bootstrapping, the company's apps all have a perfect rating on the App Store. Oh yea, and the apps aren't free, so people are actually paying. They are that good.
Jifiti solves a simple problem: today's online checkout process is designed and optimized for shopping, not for gifting.
Jifiti's no-integration technology allows shoppers to send any item as a gift with two clicks. No need to know a shipping address or guess product details. The recipient makes all those decisions and has their selected gift shipped after they confirm all the details. Among the partners using Jifiti: Sears (S) , IKEA, Evite.com and DreamWorks (DWA) .
As they say, you save the best for last. This is a company I have been following for a while and honestly, I am not exactly sure how you haven't heard of them, but you haven't.
Why do I say that? Because VeedMe has created videos that were featured on Google (GOOGL) , used by Duracell, WeChat, Waze, and the company has a community of filmmakers from 40 countries over five continents.
VeedMe is basically a marketplace for video creators. So instead of paying tens of thousands of dollars for your start-up video (or any video you want to create), you use VeedMe, and they find you the best video creator based on your needs. Some of the videos created by VeedMe have been globally recognized and given some pretty prestigious awards.
This article is commentary by an independent contributor. At the time of publication, the author held no positions in the stocks mentioned.