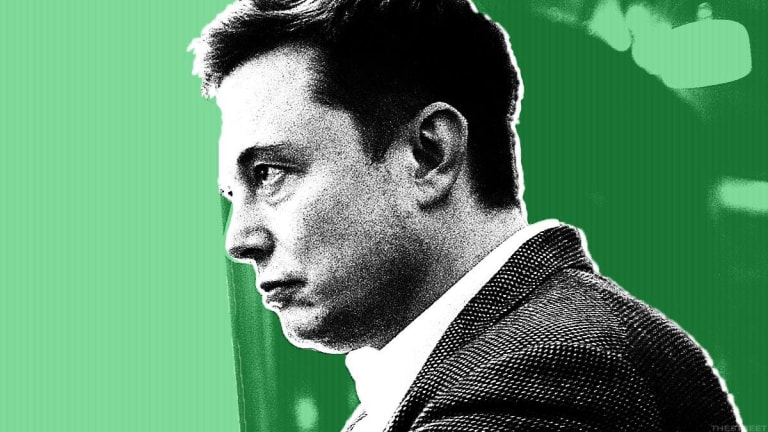 Elon Musk and Tesla's Board Have Met About Going Private
Certain board members of Tesla say the board met last week with Elon Musk about taking the company private.
Maybe it's not some far-fetched idea by Musk.
Tesla Inc.  (TSLA) - Get Tesla Inc Report  CEO Elon Musk met with his board last week to discuss the prospect of taking the electric car company private, according to a statement from several Tesla board members.
No decisions about a sale have been made. On Tuesday, Aug. 7, Musk tweeted he was "considering taking Tesla private at $420. Funding secured." 
The statement said that Musk initiated the conversation with the board.
The statement:
"Last week, Elon opened a discussion with the board about taking the company private. This included discussion as to how being private could better serve Tesla's long-term interests, and also addressed the funding for this to occur. The board has met several times over the last week and is taking the appropriate next steps to evaluate this."
The statement came from board members Brad Buss, Robyn Denholm, Ira Ehrenpreis, Antonio Gracias, Linda Johnson Rice, and James Murdoch.
After Musk's initial tweet, the stock rallied as a $420 per share sale, while theoretical, would be a significant premium over the price just before the tweet of $363. Shares ended the day up more than 10%, and were trading down slightly on Wednesday, sitting at around $376. 
Several legal questions, which still seem unanswered, have been raised. Former Securities and Exchange Commission Chairman Harvey Pitt told TheStreet in a phone interview that if the purpose of the tweet was to boost the share price, and it was untrue, that would be considered securities fraud. "If this were solely an effort to artificially move the price of the stock, it would be manipulative. And if the claims [in the Tweet] aren't true, it would be fraud," he said.
The legal questions are starting to look worse and worse, according to Columbia Law Professor John Coffee. "It increasingly looks like this was a spur-of-the-moment decision, perhaps an impulsive decision by him, possibly a response to short sellers who have angered him," Coffee told TheStreet. And while it has now come out that Musk did meet with board members about a sale, nothing at all is set in stone it seems at this point. 
Another issue in question is Musk's "funding secured" comment. Debt financing for a $420 per share deal, which would be roughly $70 billion, isn't so easy to secure, and if it hasn't been secured Musk may not be authorized to say that. "'Funding secured' is an objective factual statement that looks implausible given the great difficulty in lining up debt investors willing to fund 70% of a $70 billion or more record transaction," Coffee said. 
Musk's tweets were also putting short-sellers at stake. "Short sellers list something like $1.3 billion yesterday and have every incentive to sue," Coffee added. 
Still, "a stock price fall is still needed before we will see litigation filed," he said.