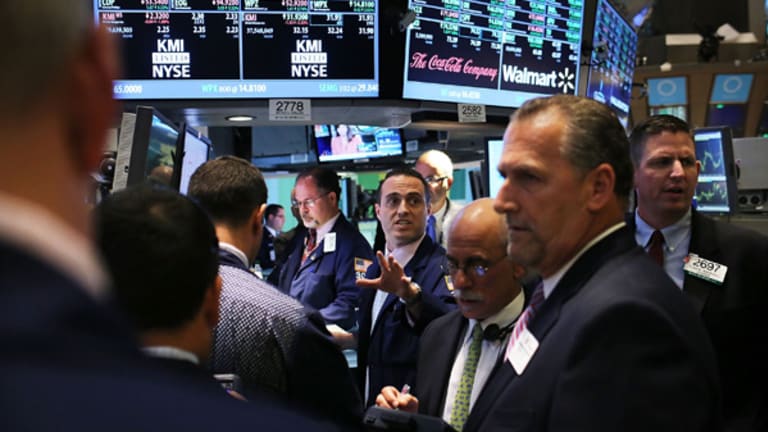 Election Day Rally Dies; Stocks Sink 5%
Stocks in New York racked up sizable losses as investors were dealt earnings hits and dismal job numbers a day after the nation elected a new president. Frank Curzio recaps the day's action in The Real Story (above).
Updated from 4:08 p.m. EST
U.S. stocks sank hard Wednesday to finish with hefty losses as traders took in some bearish corporate news and dreary economic data, while sizing up their prospects following
victory in the presidential election.
The
Dow Jones Industrial Average
tumbled 486.01 points, or 5.1%, to 9139.27, and the
S&P 500
was lower by 52.98 points, or 5.3%, at 952.77. The
Nasdaq
dropped 98.48 points, or 5.5%, to 1681.64.
Several bits of data about the broad economy painted a grim picture. Automatic Data Processing reported that the U.S. lost 157,000 jobs in October. Economists had forecast a loss of 100,000 jobs. The ADP figure for September was revised to a loss of 26,000 jobs from an initial read of 8,000.
Writing for his
blog, Tony Crescenzi, chief bond market strategist for Miller Tabak, said that ADP's employment readings have in the past few months registered fewer job losses than the Bureau of Labor Statistics, which is set to report its October employment data on Friday.
"These data will help further prepare the financial markets for the possibility of a weak jobs report," he wrote. He said the next step for the market is to assess the extent and duration of the economic downturn.
The Institute for Supply Management said its services index showed a reading of 44.4 for October, down from 50.2 in September. Economists were looking for the index to register at 47.
"We're continuing to go downhill in terms of the
economic cycle. Now that doesn't mean that the market is going to go straight down," said Paul Mendelsohn, chief investment strategist at Windham Financial. "We're seeing a bear-market rally here, and it's just a matter of how far they can take this," he said.
Mendelsohn also said that he's seeing a rebalancing of asset allocation as investors have begun buying what they see as underpriced stock. He says that a Dow level of 9650 is a resistance level, and stocks will have to consolidate before they can go any higher.
Several corporate headlines were detracting from buying sentiment. Aircraft maker
Boeing
(BA) - Get The Boeing Company Report
announced that its 787 Dreamliner program was suffering delays because it needs to replace improperly attached fasteners on the new jets. Shares dropped 6.9% to $49.55.
In the technology space, Internet company
Google
(GOOG) - Get Alphabet Inc. Report
announced on its blog that it would end an advertising agreement with fellow Web portal
Yahoo!
(YHOO)
. Google cited government regulators' and some advertisers' concern about the agreement as reason for the termination. Google fell 6.7% to $342.24, and Yahoo! gained 4.3% to $13.92.
Elsewhere, homebuilder
, cut its quarterly dividend 75%, citing a goal of maintaining a strong financial position. Shares slipped 7.7% to $16.09.
Media reports also indicated pharmaceutical company
GlaxoSmithKline
(GSC) - Get GS Connect S&P GSCI Enhanced Commodity TR Strategy ETN Report
would cut nearly 1,800 sales jobs as it restructures its operations. The stock gave back 8% to $36.96.
On the merger front, specialty chemicals maker
Hercules
(HPC)
announced that its shareholders approved a merger deal with
Ashland
(ASH) - Get Ashland Global Holdings Inc. Report
. Hercules gained 2.8% to $17.32, and Ashland dropped 9.5% to $21.48.
Another day brought another round of earnings statements. Bond insurer
Ambac
(ABK)
reported a third-quarter loss that was substantially wider than a year ago. A bit later Wednesday, fellow insurer
MBIA
is expected to report. Ambac shares plummeted 41% to $2.01, and MBIA tumbled 22% to $8.16.
Steel maker
ArcelorMittal
(MT) - Get Arcelor Mittal NY Registry Shares NEW Report
announced earnings that increased 29% and said it would reduce production for the fourth quarter thanks to an economic downturn. The stock fell 22% to $24.88.
Meanwhile, solar panel maker
(SPWRA)
reduced its fourth-quarter and 2009 earnings figures, saying a strengthening dollar vs. the euro would hurt its results. Shares skidded 35% to $32.99.
Among financial firms,
GMAC
, jointly owned by
Cerberus Capital
and
General Motors
(GM) - Get General Motors Company Report
, reported a widened third-quarter loss due to setbacks in its mortgage business.
As for commodities, crude oil lost $5.23 to close at $65.30 a barrel. The Energy Information Administration reported that crude-oil inventories for last week were unchanged, whereas economists were looking for an increase of 1.1 million barrels.
Gold shed $14.90 to settle at $742.40 an ounce.
Longer-dated U.S. Treasury securities were rising in price. The 10-year was up 14/32, yielding 3.67%, and the 30-year was gaining 32/32 to yield 4.14%. The dollar was falling vs. its major foreign competitors.
Credit markets were relaxing. Three-month dollar Libor, a measure of the rate banks charge one another for large loans, declined 20 basis points to 2.51%. Overnight Libor fell 6 basis points to 0.32%.
Overseas, European exchanges, including the FTSE in London and the DAX in Frankfurt, were mostly trading lower. In
, Japan's Nikkei and Hong Kong's Hang Seng closed on the upside.