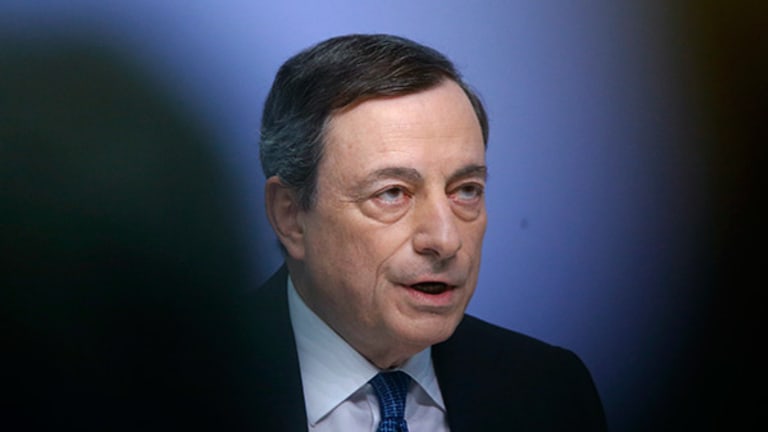 ECB's Draghi Wants Policy Action to Boost Investment in Europe
The central bank boss says ECB monetary initiatives have boosted inflation and growth.
European Central Bank President Mario Draghi on Tuesday demanded strong policy action to spur investment in Europe, improve the business environment and raise productivity, warning that without it the eurozone's slow but steady recovery will not be consolidated.
Speaking to lawmakers in Brussels at a meeting of the European Parliament's Monetary Affairs Committee, Draghi said inflation in the eurozone remained "rather subdued," and that without the bank's support, Europe's recovery would be even more sluggish.
"Without our policy stimulus, both growth and inflation would be significantly lower," he said.
He made his remarks just hours after the German constitutional court at Karlsruhe dismissed a series of legal suits attempting to stop Germany's own central bank, the Bundesbank, from participating in an ECB bond-buying plan, known as the outright monetary transaction program. Although that instrument was never used, the mere promise of unlimited purchases under the OMT was enough to underpin Draghi's 2012 pledge to do "whatever it takes" to save the euro.
With that action now out of the way, Draghi was able to move on with further action and said further monetary stimulus is in the pipeline.
Pointing out that the ECB started corporate bond purchases earlier this month as part of an asset purchase program, he said more firms including mid-sized companies would be able to access this source of external finance "as the market for companies' debt expands and deepens."
The bank will tomorrow conduct the first of its new series of so-called targeted longer-term financing operations, known as TLTRO II. Draghi said this will allow banks to secure long-term funding at "very attractive conditions."
"Overall," he said, "our measures have been instrumental in putting the recovery on a more solid footing and thereby securing the conditions for inflation to rise towards levels closer to 2% over a not-too-distant horizon. They have underpinned the revival in the consumption of durab le goods which we have observed since 2014 and are finally showing through in a more robust pick-up in non-construction investment."
He said that at national level reforms were needed to reduce regulatory and administrative bottlenecks, and resolve inefficiencies in public procurement, taxation systems, judicial systems and insolvency frameworks. He also called, where public finances allow, for countries to undertake public investment in areas "conducive to growth", such as the digital agenda.
"I think it is important to restore public investment," he said.