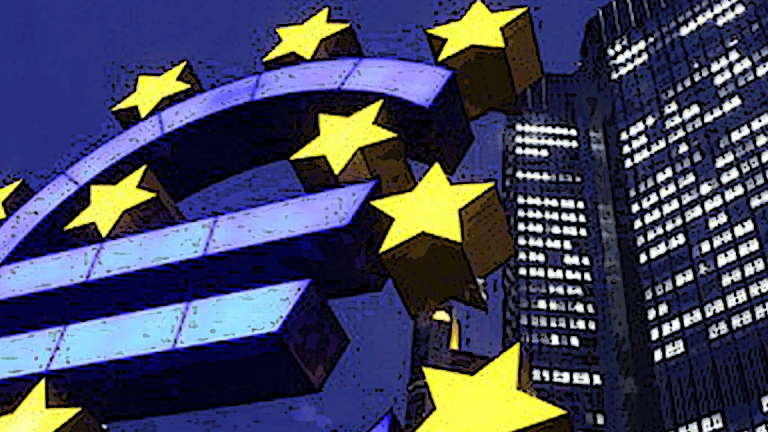 ECB Details QE Tapering, But Dovish Guidance Clips Euro Advance
The euro decline and benchmark German bund yields fell after the European Central Bank announced the tapering of its quantitative easing program but issued dovish forward guidance on rates
The euro decline and benchmark German bund yields fell after the European Central Bank announced the tapering of its quantitative easing program but issued dovish forward guidance on rates
The European Central Bank said Thursday that it will reduce the pace of its monthly asset purchases in its quantitative easing program by €15 billion from the first of October, and end its quantitative easing program by the end of the year, in a surprise decision after its rate setting meeting in Riga.
However, a dovish tone to its forward guidance, which indicated no rate hikes until the end of "the summer 2019"  trimmed session gains for the euro and pushed government bond yields lower as the Bank appeared to remain concerned that slowing economic growth would blunt the recent acceleration in inflation. The Bank also said interset rates would remain "at present levels" through the summer of 2019.
"The Governing Council anticipates that, after September 2018, subject to incoming data confirming the Governing Council's medium-term inflation outlook, the monthly pace of the net asset purchases will be reduced to €15 billion until the end of December 2018 and that net purchases will then end," the ECB said.
The euro, which traded at a one-month high of 1.1826 prior to the ECB release, slipped 0.87% to 1.1726 immediately following the ECB's release, while benchmark 10-year German bund yields fell to 0.46% as the Bank repeated its intention to reinvest maturing bonds for "an extended period of time after the end of the net asset purchases, and in any case for as long as necessary to maintain favourable liquidity conditions and an ample degree of monetary accommodation."
The decision to pullback from years of extraordinary stimulus, which have included not only the €2.55 trillion in bond purchases but also a negative rate on the Bank's deposit facility, record-low lending charges and billions upon billions of euros in liquidity support for the region's banks, marks the first suggestions of policy tightening in Mario Draghi's seven-year tenure in Frankfurt. It also brings the ECB closer in-line with the U.S. Federal Reserve, which executed its seventh rate hike in three years last night that took its key lending rate to 2%.
Draghi, however, has a very different mandate to that of his opposite number at Fed, Jerome Powell, and is only allowed to be guided on rates by the Bank's price stability target, which it defines as an inflation rate that sits "just below 2%."
Last month, the region's official statistics office said Eurozone inflation accelerated to 1.9% as a weaker euro and rising oil prices boosted headline consumer prices. Core inflation, as well, is also firming and with employment rising and wages slowing improving, the Bank's chief economist, Peter Praet said last week that it was time to "assess whether progress so far has been sufficient to warrant a gradual unwinding of our net purchases."