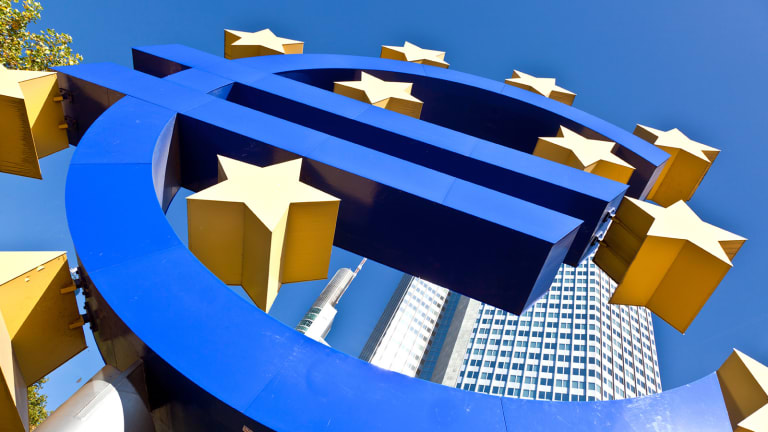 ECB Balance Sheet Swells as Critics Take Aim at Central Bank Bond Buying
The collective balance sheet of central banks using the European single currency swelled to just under $4 trillion last year as pressure grows on policymakers to trim government bond holdings.
The collective balance sheet of central banks using the European single currency swelled to just under $4 trillion last year, according to data published Thursday, as pressure grows on policymakers to trim holdings of government bonds amid an uptick in inflation and improving economic prospects. 
The European Central Bank said its own balance sheet grew 36% last year to €349 billion ($371 billion) as it scooped-up government and agency bonds as part of its ongoing quantitative easing program. With asset purchases spread across the 19 central banks that use the single currency, the collective balance sheet of the Eurosystem swelled by a third to €3.662 trillion, the ECB  said.
The increase in assets also gave an historic boost to the bottom line of both the ECB and its satellites, as net profits (mostly from interest income) grew by €111 million to just under €1.2 billion. The Bank said it distributed €996 million in profit sharing to the Eurosystem central banks as of the end of January, the most on record. 
The gains come amid intense scrutiny of the size of central bank balance sheets around the world, including the U.S. Federal Reserve, which holds more than $4.45 trillion in government bonds and other fixed income assets. 
Earlier this week, Fed Chairwoman Janet Yellen said that while she and her colleagues were "committed to shrinking our balance sheet", she nonetheless told lawmakers on the Senate Banking Committee that she it was best "from the standpoint of sustaining the recovery, to do that in a gradual and orderly way." 
The Fed has targeted around three rate hikes this year, but plans to continue reinvesting the proceeds of its asset purchases as it engineers an exit from nearly a decade of loose monetary policy.
That view remains unchanged despite an increasing pace of inflation, which recorded its fastest advance in nearly four year last month, according to data published Wednesday by the U.S. Commerce Department.
Many have been critical of the size and scope of central bank holdings, which have grow more than 500% to just over $12 trillion since 2003. 
In fact, earlier this month, Bill Gross of Janus Capital accused investors of being addicted to the "methadone" of expanded central bank balance sheets and warned that the U.S. could fall into recession if central banks were to unwind their quantitative easing policies.
"Without that financial methadone, both bond and stock markets worldwide would sink and produce a tantrum of significant proportions," Gross said in his regular investment outlook letter to investors. "I would venture a guess that without QE from the ECB and BOJ that 10-year U.S. Treasuries would rather quickly rise to 3.5% and the U.S. economy would sink into recession."
That view, while not directly supported by St. Louis Fed President James Bullard, was nonetheless addressed last week at the St. Louis Financial Forum at Washington University.
"Adjustments to balance sheet policy might be viewed as a way to normalize Fed policy without relying exclusively on a higher policy rate path," Bullard said. "Ending balance sheet reinvestment may allow for a more natural adjustment of rates across the yield curve as normalization proceeds."