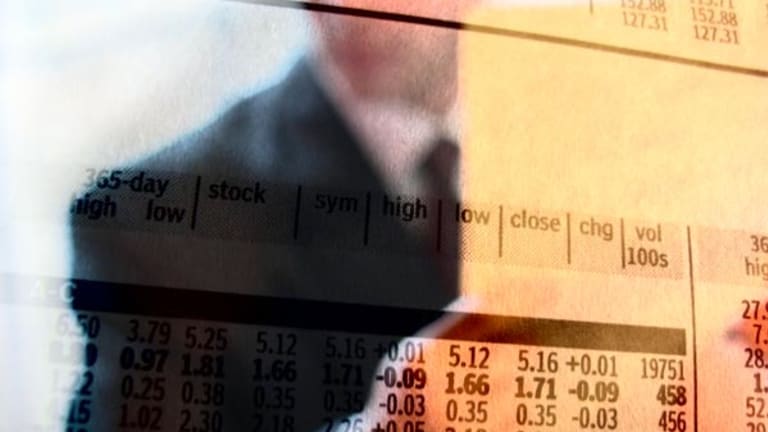 Earnings Worries Weigh on Stocks
eBay's miss sends a sell signal to investors as the Nasdaq hits an eight-week low.
Updated from 4:02 p.m. EST
Stocks slumped again Thursday as an earnings miss at
eBay
(EBAY)
and a negative outlook from
Qualcomm
(QCOM)
raised new questions about earnings expectations.
The
Dow Jones Industrial Average
closed down 68.50 points, or 0.65%, to 10,471.47, having now erased all but 20 points of its 2004 gain in the first three weeks of the new year;the
lost 9.22 points, or 0.78%, to 1775.41; and the
Nasdaq Composite
was down 27.71 points, or 1.34%, to 2045.88, its lowest close since Nov. 10. The 10-year Treasury bond reversed midday to a gain of 4/32 to yield 4.16%, while the dollar was higher against the yen and lower against the euro.
The day's action extended a losing streak for the markets that has left the Dow down 2.9% for 2005. The S&P is down 3%, and the Nasdaq has lost 6%. Volume was heavy with 1.69 billion shares trading on the
NYSE
; about 2.23 billion changed hands on the Nasdaq. Decliners beat out advancers by more than a 2-to-1 margin on both exchanges.
"The overriding concern here is the prospects for earnings in 2005," said Joe Liro, equity strategist with Stone & McCarthy Research Associates. "I think most top-down analysts have been forecasting a pretty marked slowdown in earnings this year. Now, we've had a few disappointments and I think that's got the market on its heels."
eBay was down 19.2% after saying fourth-quarter earnings and revenue both rose 41% from a year ago, slightly slower than analysts had hoped. The company also shaved several cents off its 2005 EPS estimate, though it boosted its revenue outlook. The stock fell $19.75 to $83.30.
Other Internet companies also were lower on eBay's news, including
Yahoo!
(YHOO)
, down 1.8%, and
Google
(GOOG)
, down 1.7%.
"When you see high-profile momentum names leading the way and missing earnings, it usually will not lead to a market that will react positively," said Barry Hyman, equity market strategist with Ehrenkrantz King Nussbaum. "The eBay story and the Qualcomm story are telling us that growth as expected in 2005 is at risk, and the market now has to deal with lowered expectations going forward.
"Bear in mind, eBay is not the market," Hyman added. "eBay is the Internet, and it affects an industry analysis, not the whole market's analysis. I haven't changed my positive outlook on the market for 2005, but nevertheless, it's a negative as we enter this trading day."
Qualcomm fell 8.1% after it also cut its 2005 outlook in an earnings release Wednesday night. The technology shop earned $513 million, or 30 cents a share, in its first quarter, up from $411 million, or 25 cents a share, last year. Adjusted earnings of 28 cents a share were a penny ahead of forecasts.
For the second quarter, however, Qualcomm put operating earnings at 26 cents a share on revenue of $1.4 billion. Wall Street had been targeting a 30-cent profit on sales of $1.49 billion. The stock closed down $3.33 to $37.74.
Oil continued to slide Thursday despite a lingering cold snap in the Northeast. The February crude contract was recently down 64 cents to $46.91 after falling by a similar amount on Wednesday. U.S. inventory data late Wednesday showed a larger-than-expected jump in crude stockpiles during the last week.
On the economic front, the Conference Board said its index of leading economic indicators rose 0.2% in December, meeting expectations and the second straight gain after five months of decline.
In another report, the Federal Reserve Bank of Philadelphia said its regional index measuring manufacturing activity dropped to 13.2 in January from 25.4 in December. That result was well below Wall Street's expectations, which called for a small decline to 25.
On the geopolitical front, President George W. Bush took the oath of office for his second inauguration in Washington.
"We are led, by events and common sense, to one conclusion: The survival of liberty in our land increasingly depends on the success of liberty in other lands,'' said the president in his speech. "The best hope for peace in our world is the expansion of freedom in all the world.''
Meanwhile, Iraqis prepared for elections, set for Jan. 30, and braced for continued violence after a construction crew was ambushed by insurgents in Baghdad, killing a British civilian and an Iraqi security guard, according to a report from
The New York Times
.
"There's a lot of trepidation
on Wall Street about the upcoming events in Iraq," Liro said. "I think the market will find a bottom sometime between now and Jan 30, but I don't think we can do significantly better until we get by that date and see how it plays out, both in terms of violence leading up to the event and then how the results play in terms of voter turnout and composition of the new government."
In other corporate news Thursday,
Federated Department Stores
undefined
is in talks with
May Department Stores
(MAY)
about combining to form a single retailing force with $30 billion in sales, according to
The Wall Street Journal
. Shares of Federated slumped $1.69, or 3%, to $55.39, while May shot up $2.78, or 8.9%, to $34.15.
Among those reporting earnings,
Citigroup's
(C)
fourth-quarter earnings rose 12% from a year ago to $5.32 billion, or $1.02 a share, a penny above analysts' estimates. The No. 1 financial services firm reported strength in credit card and consumer banking results and raised its dividend by 10%. Its shares ended down 27 cents, or 0.6%, to $47.77.
Ford
(F)
swung to a $104 million profit in the fourth quarter, lifted by a lending division that earned a pretax $1 billion during the period. Excluding items, earnings from continuing operations slipped 6.5% to $555 million, or 28 cents a share, beating estimates by a penny. Its stock closed down 47 cents, or 3.4%, to $13.46.
AT&T
(T)
posted a gain-swollen profit of $625 million, or 78 cents a share, in the fourth quarter, and a 10% decline in revenue to $7.3 billion. Excluding a depreciation benefit, the telecommunications company appeared to miss estimates badly and predicted a steeper-than-expected decline in 2005 revenue. The stock closed down 40 cents, or 2.2%, to $18.11.
Managed-care provider
UnitedHealth
(UNH)
said fourth-quarter earnings rose 34% from a year ago to $679 million, or $1.09 a share, beating estimates by 1 cent. Revenue jumped 40% from a year ago to $10.5 billion, also slightly above forecasts. Its stock closed down $1.50, or 1.7%, to $86.78.
Delta Air Lines
(DAL)
reported a larger-than-expected loss in the fourth quarter amid a sweeping turnaround plan. Excluding items, the carrier lost $5.88 a share, vs. the expectation of $5.51 a share. Its shares ended down 61 cents, or 10.2%, to $5.34.
Harley-Davidson
undefined
managed record revenue and earnings for its fourth quarter, as the weak dollar helped international sales. The company earned 71 cents a share, 2 cents better than what analysts expected. Its shares fell $1.24, or 2.1%, to $58.47.
Before the market opens Friday morning, earnings reports are due out from
United Technologies
(UTX)
,
America West Holdings
undefined
and
Keycorp
(KEY)
.
At 9:45 a.m. EST, the University of Michigan is expected to report that its consumer sentiment index rose to 97.5 from 97.1 in a preliminary reading for the month of January.