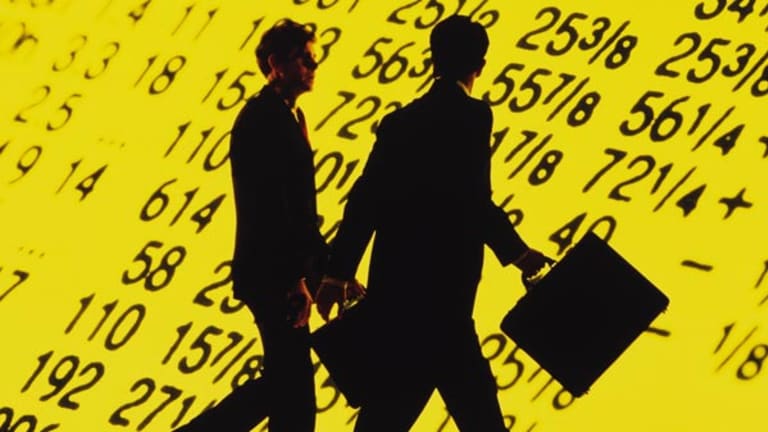 Earnings Trip Up Stocks
All three major indices fall as the market faces weak corporate earnings news. Shares of Alcoa and AMD are among the decliners in New York. Frank Curzio reviews the action in The Real Story (above).
Updated from 4:10 p.m. EDT
Stocks in the U.S. finished in the red Tuesday as traders dealt with poor earnings forecasts just days before a flood of quarterly reports is set to roll in.
The
Dow Jones Industrial Average
was off its low for the day but still surrendered 35.91 points, or 0.3%, to 12,576.52. The
S&P 500
shed 7.01 points, or 0.5%, to 1365.53, and the
Nasdaq Composite
was down 16.07 points, or 0.7%, to 2348.76.
"All things considered, we're holding up pretty amazingly," said Charles Rotblut, senior market analyst with Zacks Investment Research. "I think a lot of people are trying to trade on the assumption that the bad news is already reflected in the market."
Breadth was poor for the day. Roughly 3.53 billion shares traded on the
New York Stock Exchange
with decliners topping advancers by a 3-to-2 margin. Volume reached some 1.66 billion on the Nasdaq as losers edged out winners 5-to-4.
Marc Pado, U.S. market strategist with Cantor Fitzgerald, pointed out that the major indices are near their February highs and have already attempted to get through those levels three times, and to no avail.
"We're getting right where there would be a major breakout from a three-month base, and we need a catalyst to do that," he said. "We can't just float through such a significant resistance level."
On the corporate front Tuesday, the first harbinger of bad tidings was
Alcoa
(AA) - Get Alcoa Corporation Report
, which issued its first-quarter report last night in an event that's widely regarded as the symbolic start of earnings season.
The aluminum maker said income plummeted 54% due to ballooning energy costs and the weakening U.S. dollar. Excluding items, that was
weaker than anticipated
, though declining revenue still managed to top expectations. Shares closed down 0.7% at $37.18.
As for disappointing guidance,
Advanced Micro Devices
(AMD) - Get Advanced Micro Devices Inc. Report
said first-quarter sales took a
bigger-than-expected slide
to roughly $1.5 billion, falling short of the $1.62 billion analyst consensus. The firm, which has been facing mounting competition from
Intel
(INTC) - Get Intel Corporation Report
, also plans to fire 10% of its workforce. JMP Securities sliced its price target in half to $10. Shares sank 4.9% to $6.03.
Fellow tech name
Novellus
(NVLS)
, a semiconductor-equipment maker, slashed its first-quarter earnings forecast to a range that's below Wall Street expectations. Shares were down 8.1%.
Still, said Pado, "I think the general feeling is, no one expects the first quarter to be any good. The focus isn't so much on the economic slowdown as, what do we do get past it?"
He cited an example in
Washington Mutual
(WM) - Get Waste Management Inc. Report
, which said it will raise $7 billion by selling shares to TPG Capital and other investors -- $2 billion more than the amount yesterday's reports foretold. TPG alone will pick up $2 billion worth of new WaMu stock. The beleaguered bank said the move should keep its capital "well above" targeted levels over the next couple of years, though investors seemed concerned about the dilutive effects of the newly issued shares.
WaMu also projected a $1.1 billion loss for the first quarter and plans on chopping its quarterly dividend down to a penny a share from the prior payout of 15 cents. Keefe Bruyette cut the stock to market perform from underperform, and WaMu shares sank 10.2% in partial retreat from their massive rally Monday.
Also on Tuesday, student-loan firm
First Marblehead
undefined
tanked 36.9% after losing its financial backer, the Education Resources Institute, to bankruptcy. First Marblehead sells student loans as bonds, and TERI had been designated to cover any defaulted loans, so that risk exposure has now transferred back to the firm.
On the economic front, the
Federal Reserve
released the minutes from the March 18 gathering of the Federal Open Market Committee, when the fed funds rate was slashed by another 75 basis points to 2.25%. The minutes paint a picture of a broad-based downward economic spiral, indicating that some participants "believed that a prolonged and severe economic downturn could not be ruled out given the further restriction of credit availability and ongoing weakness in the housing market."
Most FOMC members believed inflation would moderate later this year, even with another significant rate cut, but allowed that "inflation pressures had apparently risen even as the outlook for growth had weakened" and said the weakening U.S. dollar could compound matters further. Those inflationary concerns apparently influenced the Fed's decision for a three-quarter-point easing, even though the market had previously priced in a full-point cut.
The two dissenters, Richard Fisher of Dallas and Charles Plosser of Philadelphia, argued that previous aggressive rate-easing and liquidity measures were sufficient to mitigate risks of economic contraction. Both were worried that inflation expectations could "potentially become unhinged should the Committee continue to lower the funds rate in the current environment."
"What a lot of people forget," said Pado, "is that price stability is supposed to be the Fed's primary objective, not letting inflation get out of control. Secondary is to keep the economy growing."
In that vein, Pado echoed the Fed's inflationary concerns: "Economies grow best if they can count on futures prices," he said, citing Alcoa as a "perfect example" of what happens to individual businesses when future prices are in flux. "With all this global expansion, they're not doing well because they're having a problem with their input costs," he pointed out.
The Fed will next meet April 29 and 30.
Elsewhere on the economic docket, the National Association of Realtors said its February pending-home sales index fell 1.9% to 84.6 -- a record low for the index -- from a revised January reading of 86.2. That's about double the expected sequential decline, and represents a year-over-year drop of 21.4%. Moreover, the NAR doesn't expect existing-home sales to change much over the next few months, but it does project the numbers will improve "notably" in the second half of the year.
Meanwhile the International Monetary Fund, in its Global Financial Stability Report, estimated that the U.S. credit contraction could ultimately induce nearly $1 trillion in losses and that, even as the market stabilizes, a weakening economy could hamper banks' ability to lend.
As for analyst research, Goldman Sachs maintained its sell rating on
Fannie Mae
( FNM) and
Freddie Mac
( FRE), forecasting accelerating losses at government-sponsored mortgage buyers this year. Simultaneously, however, Lehman Brothers raised the pair to overweight from equal weight. Fannie and Freddie spent the morning in positive territory, but ended down 2.9% and 4.3%, respectively.
Wachovia predicted a first-quarter loss at
Merrill Lynch
( MER) and said it's in a comparatively poor position to raise capital, even as CEO John Thain reiterated last week's assertion that the firm probably won't need any more cash, according to reports. Merrill shares closed off 1.6% at $46.80.
Among commodities, crude oil lost 59 cents to $108.50 a barrel. Gold futures slipped $8.80 to $918 an ounce. At the same time, the U.S. dollar weakened firmed by about 0.1% against both the euro and the yen to $1.5708 and 102.58, respectively.
Treasury prices were slipping. The 10-year note dipped 7/32 in price to yield 3.57%, and the 30-year bond lost 21/32 in price, yielding 4.39%.
Markets overseas were mostly sinking. In Asia, Tokyo's Nikkei 225 lost 1.5% to 13,250, and the Hang Seng Index in Hong Kong gave up 1.1%. Among European bourses, the FTSE 100 in London shed 0.4%. Germany's Xetra Dax and the Paris Cac gave up 0.7% apiece.