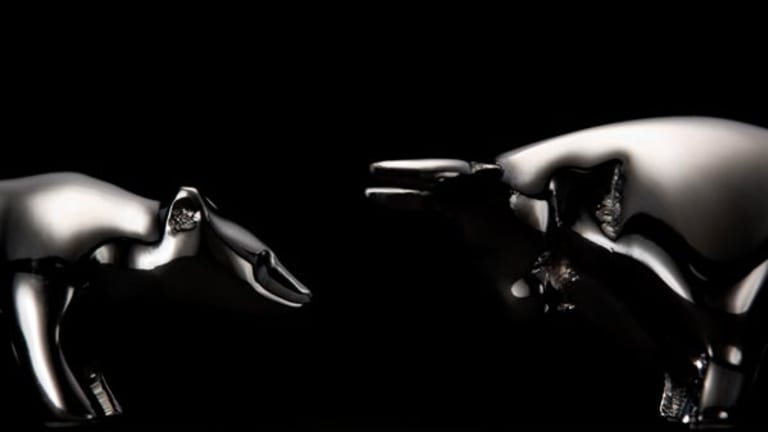 Publish date:
Early Rally Hits Technical Wall
After an impressive runup, the averages end with modest gains as resistance kicks in.
After an impressive runup, the averages end with modest gains as resistance kicks in.
Updated from 4:07 p.m. EST
An impressive stock-market rally came crashing back to earth in the last 90 minutes Monday as the averages ran up against some stiff technical resistance.
The
Dow Jones Industrial Average
shot up 230 points and hit its March 21 high of 8520 a half hour into trading, as a weekend of military successes in Iraq cheered traders. But the blue-chip average finished the day up just 23.26 points, or 0.3%, at 8300.41, while the
Nasdaq
gained 6 points, or 0.4%, at 1389.51. The
S&P 500
rose 1.08 points, or 0.1%, to 879.93.
On the war front, U.S.-led troops pushed into the center of Baghdad Monday morning, taking over one of Saddam Hussein's presidential palaces and converting it into a POW holding center. About 130 tanks and armored vehicles drove into the city, facing little resistance after two weeks of bombardment, and reports said that U.S. troops have found evidence of chemical weapons.
But a combination of thin volume and technical resistance took their toll as the session progressed. "There was no news catalyst today and not a lot of liquidity? This morning we were up on the war and not really economic fundamentals," said Bob Basel, director of listed trading at Salomon Smith Barney. "Also, we hit some pretty key resistance this morning, hitting 900 on the S&P and 8500 on the Dow. Maybe some people were disappointed that we couldn't break through those levels."
Technical indicators loom larger in a market dominated by traders, most of whom are painfully aware of the supposed implications of support and resistance levels. "Essentially what we did on all three indices is test the March highs after the initial move off the March 11 bottom," said Richard Dickson, chief markets strategist at Lowry Research. "And basically, that's where they all ran out of gas. We got a little above those levels on the S&P 500 and the Nasdaq, but they came back down immediately. It looks to us as if you have plenty of sellers around 8520 on the Dow, 1425 on the Nasdaq and around 895 in the S&P."
And because the pullback came on a wellspring of positive news on the war front, fears are surfacing that the market rally could have topped out in the near-term. "Certainly on a short term basis it appears to have run out of gas, but is this is the end of the rally? We have our doubts. We need to see what kind of pullback we get tomorrow -- if we get one at all," said Dickson, who notes all three indices closed below their 200-day moving averages. "But buyers are probably reluctant to chase higher after seeing the fade today."
The dollar dipped to 119.83 yen from 120.00 late Friday, and touched $1.0688 to the euro from $1.0735. May crude futures were down 66 cents to $27.96 a barrel in New York. The 10-year Treasury note was up 2/32 to yield 3.96%, while gold was down about $3.80 an ounce to $322.50.
Meanwhile, late Monday, President Bush and British Prime Minister Tony Blair met in Ireland to discuss the rebuilding effort after the war in Iraq ends. Earlier, Secretary of State Colin Powell said that "the hostilities phase is coming to a conclusion."
In another psychological blow to the Iraqi troops, a U.S. C-130 transport plane landed on the newly named Baghdad International airport, starting a major resupply effort for U.S. troops, which up to now had depended on a risky convoy line from Kuwait through the Iraqi desert for extra provisions.
To the south, the body of notorious Iraqi general "Chemical Ali" was reportedly found by British troops after his home, near Basra, was hit by rockets over the weekend. British forces said they were close to controlling Basra after a week of fierce battles with local militia.
Among corporate news, Charlie Crane, a money manager at Spear Benzes Salomon & Farrell, said the bulls were betting early in the day that
Alcoa's
(AA) - Get Report
earnings release on Friday night would be a harbinger of better economic days ahead. Alcoa, the world's largest aluminum producer, reported lower first-quarter profit that still beat forecasts. The company reported earnings of $151 million, or 17 cents a share. Excluding charges, Alcoa earned 23 cents a share, above the 19 cents analysts had estimated for the period. In reaction, RBC Capital upgraded the company to sector perform from underperform. Shares were up 7.9% to $21.63.
Overseas markets were up sharply, with London's FTSE 100 closing up 3.2% at 3936 and Germany's Xetra DAX ending up 5.8% at 2809. In Asia, Japan's Nikkei gained 2.2% to end at 8249, while Hong Kong's Hang Seng rose 1.6% to 8962.
U.S. stocks ended last week with gains, as the Dow rose 132 points, or 1.6%, to 8277, and the S&P 500 gained 10 points, or 1.7%, to 878. The Nasdaq closed the week up 1%, or 14 points, at 1383.
The Chief executive of
McDonald's
(MCD) - Get Report
, James Cantalupo, is expected to announce Monday a plan to cut costs, as well as a simplified menu to reduce lines in its fast-food restaurants and new recipes. He will meet with investors in New York this afternoon. McDonald's was up 8.6% to $15.80.
Fellow fast-foodie
Wendy's
(WEN) - Get Report
said it was comfortable with 2003 estimates, reiterating its expectations of earnings between $2.02 and $2.08 a share, against the Wall Street consensus estimate of $2.03 a share. That said, same-store sales for the month of March were weak, with company-owned stores off 3%. Shares were up a penny to $27.20.
Cable TV operator
Cablevision Systems
(CVC)
said it won't bid for
Hughes Electronics
(GMH)
and its satellite TV provider DirecTV. Rupert Murdoch's
News Corp.
(NWS) - Get Report
remains as the sole bidder for the
General Motors
(GM) - Get Report
unit, according to
The New York Times
. Cablevision was up 2.6% to $20.50.
Software maker
Siebel Systems
(SEBL)
warned that first-quarter sales will be much lower than initially estimated because crucial deals had been delayed amid economic uncertainty. Siebel was up 3.1% to $7.99.
InfoSpace
(INSP) - Get Report
, a maker of Internet software, said late Friday it's laying off 115 employees, or 20% of its staff, in a bid to reduce costs. The company had losses of $847 million over the past two years. InfoSpace was down 1.6% to $11.99.
Altria Group
(MO) - Get Report
was up 2.5% to $29.02 after its Philip Morris U.S.A. unit requested that an Illinois state judge lower a $12 billion deposit required for the cigarette maker to appeal a ruling involving false advertising.
Truck rental company U-Haul's parent,
Amerco
(UHAL) - Get Report
, said early Monday that Nationwide Mutual Insurance dismissed a lawsuit it had filed against the company as part of a deal to guarantee interest payments on $100 million in notes issued by Amerco's real estate business.
Elsewhere, rival
Airborne Freight
(ABF)
was upgraded to neutral from underweight at J.P. Morgan, based on the brokerage's expectation that Airborne Freight's impending deal with DHL implies an annual return of 42%. Shares of Amerco were up 16.2% to $4.95, while Airborne was down 0.7 to $19.66.
Shares of
Nokia
(NOK) - Get Report
, the world's largest makers of mobile phones, were up 2% to $15.11, after Nokia CEO Jorma Ollila said demand for its products hasn't been affected by the war in Iraq. Rival
Motorola
(MOT)
was up 0.4% to $8.53.
Banking services company
S1
(SONE)
warned that it will lose between 2 and 4 cents a share in the first quarter, excluding charges of 9 cents a share. Revenue will be in line with expectations. Shares were down 7.4% to $4.53.
On the analyst front,
KB Home
(KBH) - Get Report
was cut to underperform from neutral at CSFB, which told investors that the home builder's rapid expansion makes it more vulnerable to a slowdown in housing than rivals. The brokerage cut its 52-week price target to $53 from $56. Shares were off 0.3% to $46.59.
Brokerage
Bear Stearns
(BSC)
was downgraded to market perform from outperform at Wachovia, which told investors that the stock should trade in the $66 to $68 range. Wachovia also said brokerages overall were overvalued. Bear Stearns was down 2.6% to $67.57.
Qualcomm
(QCOM) - Get Report
shares gained 0.3% to $34.19 after the company was cut to sector perform from sector outperform by RBC Capital. The brokerage told investors that it has concerns about CDMA handset unit growth in Asia, where Qualcomm has ambitious plans to grow its business, and cut its price target to $38 from $45.
A couple of computer storage companies,
Western Digital
(WDC) - Get Report
and
Maxtor
(MXO)
, were downgraded by J.P. Morgan to neutral from overweight. In the brokerage's view, Western Digital is vulnerable to weak PC-demand and an inability to raise prices, while Maxtor is in the middle of a difficult transition to new technology. Western Digital was down 3.5% to $9.01, while Maxtor was down 9.2% to $4.95.
On a more positive note,
AOL Time Warner
(AOL)
was upped to overweight from equal weight by Morgan Stanley, which told investors that asset sales would offset balance sheet risk. Furthermore, if AOL's business can stabilize in the year ahead, the brokerage think the company could see upside. Shares were up 5.3% to $12.16.