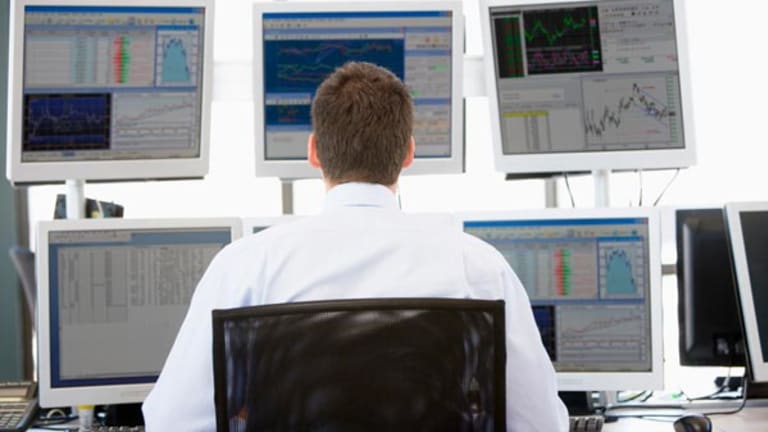 Dykstra: Time to Check the Box Score
Lenny takes a look at some of his previous picks.
Lenny takes a look at some of his previous picks.
A baseball player is judged on results, period! The bottom line is of the utmost importance: to win games. In investing, the same idea holds true, except that a win is defined as a profitable investment.
In order to hold myself accountable for the investment ideas I recommend, I will be writing a weekly column on Thursdays called The Stat Book, which will track all of my stocks/deep in-the-money calls I write about here on
TheStreet.com
. As a reader, you will find a chart with detailed information about each pick, including the date of pick, in-the-money call date, purchase price and results.
You will also see additional feedback on some of the previous picks, including any adjustments that may be prudent. With investing, just as in baseball, analyzing stats is both interesting and exciting, as it provides a better understanding of the true value of a player. This column every Thursday will ensure that you, the reader, can track my results. Since we are playing for real money, we need to know the facts, because it's all about the bottom line!
Wednesday was a profitable day for those of you who have been using my deep-in-the-money call strategy. Not only did
Peabody Energy
(BTU) - Get Report
reach its strike price within two days of our purchase, we also nailed a double (profited $2,000) with
Altria
(MO) - Get Report
.
After first purchasing the June $75 calls of Altria following my Feb. 23 column, we averaged down following the Feb. 28 column. We held 20 contracts with an average purchase price of $9.85 before today's good-till-canceled (GTC) sell order filled at $10.85. Once I placed my GTC sell order $1 above the average purchase price, I set myself up nicely for yesterday's fill at $10.85, giving us a quick $2,000 in profit.
In my Feb. 20 column, I recommended considering the July $22.50
Halliburton
(HAL) - Get Report
call at $7.80. If you followed this, you placed your (GTC) sell order in at $8.80.
We made a quick $1,000 profit in three days. While our other selections have not reached their GTC sell price yet, I remain confident in their potential, as we have plenty of time. I recommend and buy quality stocks for a reason: low risk, high reward.
Also, I like money! Better yet, I like helping you make money!
Here's the table. Check the notes below the table for more information on each trade.
Comcast: Split 3:2 on Feb. 21, strike price is now $23.375. The cost basis for the first 20 calls is now $5.20. Bought 10 more on Feb. 28 at $3.30.
Halliburton: Closed out on March 7 for a $1,000 gain.
Altria: Second purchase was after column on Feb. 28. Closed out on March 7 for a $2,000 gain.
Amgen: Second purchase was after column on Feb. 28
Peabody: Closed out on March 7 for a $1,000 gain.
Now, a little sports analysis.
The early returns on Dice-K are promising. Daisuke Matsuzaka pitched three scoreless innings against the Florida Marlins in Jupiter, Fla., on Tuesday. Facing major-league hitters for the first time, Matsuzaka allowed two hits, walked one and struck out three. The Red Sox have to be encouraged with the Japanese sensation's command of the strike zone, as he threw 10 first-pitch strikes to the 12 batters he faced. Otherwise, there is no significant news emanating from the Grapefruit League.
Meanwhile, the NFL's free agency period began on March 2. While this is a relatively "weak year" in the quality of the free-agent pool, there has been some movement thus far. Jeff Garcia, who led the Eagles to the brink of the NFC Championship Game after Donovan McNabb's injury, signed with the Tampa Bay Buccaneers. The circumstances surrounding Garcia's departure are in question; however, he will be given an opportunity to start in Tampa Bay.
Joey Porter, who was an all-pro linebacker during his eight years with the Steelers, signed a five-year deal with the Dolphins. Travis Henry, who has had a productive career with Buffalo and Tennessee, signed a five-year deal with Denver, whereby he can now run behind that Broncos offensive line that seemingly makes every running back a star. Speaking of running backs, Corey Dillon and Dominic Rhodes are still awaiting a destination. It will be interesting to see how things play out over the next several weeks.
In NCAA hoops, the Cinderella story of last year's tournament, the Patriots of George Mason, were defeated by Virginia Commonwealth University in the final of the Colonial Athletic Association tournament. The defeat essentially ended the NCAA tournament hopes of George Mason, which captivated the country last year with its incredible run to the Final Four.
In addition to Virginia Commonwealth, the following teams have secured automatic bids to the Big Dance by virtue of winning their conference tournaments or their leagues: Belmont, Creighton, Davidson, Eastern Kentucky, Gonzaga, Niagara, North Texas, Oral Roberts, Penn and Wright State. These are not exactly household names, with the exception of Gonzaga, which has put mid-major conferences on the map over the past five years or so. Could one of these teams be this year's George Mason? Only time will give us that answer.
As far as the power conferences are concerned, their tournaments do not conclude until this weekend. Hence, for several teams in the Pac-10, Big 12, Big East, SEC, Big Ten, Southwest Conference and ACC, their conference tournaments are merely for seeding in the NCAA tournament. However, if a lower seed wins one of the power conference tournaments, that could eradicate the dreams of a mid-major runner-up of participating in March Madness.
Regardless of what transpires over the next few days, Selection Sunday will be dissected by the pundits with their authoritative views. Moreover, the bubble will burst for some teams, while for others the bubble will represent their vehicle to participate in the NCAA tournament. Nonetheless, uncertainty will abound until the last team standing cuts down the nets.
Always remember: Life is a journey, enjoy the ride!
At the time of publication, Dykstra was long Comcast, GE, Amgen, Anadarko, BEA and Johnson and Johnson.
Nicknamed "Nails" for his tough style of play during his Major League Baseball career, Lenny Dykstra was an integral member of the powerful Mets of the mid-1980s, including the world champion 1986 squad, and the Phillies in the early 1990s.
Today, Dykstra manages his own stock portfolio and serves as president of several of his privately held companies, including car washes; a partnership with Castrol in "Team Dykstra" Quick Lube Centers; a state-of-the-art ConocoPhillips fueling facility; a real estate development company; and a new venture to develop several "I Sold It on eBay" stores throughout high-demographic areas of Southern California.