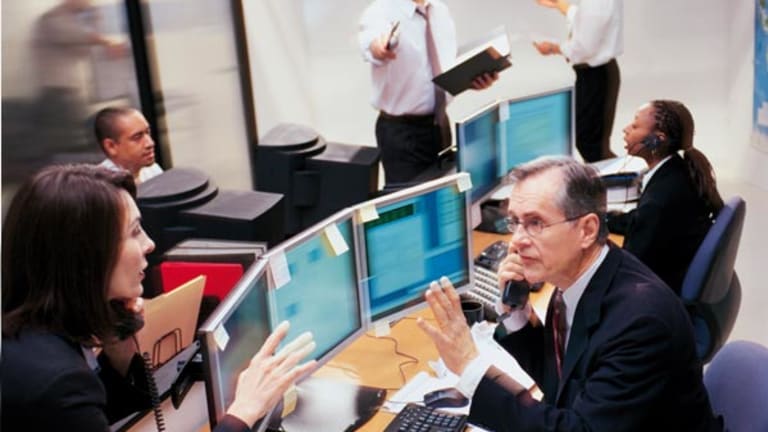 Publish date:
Dykstra: Digging Into Readers' Questions
Lenny Dykstra fields questions from the readers.
Lenny Dykstra fields questions from the readers.
On Thursday, you were able to see what I call my "Stat Book", which is an addition to my weekly columns. Today I will be introducing a new twist to my traditional Friday column. Due to the tremendous volume of reader email I receive, I will be introducing a column devoted to answering some of the most intriguing questions.
I hope this feature will be helpful in answering some of your most relevant and important questions. When I played baseball, the fans were one of the major driving forces behind my competitive spirit. With regard to investing, you, the reader, are a large part of my inspiration to continue to pick stocks.
I've been reading and tracking your recent articles. As a new investor, I have not seen anything about where to set a loss level. Are you setting a loss level? If so, is it automatically triggered or is it intended for a manual review should it reach that point? Overall, what is your track record on your picks? Thanks. -- M.C.
Let me answer your second question first. Check out my
Stat Book column, which will track my weekly selections. I believe strongly in accountability, and the Stat Book gives you, the reader, exactly that. The column will also provide updates on my recommended selections.
That brings me to the answer to your first question: There will be times when we average down for the simple reason that the stock moves against us, so technically, we have reached the next buy level.
Everything I do is planned out ahead of time. I only know how to do things one way: the right way. Using my former profession in baseball as an example, the game is played off of the scoreboard, and the same goes for the stock market. I am not up there just hacking away.
To achieve the success that I have had takes hard work and discipline. You must have a game plan. My game plan relies on Richard Suttmeier, whom I use exclusively as my technician, and Paul Hollins, my broker at Wachovia, who specializes in financial strategies. Every morning I receive our updated "stock-option watch list."
Bottom line: If you want to play in the big leagues, surround yourself with the best people in their field. Staying on that topic: You can sign up for Jim Cramer's Action Alerts Plus
right here. Jim has been in the trenches! There is no substitute for that, my friends; he has seen it all.
When we are experiencing this kind of drastic volatility, you must be prepared to buy or sell accordingly. In order to execute a trade properly, you must understand why I set certain buy and sell levels.
Technically, when I buy the same position at a lower cost, we call this "averaging down." This happens when the stocks hit our buy and sell levels.
Take the
Altria
(MO) - Get Report
June $75 deep-in-the-money calls as an example. I have already booked a $2,000 profit with this particular pick. The deep-in-the-money calls I traded were the June $75 (MOFO). I bought our first 10 calls on Feb. 23, for $10.50.
After the stock moved against me, it hit my second buy level, $9.20, which I suggested
on Feb. 28. So, for $19,700, we were in control of 2,000 shares of Altria common stock, totaling about $170,000 worth of stock. So we had an average price of $9.85 for 20 calls. Sticking with our game plan, we put a GTC sell order in one point higher than our average cost, at $10.85. That order was filled at $10.85, giving us a $2,000 profit in less than two weeks.
So to answer your question about whether I'm setting a stop-loss level, the answer is "yes and no." Because I am buying a deep-in-the-money call and setting a strike date four to six months out, if I stay disciplined, my record shows that I can win.
Thank you very much for your interest.
Lenny, It's great to see your column back on a regular basis. I've learned a great deal from you and have increased my trading profitability while reducing my risk by implementing your options strategy. I truly value the way you focus on one strategy and explain it very clearly while providing actionable information. Your focus on this strategy and getting base hits rather than swinging for the fences all the time has been extremely helpful and reduced the stress of my trading. Thanks for sharing your strategy. It is greatly appreciated. -- D.S.
I am very happy to hear that deep-in-the-money calls have been effective for you. Every investor should strive to minimize risk while increasing profitability, and it is great to hear that readers are gaining value from my column. As much as some players prefer the long ball, steady profits over a long period of time add up nicely.
Mr. Dykstra, I am just now discovering your articles. I really enjoy them, but I have one question: Do you use advance orders when you enter a position? The more I learn about options, the more I agree with using a limit order to buy and sell. But do you also use a stop-loss order to protect yourself from any downside? That is three orders, so would you need an advance order, like one cancels the other? I am just now beginning to trade with real money and am finding out that how to place orders is an art. Thank you for your time. -- J.A.
Thank you for your response. I believe strongly in placing limit orders when purchasing and selling options. This ensures that you can maximize your profit on both sides of the equation. This is especially important in a volatile market like the one we are seeing today.
Thank you for your question, and I hope this helps. Keep reading the column; I will feature updates on my picks, as well as a steady flow of new plays to make. Good luck with the trading.
Sadly, I lost my good friend John Vukovich this week. John was a very special guy. I confided in him, and he not only helped me as a Major League Baseball player -- he taught me about life!
Always remember: Life is journey. Enjoy the ride!
At the time of publication, Dykstra had no positions in stocks mentioned.
Nicknamed "Nails" for his tough style of play during his Major League Baseball career, Lenny Dykstra was an integral member of the powerful Mets of the mid-1980s, including the world champion 1986 squad, and the Phillies in the early 1990s.
Today, Dykstra manages his own stock portfolio and serves as president of several of his privately held companies, including car washes; a partnership with Castrol in "Team Dykstra" Quick Lube Centers; a state-of-the-art ConocoPhillips fueling facility; a real estate development company; and a new venture to develop several "I Sold It on eBay" stores throughout high-demographic areas of Southern California.