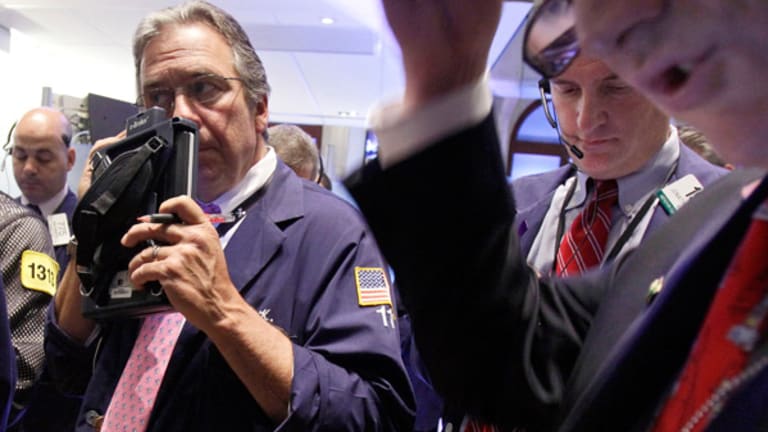 Dykstra: Clean Up With Procter & Gamble
The personal-care behemoth's calls looks sharp here.
Today we are going to take advantage of an opportunity in one of the premier companies in the world: Procter & Gamble (PG) - Get Report.
This behemoth of a company has over 135,000 employees working in over 80 countries worldwide, and provides products and services of quality and value to consumers in over 180 countries, after starting out as a small, family-operated soap and candle company.
Procter & Gamble is organized into three global business units and seven reportable segments. The beauty segment accounts for 31% of fiscal 2006 sales and 33% of net earnings. The health care segment brought in 11% in sales and 13% of net earnings, and the household care unit took in 25% and 25%.
The company's baby care and family care business pulled down 18% and 14%, while pet health, snacks and coffee raked in 6% and 4%.
Finally, the Gillette unit accounted for 5%/8% and Duracell and Braun totaled 4%/3%. PG acquired Gillette in 2005, bringing the world leader in the male and female grooming categories, as well as alkaline batteries and toothbrushes into the fold. For this reason, PG's competitive strengths -- strong brands and a strong focus on product innovation -- are second to none.
The company's approximately $68 billion in sales also give it the benefit of scale, which provides greater sales opportunities and cost savings.
Considering that PG derives just 26% of sales from developing markets, compared with 25% to 45% for its global competitors, I believe there is plenty of room for PG to grow. In a stock market where we have plenty of stocks on the new 52-week high list, PG is a bargain at this level.
I am going to place an order to buy 10 deep-in-the-money (DITM) January 50 calls (WPGAJ) calls at $12.80 or better.
The Game of Life
The Mets continue to lose, but the Braves and Phillies are losing also, so the Mets continue to maintain a slim lead in the NL East. The Brewers are widening their lead in the NL Central, while the Padres, Dodgers, and Diamondbacks continue to exchange first place in the NL West.
The Red Sox enjoy a double-digit lead over the Yankees in the AL East, with the Tigers and Indians deadlocked for first in the AL Central. In the AL West, the Angels still maintain a comfortable margin over the A's.
In a twist of fate, Sammy Sosa, now a member of the Texas Rangers, hit his 600th career home run against the Cubs, his former team for whom he was a superstar for several years. Meanwhile, four quality pitchers may go or have already landed on the disabled list with various injuries. Randy Johnson has a herniated disc in his back, Dontrelle Willis has a tight left forearm, Jason Schmidt had shoulder surgery yesterday, and Curt Schilling had an unrevealing MRI on his ailing right shoulder.
On a positive note for pitchers, Josh Beckett of the Red Sox and C.C. Sabathia of the Indians joined the Angels' John Lackey as the only 10-game winners in the majors thus far.
David Beckham, who signed a $32.5 million contract in January to play for the Los Angeles Galaxy starting this summer, enjoyed a triumphant conclusion to his Spanish League career, as Real Madrid won the title. Beckham, who was benched after he signed his Galaxy contract, re-emerged to help Real Madrid win its final eight games of the season.
Then, with his friends Mr. and Mrs. Tom Cruise in the stands, Beckham performed admirably, nearly scoring on three of his trademark free kicks, before retiring with an injury in the 66th minute. Perhaps his talent, as well as his Hollywood appeal, can lift soccer to a different level in the U.S.
The sport of swimming is usually only noticed during Olympic years or tremendous performances in the World Championships. Nonetheless, Kate Ziegler, age 18, deserves mention for her performance at the TYR Meet of Champions in Mission Viejo, Calif.
While Ziegler won four races at the meet, she warrants mention in that she shattered the world's oldest swimming record, the 1500-meter freestyle record established by Janet Evans in 1988, lowering the standard by nearly 10 seconds.
As a testament to the power of Tiger, 2.5 million more viewers tuned in to the final round of the U.S. Open this year as compared with last. That represented a 36% increase from last year, when Tiger missed the cut, the only time he has done so in a major, during his professional career.
Despite his inability to overcome Angel Cabrera on the 18th hole on Sunday, Tiger had little time to lament his defeat. Less than 24 hours after the conclusion of the Open, Tiger's wife, Elin, gave birth to a baby Tigress, Sam Alexis Woods. Rest assured, she will be breaking par in elementary school. Congratulations to Tiger and Elin and their respective families.
The Players Club appreciates the exhilaration that accompanies first-time parenthood. Moreover, we appreciate the magnitude of responsibility that children create and demand. Thus, by guaranteeing recurring cash flow, through our strategic partner, The Players Club endeavors to allow parents to "enjoy" those sleepless nights, with the knowledge that their bundle of joy will be provided for, moving forward.
Always remember: Life is a journey, enjoy the ride!
At the time of publication, Dykstra had no positions in stock mentioned.
Nicknamed "Nails" for his tough style of play during his Major League Baseball career, Lenny Dykstra was an integral member of the powerful Mets of the mid-1980s, including the world champion 1986 squad, and the Phillies in the early 1990s.
Today, Dykstra manages his own stock portfolio and serves as president of several of his privately held companies, including car washes; a partnership with Castrol in "Team Dykstra" Quick Lube Centers; a state-of-the-art ConocoPhillips fueling facility; a real estate development company; and a new venture to develop several "I Sold It on eBay" stores throughout high-demographic areas of Southern California.