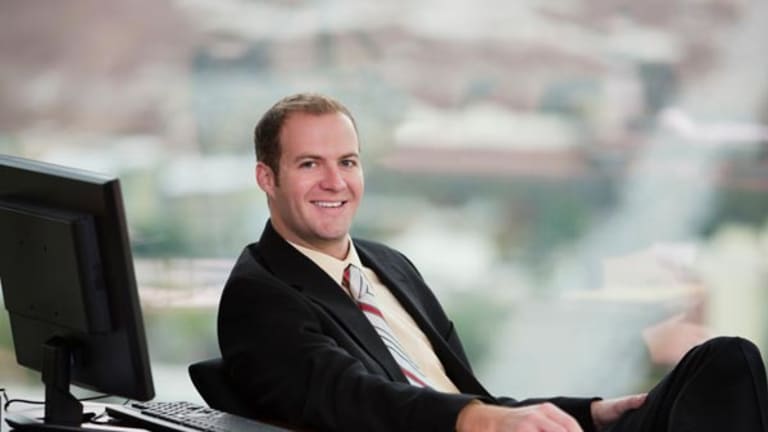 Dykstra: Best Buy Options Are a Better Buy
It's been unfairly roughed up. Time to take advantage.
Although I remain confident in several sectors of the broader economy, it's still not time to chase stocks. As the broader markets move higher, option premiums continue to rise, so these market conditions call for patience in implementing an investment strategy.
Today's deep-in-the-money (DITM) calls pick --
Best Buy
(BBY) - Get Free Report
-- is a dominant company that recently reported huge second-quarter earnings, up 8.7% from the year-earlier period. Recently I have emphasized the importance of a company's international sales, and Best Buy hammers home this point. Its extraordinary earnings were largely fueled by Canadian revenue coming in far ahead of expectations.
In addition, management's share-repurchase program has provided additional support to the stock's share price; share-repurchase programs often indicate buying opportunities for investors. When investors see a share-repurchase program combined with an almost 31% return on equity, one can confidently invest in America's largest retail electronics chain -- especially as its closest competitor,
Circuit City
(CC) - Get Free Report
, keeps providing a great example of
what not to do
.
Although the housing market continues to slump, earnings clearly show that Best Buy continues to thrive. In order to use DITM options to our advantage, we must remain patient and wait for the share price to fall into our buying range. To do so, I will place a limit order to buy 10 contracts of the March $40 calls (BBYCH) at $7.40 or better. The stock closed Thursday at $46.20.
Now, as we do every Friday, it's time to take a look at what the readers have to say.
Being new to options, I have been trying to duplicate the DITM strategy, and I wonder how you screen for your picks. What criteria do you use when selecting stocks?Thanks for all your hard work, and I love the column.-- Michael
Dear Michael,
When selecting a stock for a DITM call, I will choose one that fits the following criteria:
Strong financials: Look for low price-to-earnings ratios with a high return on equity; money machines that seem to print cash and keep it, resulting in year-over-year earnings growth and little or no debt -- in a nutshell, companies that have the resources to weather any storm.
Stocks that are undervalued or oversold. This will result in a stock that has a better chance to rise in the short term.
Stocks that have brand recognition and/or are the best in their industry. No. 1 companies are that way for a reason, and it never hurts to go with the best.
Once you have made your selection, you need to be aware of what is happening in the overall market, the stock's sector, and of course what is happening at the company itself. I like to run my selections through Value Engine and
Stockpickr as well.
It's also a good idea to see who else likes the company and who the major shareholders are. It is important to know when the company will be reporting earnings, go ex-dividend or implement or end a share-buyback program. And it's good to compare the number of shares outstanding vs. the number of shares in the float.
All in all, there are many variables to consider, and that is why there is no perfect stock-picking method, and no magic formula that can guarantee results all of the time. But with a lot of hard work and dedication to the task, we can come close.
Lenny, two quick questions.1.) Should I understand your results to be that you had only one losing trade in the last seven months? 2.) Why are most of your trade profits in the $1,000 to $2,000 range but a few of your trades much larger? I thought the approach was to limit gains to $1,000 to $2,000 and exit. Thanks for the time and the good practical thoughts on investing. -- George
Dear George, In response to your questions:
1.) Yes, this is correct -- check out my
Stat Book.
2.) According to the tenets of my DITM calls strategy, when a trade opens and closes fairly quickly to our advantage, it will produce consistent $1,000 wins.
However, there are times when it is important for the success of the strategy to add to the position to average the cost basis as the stock moves down. So when we get a nice bounce and the position closes out, there may be several contracts open, which add up to additional profits for the win column.
Lenny, What is your thinking on Massey Energy( MEE), which you bought more of with Motorola. Are you dropping the selling price below the standard, cost plus $1? We appear to be swimming upstream on this one.-- Kevin
Dear Kevin,
As of the market close yesterday, Massey Energy is the only remaining October position still in play. If you are trading along with me, it is very important to keep a close eye on the Stat Book and the good-till-canceled selling prices you will find there. When an open position consists of several contracts, in order to close the position and free up capital for newer DITM calls, I will lower my target selling price to less than the average plus $1. With Massey, the current average cost is $3.84, and my recommended GTC sell target is $4.30.
Massey remains fundamentally sound, but surplus coal supplies and market conditions have pummeled this stock. As a result, we have had this position open for three months. Next week, look for instructions to roll this trade out through the winter, which I believe will give the stock the extra time needed to make this trade profitable.
Lenny,
I am now ready to move on the DITM strategy, and the
Comcast
(CMCSA) - Get Free Report
calls are in a perfect price range that I could lose everything and not worry (much) about it.
But I need to know that when you say $4.80 or better, do you mean $4.80 orless, meaning a better price, or $4.80 or greater, meaning price movement?
Thanks, and keep the calls coming.
-- Neil
Dear Neil,
Like most things in life, the first trade is always the hardest. However, when you get ready to pull the trigger the first time, please remember that when purchasing an option using a limit order, you will pay up to your limit, but no more than that.
This means that with your example, you could get a better price than $4.80 if the options were trading for less at the time you placed your order.
When you sell an option with a limit order, once again it will work in your favor -- this time the selling price cannot be less than your limit, but if the options are trading for more at the time your order is filled, you could see yourself with a bit of extra cash in your wallet, which is always a nice surprise.
My understanding of your methodology is this:
1.) Good fundamental company.
2.) Cheap options premiums (under $1) on DITM calls.
3.) Technical charts indicate a good entry point.
I have found good info on No. 1 and No. 2 in your articles but have not found much on No. 3. Is there an article in the archives that expands on your technical analysisof the charts for your picks? If not, could you write one, or just answer me?
Thanks.
-- Brian
Dear Brian,
Your understanding of my methodology is right on target; you have it exactly. The technical indicators for a good entry point vary with current market conditions and trends of the stock itself. Also, I have found a financial Web site (besides
TheStreet.com
) that is extremely helpful: Morningstar.com.
I will usually explain the technical considerations in each column. For example, when I compare where the stock is trading in relationship to its 52-week low, or one of the simple moving averages -- these are a couple of the technical indicators I will consider for a purchase. However, there are many relationships in trading that spell out
buy
, not just one, so reading each column will give you many examples of what you should look for.
If you want a good primer on technical analysis, check out this
article.
At the time of publication, Dykstra had no positions in stocks mentioned.
Nicknamed 'Nails' for his tough style of play, Lenny is a former Major League Baseball player for the 1986 World Champions, New York Mets and the 1993 National League Champions, Philadelphia Phillies. A three time All-Star as a ballplayer, Lenny now serves as president for several privately held businesses in Southern California. He is the founder of The Players Club; it has been his desire to give back to the sport that gave him early successes in life by teaching athletes how to invest and protect their incomes. He currently manages his own portfolio and writes an investment strategy column for TheStreet.com, and is featured regularly on CNBC and other cable news shows. Lenny was selected as OverTime Magazine's 2006-2007 "Entrepreneur of the Year."