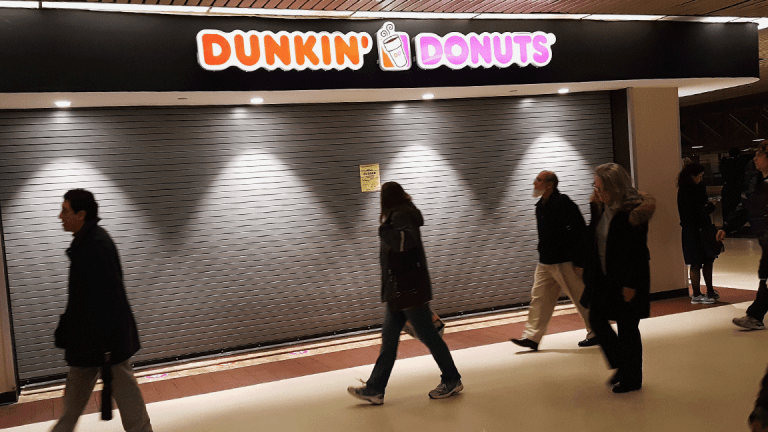 Dunkin' Brands Appoints David Hoffmann as New CEO
Former CEO Nigel Travis is named executive chairman.
Dunkin' Brands Group Inc. (DNKN)  said Wednesday, July 11, that David Hoffmann has been appointed CEO, taking over from Nigel Travis, who has been named executive chairman.
Hoffmann's appointment is effective immediately.
"When we recruited Dave to Dunkin' Brands 18 months ago with the intent that he would succeed me as CEO, we knew that we were getting a world-class leader with extensive restaurant industry expertise, and he has exceeded all of our expectations," Travis said in a statement. "From his development and implementation of the Dunkin' Donuts U.S. Blueprint for Growth, to the relationships he has forged with our franchisees and the talent management skills he has exhibited, Dave has demonstrated he is exactly the person to lead the next phase of our global growth."
Prior to joining Dunkin' in 2016, Hoffmann served as an executive at McDonald's Corp.
Dunkin' has received pressure from noted short-seller Jim Chanos, who said he is short the stock because he doesn't believe restaurants that franchise will be profitable long term. Chanos told CNBC that he bases this belief on Dunkin's approach to "basically clipping the coupons, collecting royalties" from its franchises.
In an interview with TheStreet, Travis refuted Chanos' claims that the doughnut chain's stock could come under pressure.
"What he [Chanos] doesn't get is that we have a beautiful [business] model, we have a brand that we constantly try to refresh based on what the consumer wants," Travis told TheStreet. "I find it hard to understand his thesis."
In morning trading, Dunkin' was down slightly to $70.80 a share. Over the past year, the stock has risen around 30%.