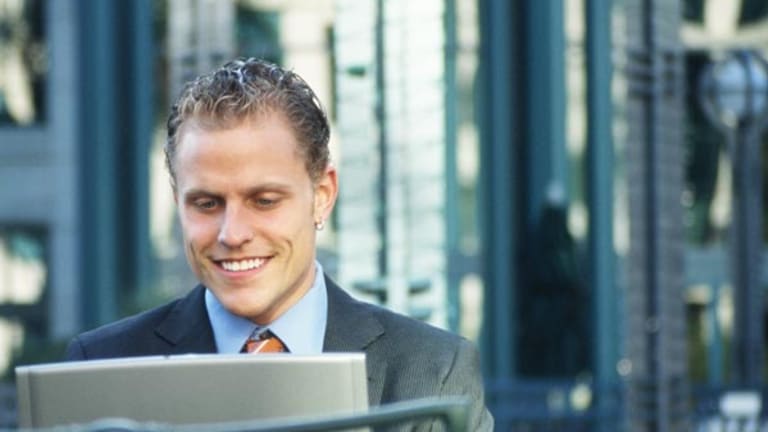 Drill Below the Tech Earnings Mine Field
With tech stocks likely to be roiled by announcements this week, I'd rather focus on oil and gas.
This column was originally published on RealMoney on April 18 at 1:31 p.m. EDT. It's being republished as a bonus for TheStreet.com readers.
Price and volume analysis are an important aspect of my research, but I don't study charts to predict future price movements. I look at the trading action to get an idea of where the highest emotional commitment lies. If I can get a handle on that, then I have a sense of how the crowd will react when and if an issue touches those points.
Will a pullback trigger sharp selling from a nervous crowd, or will it attract buying from anxious bulls who have been waiting for a break in the action to buy at a lower price? These types of questions are a bit easier to answer with careful chart analysis.
But chart analysis has a big limitation. A fundamental event like the release of quarterly earnings tends to blow technical hypotheses out of the water. Bulls who have been patiently waiting for a pullback in a strongly uptrending stock are likely to run for the hills if the numbers are bad. All that pent-up demand we gleaned from analyzing the chart simply goes "poof."
This is the biggest reason why I prefer not to hold positions at the time of earnings announcements. I try to capitalize on the preannouncement anticipation. Does the crowd expect good numbers? If so, we'll probably see some buying prior to earnings.
Conversely, does the crowd fear poor earnings? If so, we'll see distribution of the stock prior to the announcement. This anticipatory buying and selling is the most significant cause of stocks "going the wrong way" after an announcement.
How many times have you seen a stock fall like a rock after a great quarter? The good news was anticipated by the crowd -- most of whom bought prior to the news. When the impressive numbers are announced, everyone is already long. Who's left to buy?
Many companies in the technology sector will be announcing earnings this week.
Apple
(AAPL)
announces Wednesday after the close and
Google
(GOOG)
and
SanDisk
(SNDK)
on Thursday afternoon. All of these announcements will trump the prettiest chart setup.
I'd rather focus on companies in the oil and gas sector that won't announce earnings until early May, or have already released their earnings. The energy sector has been in a strong uptrend, and there is no sign that this uptrend is weakening.
China National Offshore Oil
(CEO)
, more commonly known as Cnooc, is sitting in congestion and moving higher. It's a bit too late to buy the pullback, which took the stock back to the middle Bollinger band a couple of weeks ago before it firmed up. However, it's too early to buy the breakout. Remember,
anticipating breakouts is a low percentage play. But this uptrend is well established, so how do we participate?
I'd buy a partial position now, with a stop beneath the recent low. The stop is a bit wider than I'd like, but a small position allows for a wider stop. I'd then get bigger if the stock breaks above prior resistance. Sure, your average price basis is a bit higher, but you've minimized risk. Earnings were released March 24.
The uptrend in
ATP Oil & Gas
( ATPG) has been steady, with the middle Bollinger band (the 20-period moving average) acting as support. RSI continues to oscillate within the bullish range -- between $55 and $75. That's what we see in strong stocks. I'd use any pullback as a buying opportunity. Earnings were released March 9.
St. Mary Land & Exploration
(SM)
is close to a new high. No reason to take profits now -- let your winners run as long as you can. As with the charts above, pullbacks to the 20-period moving average have been good buying opportunities.
Why not wait to buy until the next pullback to support (around 8% lower than present levels)? Earnings will be released May 3.
Parallel Petroleum
undefined
shareholders have enjoyed significant gains over the past couple of years, but what's more meaningful to me is the 50% run-up since the mid-March decline. That type of advance just begs for some profit-taking. That's why it's best to protect existing positions with a tight stop.
If you're looking for a buying opportunity, consider waiting for a pullback. The stock has advanced for five consecutive weeks, and even the strongest stocks need a rest. Earnings were announced last month.
Berry Petroleum
(BRY)
has pulled back to test the early January breakout. Using the "prior resistance becomes current support" principle, I'd put a stop just beneath the recent low. Any pullback is likely to attract more buying, so it's unlikely that it will fall to a lower low.
Be careful out there.
P.S. from TheStreet.com Editor-in-Chief, Dave Morrow:
It's always been my opinion that it pays to have more -- not fewer -- expert market views and analyses when you're making investing or trading decisions. That's why I recommend you take advantage of our
to TheStreet.com's
RealMoney
premium Web site, where you'll get in-depth commentary
and
money-making strategies from over 50 Wall Street pros, including Jim Cramer. Take my advice --
Fitzpatrick is a freelance writer and trading consultant who trades for his own account in Encinitas, Calif. He is a former co-manager of a hedge fund and teaches seminars on technical analysis, options trading and asset-protection strategies for traders and business owners. Fitzpatrick graduated from the McGeorge School of Law and was a fellow at the Pacific Legal Foundation, a nonprofit public interest firm specializing in constitutional law. He also practiced law in the private sector before pursuing trading as a full-time career. At the time of publication, Fitzpatrick held no position in any stocks mentioned, though positions may change at any time. Under no circumstances does the information in this column represent a recommendation to buy or sell stocks. While Fitzpatrick cannot provide investment advice or recommendations, he appreciates your feedback;
to send him an email.