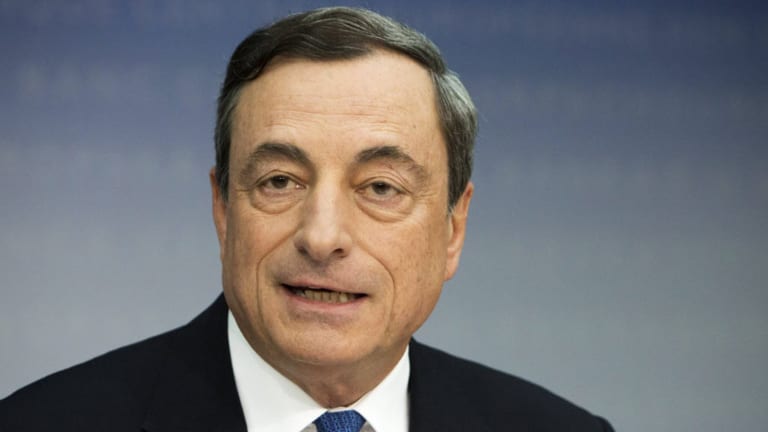 Draghi's 'Euro Problem' May Dominate ECB Meeting, But Policy Change Isn't Likely
ECB President Mario Draghi will likely acknowledge the impact of the euro's recent surge, but won't offer specific policy changes until he and his colleagues get fresh growth and inflation forecasts in March.
The European Central Bank will hold its first policy meeting of the year Thursday in Frankfurt amid a surge in the euro and one of the strongest recoveries in a decade, but investors may not get the hawkish signal on interest rates they're looking for as inflation continues to stagnate in the world's biggest economic bloc.
Nearly three years after announcing the start of the Bank's controversial quantitative easing, which has hoovered up more than €2.55 trillion ($3.16 trillion) in government, agency and corporate bonds, ECB President Mario Draghi has come under increasing pressure from lawmakers and investors alike to signal an end-date for the program as the so-called Euroboom lifts growth in the region to its fastest pace since 2006.
However, a surging euro, which touched a fresh three-year high against the dollar only this morning, could complicate Draghi's single ambition of delivering an inflation rate of "just below 2%" even as energy prices climb and labour unions around the region negotiate higher wages. 
The euro has gained some 7% against the dollar since Draghi told investors on Oct. 26 that the ECB would would halve the pace of its QE purchases to €30 billion a month and create a 'soft' deadline extension to September of this year. The move led to market speculation that the Bank may be preparing to end not only its QE program but also its suite of liquidity and support measures, including a negative rate on is deposit facility and its near-zero charge for overnight lending. 
However, while the region's economy has been booming of late -- data from IHS Markit Wednesday showed economic activity in the bloc sped to the fastest pace in 12 years, with "price pressures are meanwhile running at their highest for almost seven years, accelerating further at the start of 2018," according to chief economist Chris Williamson.
"Higher oil prices have pushed up costs, but pricing power more generally has improved as demand outstrips supply for many goods, leading to a sellers' market," he added. "With such a strong start to the year, expect to see forecasters mark up their expectations of eurozone growth and inflation in 2018, and for policymakers to sound more hawkish."
But will they?
Eurostat, the region's official statistics agency, said earlier this month that Eurozone inflation slowed to 1.4% in December, well below the Bank's 'just below 2%' target and down from 1.5% in November. The ECB's own projections, meanwhile, don't forecast a return to target until at least 2020.
The euro's strength, meanwhile, acts as a blunting tool for headline inflationary pressures, particularly in energy markets, as European firms import dollar-denominated crude oil from international producers. Brent crude prices hit a fresh 2014 high of $71.05 Thursday, taking its two-month gain to around 11.75% in dollar terms - but only 7.5% when translated into euros.
Against that backdrop, and the myriad trade and policy statements coming from U.S. officials at the World Economic Forum in Davos, Draghi may prefer to wait until March, when he and his colleagues will be armed with fresh growth and inflation forecasts, before articulating major changes to the Bank's signature policy.