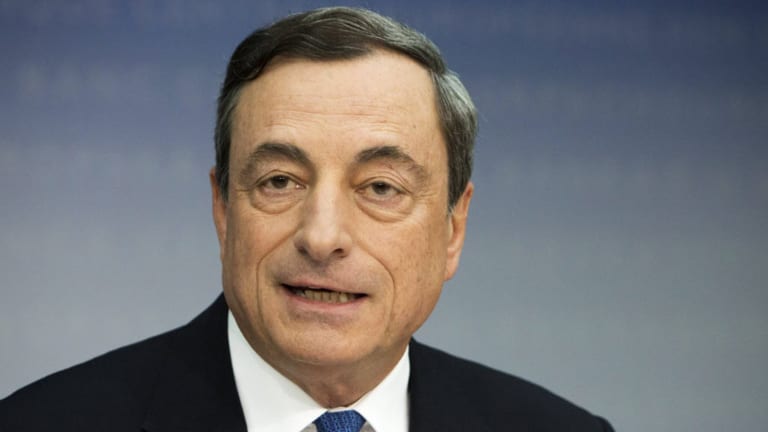 European Central Bank President Mario Draghi launched an unprecedented critique of U.S. economic policy Thursday, suggesting that the recent dollar weakness may have violated terms agreed by global finance ministers last year in Washington.
Speaking to the media as part of the regular briefing that follows interest rate decisions by the Bank, Draghi said that the recent volatility in global currency markets has created a downside risk for Eurozone economic growth. He also appeared to criticise recent comments from U.S. Treasury Secretary Steve Munchin that pushed the dollar to fresh three-year lows when he said that "several members" of the Bank's Governing Council "expressed concern ... that was broader than the exchange rate, about the status of international relations right now."
"Currency movements justified by economic strength are a just a fact of nature," Draghi said when asked it he was concerned about the dollar's moves and comments from U.S. officials. "The issue is other moves that might be the result of certain language and the impact that has on our inflation."
The euro rose by more than 1% against the dollar following Draghi's statement, passing the 1.25 threshold for the first time since Dec. 17, 2014 despite the Bank's decision to make no changes to its record-low interest rates and reiterating its intention to continuing buying billions in government bonds until at least September "and beyond if necessary".
The dollar index, which benchmarks the greenback against a basket of six global currencies, touched a fresh three-year low of 88.11, extending its year-to-date decline to around 4.5% and its 52-week slump to 13%.
Earlier Thursday, Mnuchin attempted to clarify the government's message regarding the recent weakness of the dollar Thursday, but his comments pushed the greenback even lower on foreign exchange markets.
"Where the dollar is in the short term is not a concern of mine," Mnuchin said during a panel discussion at the World Economic Forum. "It's not a focus, it's a function of the free markets."
"In the long term I fundamentally believe in the strength of the dollar and how it represents confidence in U.S. markets," he added. "It is the world's reserve currency and I believe it will remain the world's reserve currency."
Draghi also referenced the agreed text of last October's International Monetary and Financial Committee Meeting, which was signed by Mnuchin, and suggested that noting a weak exchange rate is "good" for exports would be a violation of a long-standing principle. 
"We recognize that excessive volatility or disorderly movements in exchange rates can have adverse implications for economic and financial stability," the text reads. "We will refrain from competitive devaluations, and will not target our exchange rates for competitive purposes."
More of What's Trending on TheStreet: