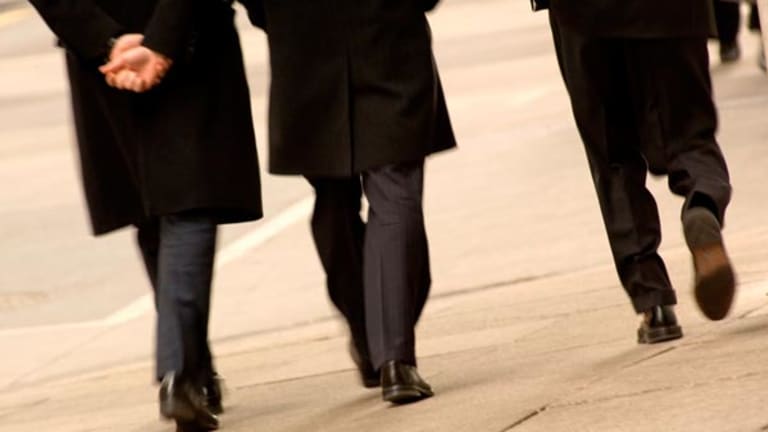 Dow's Winning Streak Halted
The industrials shed 85 points as investors bail.
Updated from 4:10 p.m. EDT
A four-day rally on the
Dow
abruptly halted Friday, as weakness in
General Motors
(GM) - Get Report
and
American International Group
(AIG) - Get Report
broke through the euphoria of falling oil prices.
The Dow Jones Industrial Average fell 84.98 points, or 0.81%, to 10,461.34; the
S&P 500
fell 9.94 points, or 0.83%, to 1181.20; and the
Nasdaq
lost 19.44 points, or 0.96%, to 1999.35. The 10-year Treasury note was up 1/32 in price to yield 4.48%, while the dollar rose against the yen and fell against the euro.
Trading volume on the
New York Stock Exchange
was 1.65 billion shares, with decliners beating advancers by a 3-to-1 margin. Volume on the Nasdaq was 1.48 billion shares, with decliners outpacing advancers 2 to 1.
"There was some profit-taking after a few solid days of gains," said Brian Williamson, equity trader with Boston Company Asset Management. "It was a really quiet day overall. There was negative sentiment today, but it was on light volume and because of that profit-taking.
"Earnings are coming next week, but I don't think you can read into that too much to explain the losses today," Williamson said.
General Motors weighed on the Dow with a 3.4% decline after Deutsche Bank cut its rating to sell from hold and Bank of America urged customers to unload the stock if it rises. The shares were down $1.03 to close at $29.50.
After the closing bell,
Ford
(F) - Get Report
lowered full-year profit guidance, citing rising health care, steel and fuel costs and a tough auto market.
AIG lost 1.6% one day after the
SEC
got a court order designed to preserve documents sought in its accounting investigation.
Blue chips, as measured by the Dow and S&P 500, are coming off four straight winning sessions, spurred by lower oil and bargain-hunting traders who are conscious of technical indications that stocks got oversold last week. For the week, the Nasdaq Composite added 0.73%, while the Dow gained 0.54% and the S&P 500 rose 0.70%.
Oil, which plunged 3% Thursday, fell again on Nymex, closing floor trading down 79 cents to $53.32. May crude closed lower for its fifth consecutive day and off more than 9% this week as several reports have suggested that worldwide supply pressures are on the verge of easing.
"Oil prices have come down over the last few days, and investors will be watching the $53.50 level," said Michael Sheldon, chief market strategist with Spencer Clarke LLC. "Breaking that level would bring on further profit-taking in oil stocks but could provide a lift for the market."
Weaker sectors Friday include transportation, health care, financials and retail. The Philadelphia oil service sector index finished down 1.9% as oil prices decreased, while the Amex airline index was lower by 1.4% after brokerage J.P. Morgan reshuffled its ratings for the airline sector.
Boosting the dollar Friday was another round of moderately hawkish commentary from St. Louis Federal Reserve President William Poole. The nonvoting
Fed
member on Thursday said central bankers will have to tighten interest rates "more vigorously" if signs of price pressures start to surface.
"Should we see evidence that we are really getting into a more fundamental inflation problem, which I say is not my best guess, then you are going to see the Federal Reserve react more vigorously," Poole said, according to
Bloomberg
. Poole also said he continues to believe inflation is "well contained."
Friday's major corporate news story is a deal for bankrupt cable operator
Adelphia
. According to various media reports,
Time Warner
(TWX)
and
Comcast
(CMCSK)
will exchange $12 billion in cash and a stake in a combined Time Warner-Adelphia cable venture for control of the Pennsylvania broadcast company. Time Warner gained 9 cents, or 0.5%, to $17.97.
In other corporate news,
Wal-Mart
(WMT) - Get Report
was down after news that former vice chairman Thomas Coughlin may have used undocumented expense forms and fake invoices to cover personal expenses, according to
The Wall Street Journal
. Coughlin retired as a Wal-Mart executive in January and resigned from the board March 25. Wal-Mart dipped 33 cents, or 0.7%, to $48.57.
According to a
CNet
report,
Advanced Micro Devices
(AMD) - Get Report
is expected to launch its new dual-processing chips later this month, well ahead of schedule. Shares of AMD added 91 cents, or 5.6%, to $17.09.
USF
(USFC)
slid after the company said it expects a drop in first-quarter profit due to a slowdown in the auto sector, slowing growth in the Northeast and competition in the Southeast. The trucking company forecast first-quarter earnings of 12 cents to 16 cents a share, compared with 32 cents a share a year ago. Analysts expect earnings of 38 cents a share, according to Thomson First Call. Shares were down $2.83, or 5.8%, to close at $45.67.
"The market is being led lower by weakness in transportation stocks," added Sheldon. "There were a few earnings warnings last night, including USF. The weakness spilled over into the Dow, pulling the broader markets down."
Data storage company
Emulex
(ELX)
said it will beat its own third-quarter projections, due to a broad strengthening in demand and strong sales of fibre channel products. The company said it expects to report revenue of about $101 million to $102 million and earn a non-GAAP profit of 23 cents to 24 cents a share. In January, Emulex projected revenue of $91 million to $93 million and a profit of 18 cents to 20 cents a share. Having been up most of the session, shares closed down 8 cents, or 0.4%, to $18.92.
Ariba
(ARBA)
said second-quarter revenue will miss its previous forecast because of weakness in the business software market. Excluding one-time charges, Ariba said it would earn $4 million to $5 million, or 6 cents to 8 cents a share. Analysts expect quarterly earnings of 9 cents a share, according to Thomson First Call. Ariba rose 13 cents, or 1.8%, to $7.31.
The
Securities and Exchange Commission
has launched a probe into deals between
Delphi
(DPH)
and
BBK Ltd.
as part of a bigger inquiry into Delphi's accounting,
The Wall Street Journal
reported. In March, Delphi had its own investigation into accounting irregularities, revolving mostly around the sale of $89 million of inventory to an unnamed party, later repurchased by Delphi. Shares fell 9 cents, or 2.1%, to $4.10.
In other M&A activity,
ShopKo
(SKO)
has been purchased by private equity investment firm Goldner Hawn Johnson & Morrison in a deal valued at $1 billion, including the assumption of debt. Shares rose $2.99, or 13%, to $26.02.
After the bell Thursday,
Borland Software
(BORL)
cut its first-quarter outlook to a loss of 1 cent to 3 cents a share on a GAAP basis, from the company's previous forecast EPS of 3 cents to 5 cents. Borland also said it expected non-GAAP earnings of 1 cent to 3 cents a share for the quarter, compared with its previous estimate of 7 cents to 9 cents a share. Analysts on average expect Borland to report non-GAAP earnings of 8 cents per share and GAAP earnings of 7 cents per share. The company cited weaker spending by its customers as well as delays in closing deals in the U.S. and Europe. Shares lost $1.33, or 17.8%, to $6.16.
Accenture
(ACN) - Get Report
, one of the world's largest consulting and technology services firms, reported second-quarter earnings of $209.8 million, or 35 cents a share, compared with $123.1 million, or 22 cents a share, a year ago. Excluding a gain, Accenture earned 32 cents a share for the quarter on revenue of $3.81 billion. Analysts expected earnings of 32 cents a share on revenue of $3.7 billion.
Morgan Stanley downgraded Accenture to equal weight from overweight, citing concerns about deteriorating earnings quality. Shares were down $1.19, or 4.8%, to finish at $23.70.
Overseas markets were uniformly higher, with London's FTSE 100 finishing up 0.1% at 4983 and Germany's Xetra DAX adding 0.2% to 4400. In Asia, Japan's Nikkei rose 0.5% overnight to 11,875, while Hong Kong's Hang Seng rose 0.5% to 13,667.