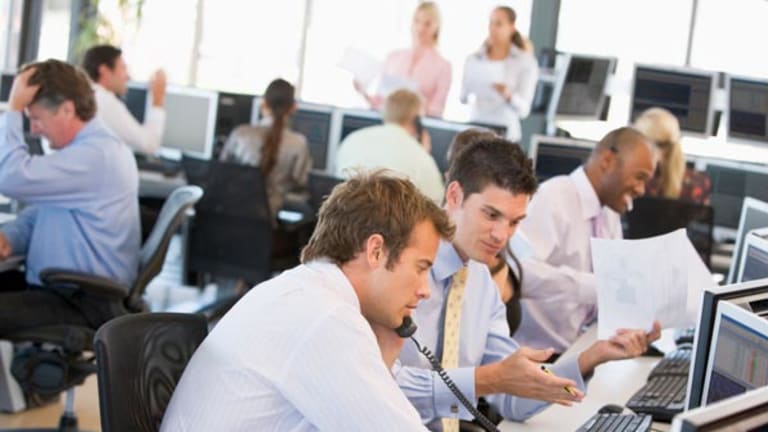 Dow's Gain: 199.89 as GDP Wows Wall Street
Stocks soar as the gross domestic product rises at an annualized rate of 3.5% in the third quarter and continuing jobless claims fall. Gregg Greenberg recaps the action in The Real Story video (above).
(Updated with stock prices.)
NEW YORK (
) -- A better-than-expected pop in third-quarter GDP pumped stocks Thursday, making up for losses earlier in the week, while oil marched ahead.
The most anticipated data of the week, third-quarter
rose at an annual rate of 3.5%, according to the advanced reading. That topped the consensus expectation for 3.2% and a late 2.7% forecast by Goldman Sachs that sent some concern through Wall Street on Wednesday. It was the first rise in GDP since the second quarter of 2008.
The major averages gave the news a warm reception: The
Dow Jones Industrial Average
added 199.89 points, or 2.1%, to 9962.58, and the
S&P 500
rose 23.48 points, or 2.3%, to 1066.11. The
Nasdaq
advanced 37.94 points, or 1.8%, to 2097.55.
Industrials
Alcoa
(AA) - Get Alcoa Corporation Report
and
Caterpillar
(CAT) - Get Caterpillar Inc. Report
were the best performers on the Dow, rising 8.8% and 5.3%, respectively.
Financials were also at the front of the ascent with the KBW Bank index and the NYSE Financial index up 4.1% and 4.4%, respectively.
Deutsche Bank
(DB) - Get Deutsche Bank AG Report
-- which said
third-quarter profit
more than tripled -- and
Credit Suisse
(CS) - Get Credit Suisse Group AG Report
were up 9% and 7.2%, respectively.
Dow components
American Express
(AXP) - Get American Express Company Report
and
Bank of America
(BAC) - Get Bank of America Corp Report
were up 5.1% and 4.8%, respectively.
The increase in real GDP in the third quarter primarily reflected positive contributions from personal spending, exports, private inventory investment, federal government spending and residential fixed investment, according to the report. Real personal consumption expenditures increased 3.4% vs. a decrease of 0.9% in the second quarter.
That included a 22.3% increase in durable goods and a 23.4% increase in real residential fixed investment, "and the debate is whether that all can be attributed to cash for clunkers and first-time home buyers incentives," says Linda Duessel, equity market strategist at Federated Investors.
"I think it obviously is showing that the monetary policy has worked, and some of the government programs -- tax credits and clunkers -- have basically pulled the economy out of recession," says Peter Cardillo, chief market economist at Avalon Partners. But the consumer will have to assist in the second wave for growth to continue, and it hasn't been a consumer-led recovery, says Cardillo, "so the question mark is how growth will shape up in 2010."
Duessel and Cardillo both predict economic growth will likely be stronger than expected going into next year. Duessel believes this is in part because the consumer -- particularly of the wealthier variety -- has "the pent-up desire to spend."
"One of the things I'd be concerned about is a large part of this is 'if we prime the pump and get consumers spending again, that's going to solve our problems,'" says Doug Roberts, chief investment strategist at ChannelCapitalResearch.com. "But is that really sustainable in the long term? -- simply because the consumer is highly leveraged, he's spent quite a bit, and we have demographic arguments of an aging population indicating reduced consumer spending going into the future.
"So even if you're able to do it and force the issue for the next several quarters or next several years, what are you going to do after that?" asks Roberts. "And that's something I don't think we've really addressed -- but at the same time, over the next several quarters or years this could remain workable."
Click below to hear my entire interview with Roberts, including his view on unemployment and what data to watch for tomorrow and next week.
The price index for gross domestic purchases, which measures prices paid by U.S. residents, increased 1.6%, or 0.5%, when food and energy prices were factored out.
Crude oil futures gained $2.41 to $79.87 on Thursday, while gold was rising $16.60, to $1,047.10.
In other data, weekly jobless claims were 5,000 more than expected, at 530,000, down by 1,000 from the week prior. Continuing claims were less than expected, however, at 5.79 million, down from 5.94 million and better than expectations for 5.9 million.
Procter & Gamble
(PG) - Get Procter & Gamble Company Report
and
Motorola
(MOT)
beat estimates with earnings released before the open, sending shares higher by 4% and 9.8%, respectively.
Faring less well,
Exxon Mobil
(XOM) - Get Exxon Mobil Corporation Report
, the nation's largest oil company,
with a 68% drop in profit, but reported revenue above the Street view.
Meanwhile,
Toyota
(TM) - Get Toyota Motor Corp. Report
will report a narrower-than-expected loss, Japanese business daily
Nikkei
reported.
Stocks overseas were mixed. In Europe, the FTSE in London and Dax in Frankfurt were rising 1% and 1.4%, respectively. In Asia, Hong Kong's Hang Seng and Japan's Nikkei lost 1.8% and 2.3%, respectively.
-- Written by Elizabeth Trotta in New York.